Rumbling, Bumbling, Stumbling, Tumbling
Jan 17
Oh, Those Sneaky Eagles: Thoughts on the Chip Kelly Hiring
Jan 08
Round Table Discussion: The Search for a New Head Coach
Dec 30
An Ode to Andy Reid (If This is Indeed THE END)
I've been told I was exposed to the Eagles in 1995, but my first vivd memories of being a fan were formed in 1996 (i.e. James Willis's interception of Troy Aikman in the endzone, which he then lateraled to Troy Vincent to take the rest of the way to pay dirt), including my first heartbreak (14-0 Wild Card Round playoff loss to the 49ers). I was a few months away from my 11th birthday when Andy Reid was hired in 1999 — I still didn't have the capacity or understanding to know football, I was just entertained and loved watching — and recall the universal "WHO?!" reaction when the move was announced. A mere year and a half later, that uncertainty had been replaced by jubilation. For all intents and purposes, the Eagles as constituted by Andy Reid is really all I've ever known.
I was in Veterans Stadium for that magical, initial playoff win over Tampa Bay, freezing my hands, feet and nuts off while drinking hot chocolate from a Camelbak and cheering so loud I lost my voice. I was there for Brian Dawkins' incredible, historic performance against the Texans in 2002. I was at Lincoln Financial Field, sitting two rows behind the Eagles' bench, for 4th and 26 against Green Bay in the Divisional Round of the playoffs. Those experiences will stay with me forever — I'll tell my children and grandchildren about them. The happiest and proudest moments I've had as an Eagles fan — so far — came with Andy Reid on the sidelines (yes, so too have the saddest and most crushing moments).
I'm sure the media and fans won't miss Andy Reid's terse, bland and repetitive press conferences, but that's how he handled tough situations and protected his players. As frustrating as it was to hear him say the same thing over and over, especially when the same mistakes were not fixed, you have to respect why he acted that way. We forget so often that a head coach's primary, paramount relationship is with his players, not the media and fans. There's a reason 99.9% of guys who have played for Andy would do anything for him. By all accounts, as a person he is warm, genuine and engaging — so, essentially the opposite of how he presents himself to the general public. Given the nature of his job, however, rarely were we ever able to see him in that light. The only time that Andy's unvarnished human side came out was when it was impossible to hide. His two oldest sons' public episodes with drug addiction and criminal misconduct, as well as Garrett's death at training camp of a heroin overdose, resonated with the fan base. There was an outpouring of empathy and sympathy, of love and support. It reinforced the reality that Andy Reid didn't exist in a vacuum as head coach of the Philadelphia Eagles. He suffered through personal struggles and family problems just like everyone else. In a city whose fans yearn to emotionally connect with the leaders of their professional sports teams, it's a shame that they could only do so with Reid when he was struck by profound tragedy.
Admittedly, my adulation for Andy Reid as a coach has waned considerably over the years, and I vehemently disagree with (what I perceive to be) his obnoxious offensive philosophy. I also feel his merits as a head coach have been overstated and overrated since the zenith that was the 2004 season. His regular season record post-2004 is 66-60-1, with four playoff appearances (where he's 3-4). You know who Andy best compares to during that span? The Bengals Marvin Lewis, who is 62-64-1, also with four playoff appearances (0-3; fourth appearance coming this season). Whenever people, especially those on the outside, sing Reid's praises and start with the self-righteous "you'll be sorry when he's gone" crap, I'm compelled to remind them of said recent record, and that if not for a multi-faceted miracle on the last day of the 2008 season, he would have a grand total of one — ONE! — playoff win since 2004. Is that elite? Is that even good? Seems to be the embodiment of mediocre to me. If you truly want to judge Andy Reid objectively, you have to separate those two eras within the full era. Naturally, I wouldn't expect talking heads — former coaches, too — who are disconnected from the situation to acknowledge such facts because it doesn't fit their narrative. It's a lot easier to point to Reid's successes from nearly a decade ago and lazily paint Philly fans as stupid and myopic ingrates.
Then there is the absurd notion that Eagles fans don't appreciate what Andy Reid has accomplished and what he has meant to the franchise. That's so misguided and entrenched in stereotype, it makes my blood boil. Isn't it possible for us to acknowledge Reid's successes from 1999-2004 while decrying his failures from 2005-2012, or does the first half of his head coaching tenure somehow outweigh the second? Why is our dissatisfaction so unacceptable, and why can't we call a spade a spade? Maintaining the status quo has only proven detrimental to advancement. The Eagles need a new face, a new voice, a new philosophy, a new attitude, and a new direction. Players in the locker room might unanimously support Andy and want him to stay forever, but that's no longer a viable option. Talk is cheap, and they could have helped control their head coach's fate by performing better on the field.
The truth of the matter is that while Andy Reid may be a fine coach, he hasn't been good enough for quite some time now. Hell, given his 1-4 record in NFC Championship Games and 0-1 record in the Super Bowl, you could argue he wasn't even good enough when he was good enough (I hope that makes sense). Reid's clear expiration date was the 2008 NFC Championship Game loss, followed by Jim Johnson's death in the summer of 2009, for whom he never found a suitable replacement. Michael Vick's brief career renaissance bought Andy a few more seasons, but, as we've seen, that only delayed the inevitable and trapped the franchise in a hamster wheel of sorts.
Andy Reid has always taken responsibility for his team's failures, but it's only ever been scapegoated coaches and players who have suffered the consequences. Monday will mark the opportunity for Jeffrey Lurie to finally, once and for all, actually hold Reid responsible by relieving him of his head coaching duties. It's been real, but after 14 years he still displays the faults — gross offensive imbalance, continuously trying to fit square pegs (personnel) into round holes (philosophies), incompetent time management, poor draft/roster decisions (and, most recently, stupefying coaching hires) — that have precluded him from reaching the proverbial top of the mountain. Andy simply hasn't fucking learned, and he hasn't earned anymore chances to recapture past glory. What we've seen instead is stagnation and regression, so now the time has come for both sides to move on. Breakups are tough, but they are also necessary. I sincerely wish Reid the best of luck wherever he ends up (unless it's with an NFC team). It would behoove him to learn from the mistakes he made over and over again with the Eagles, but given his trademark stubbornness — which, in addition to over-reliance on certain players, will always be his downfall — I doubt that happens. One day we'll be able to look back upon the totality of Andy Reid's stint in Philadelphia with fondness, but right now the feelings of disappointment and ultimate unfulfillment remain raw and pervasive.
Adios, Andy. Sometimes you just have to recognize when a relationship has reached its end. We need something new, and, honestly, so does he. That said, I'm hopeful Reid gets the proper sendoff today in the form of one final victory. He deserves that much after 14 seasons, and, given the unfortunate circumstances, there's no better way to go out than by eliminating those hated New York Giants from playoff contention. A win would also put the Eagles at 5-11, the same record as Andy's first year on the job. It would be a cyclical, fitting conclusion to one hell of a run.
Dec 21
More Eagles 2013 Offseason: UFA QB and OL, Draft
First off, I know lots of fans are rooting for the Eagles to lose out in order to maximize their draft position, but it would be such a sweet ending to a bitter season to dash the playoff hopes of two division rivals in consecutive weeks. Hopefully Sunday is Andy's last home game as head coach of the Philadelphia Eagles, and hopefully the crowd gives him an exultingly heartfelt sendoff. As for what happens on the field against the Redskins and Giants, here's to the young guys continuing to show glimpses and giving us reason for future optimism.
In the next installment of the early offseason preview, I wanted to take a look at possible targets at quarterback and offensive line in unrestricted free agency.
Joe Flacco's the most notable name among potential free agent quarterbacks, but he probably still believes he deserves to be paid as one of the league's elite. He's done anything but secure himself that type of contract with his uninspiring play this season. Besides, I've decided I want Nick Foles as the Eagles' starting quarterback in 2013, and it's not like I see any other free agent options enticing enough to change my mind. Before watching him over the past six games, I thought signing Alex Smith (who I'm guessing gets traded or released) or Matt Moore for a few years would be an acceptable stopgap option. Not anymore. With no significant upgrade available, I seen enough from Foles to conclude he deserves the chance to further develop in the starting role.
I imagine Demetress Bell will be cut, and I don't expect the Eagles to re-sign King Dunlap. The most important development will be whether please-be-fully-healthy-again Jason Peters goes back to playing left tackle or gets shifted to right tackle. Either way, a likely popular subject of discussion will be who to pair with him as bookends on the offensive line. Potential candidates on the market like Ryan Clady, Jake Long, Sebastian Vollmer and Jermon Bushrod are all highly regarded left tackles. Just keep in mind that, at the very least, each of these players' incumbent teams can assign them the franchise tag. The same could be said for the Vikings and right tackle Phil Loadholt, an aptly-named run-blocking maven who has been starting since he was a rookie (2009). He clears out the right side for Adrian Peterson and has been instrumental in what could be a record-breaking season. Other recognizable names scheduled to be on the market: Gosder Cherilus, Andre Smith, Will Beatty.
I remember Brandon Albert from his draft year but haven't exactly watched, well, any of him in the pros because the Chiefs aren't appointment viewing. Hey, Winston Justice is out there. All he needed to blossom was to leave Philadelphia. Ryan Harris, too! Remember him? Turns out he's starting at right tackle for the Texans. Yeah, I didn't know either until watching the Monday night football massacre against the Patriots.
Low risk/high reward targets:
Jeremy Trueblood - RT - Tampa Bay Buccaneers - 6'8" / 316
Massive right tackle who used to be a mainstay along the Buccaneers' offensive line and started 84 of 101 career games. Lost his starting job in training camp, fell out of favor with the new coaching staff, then was benched for good before eventually being put on IR last month with a shoulder injury. Turns 30 in May.
Doug Legursky - G/C - Pittsburgh Steelers - 6'1" / 315
Is that a football surname, or what? Legursky has been a super sub for the Steelers, filling in at guard and center when called upon. Athletically limited but strong as an ox, he's a classic mauler who plays with a snarl. As we saw this season, you can never have enough depth along the offensive line. I'd certainly inquire about Legursky's services due to his dependability and versatility. 
Kevin Boothe - G - New York Giants - 6'5" / 320
I don't care about signing Kevin Boothe, but I have to point out he's got the biggest, oddest-shaped, most-hilarious-to-look-at butt in the league.
As for the other part of the offseason…
Draft update: Instead of going through a full mock draft, I decided to focus on Central Michigan's Eric Fisher, the top-rated senior left tackle prospect in the draft and a projected first-round pick. Yet playing for Central Michigan means he gets little exposure and is overshadowed by his peers who play for major programs. Fisher has remained something of an unknown to this point, but he's about to become the topic of a lot more discussion once the NFL season ends and draft season begins. I also added two late-round prospects who pique my curiosity.
(One minor draft note: In the midst of doing research for the past two articles, I neglected to include the 2013 conditional 7th round pick acquired from the Colts as was part of the trade for Moise Fokou and Greg Lloyd. I apologize for that oversight.)
As of this past weekend, I didn't know that Draft Breakdown existed. How this happened is a complete and utter mystery to me, it doesn't make any sense. I owe the discovery to Twitter, which, like an idiot, I hadn't truly begun utilizing as a resource until a few months ago. DVR-ing games only became a personal practice in 2010, and in the past when researching the draft I had to rely on real-time viewing, YouTube clips and torrent files mined from the depths of NFL Draft message boards. It was cumbersome, it sucked. I'm ecstatic Draft Breakdown was brought to my attention. I can't believe I've been DVR-ing games and fast-forwarding through certain parts like a chump. Watching video cutups provides a much better flow, a new viewing experience really. This site gets, like, all the gold stars and is a must for draft junkies.
Thanks to Draft Breakdown, I decided to watch all the video they had of the consensus top offensive tackles one right after the other, side-by-side, so I got a better feel for comparing and contrasting — instead of compartmentalizing — their play. The whole endeavor took hours and was the first time I had ever done anything like it. I had seen Luke Joeckel, Jake Matthews and Taylor Lewan all in game action before, but this was my first opportunity to watch some of Central Michigan LT Eric Fisher, who's been getting buzz all season and fascinated me on paper. I reviewed his performances against Michigan State and Iowa, and while it was only two games, I do put stake in first impressions. Suffice to say I wish I'd watched Fisher before writing last week's article because I like him so much more than Taylor Lewan*, it's not even close. Now, again, I know it was only two games, but I think I might even like Fisher more than Joeckel and Matthews, as good as they are. Am I crazy? Maybe. I'll reserve final judgment until I see how he fairs at the Senior Bowl against top-tier talent, but I think he'll more than hold his own. Remember the adage about offensive linemen being the smartest players? Fisher's major is Mechanical Engineering. Oh, and in the photo on his bio page he's got this pissed-off, I'm-going-to-kick-your-ass look to him, like he's staring deep into your soul. It jives with his style on the field, a style we so desperately miss on the Eagles.
*[Speaking of Lewan, it just so happens his Draft Breakdown page contains six of seven games I hadn't seen (excluding first-game struggles against Alabama, which is what I had on my DVR along with his solid play versus Michigan State and Minnesota). As I went through each cutup in succession, I noted shoddy balance, slow feet, struggles with quick defensive ends coming around the edge, a propensity for leaning and lunging (which led to getting tossed aside), whiffing on blocks. "Clumsy" is the adjective that kept popping into my head. There were flashes of NFL ability and for the most part I liked how he got to the second level and located defenders, but consistency was an issue, especially in pass protection. While Lewan has definitive limitations and is a better run blocker than pass blocker who plays with a nasty demeanor, overall, it didn't take long before I felt like a jackass for initially having read about him more than watched him. It led me to opine from a relatively uninformed perspective, which is something I try not to do. He's going to get worked by Jadeveon Clowney in the Outback Bowl. Forget what I wrote last week, I wouldn't take Taylor Lewan in the top-10, probably not in the top-20.]
Back to Eric Fisher. Aside from level of competition, I couldn't come up with any reasons why he isn't considered a lock for the top-10. I've seen Joe Staley comparisons thrown around, and I imagine it's not only because they're both Chippewas. Without being able to watch any of his games, here's what I knew of Staley in his draft year (2007): He was a converted tight end and a generational athlete for the position with off-the-chart measurables. We're talking about a guy who, at nearly 6'6" and 306 pounds, ran a 4.78 at the Combine. Yes, a 4.78. Without doing extensive research, I feel fairly confident saying that's one of the three fastest 40-times for an offensive tackle ever recorded. If you watch the 49ers, you see that speed on display pretty regularly when Staley pulls and gets out in front to clear the way on running plays. He's made himself into one of the best left tackles in the league, and it's not absurd to think Fisher could develop similarly when evaluating his skill set.
Now, I don't foresee Fisher running anywhere even close to a 4.78, but I'll be more interested in his 10- and 20-yard splits than his 40-yard dash time. At 6'6.5" and 305 pounds, he is an exceptional, rare athlete for his size, displaying the necessary balance and quick, light feet to combat NFL defensive ends. I'm simply blown away by his agility, how effortlessly and nimbly he moves. I love that he plays mean and to the whistle. Fisher bends well and has long arms that he uses to routinely keep pass rushers from getting into his body; if he does get beat, he's able to push defenders wide and redirect them away from the quarterback. While lauded primarily for pass protection, I think he's being underrated as a run blocker, as those long arms, combined with how he fires off the snap, consistently enable him to initiate contact and drive defensive linemen backwards. Fisher excels when asked to pull and is a natural, decisive blocker in space, though sometimes his aggressiveness leads to overextension and lunging. I also thought he anchored really well in pass protection; was able to stand his ground and not get pushed back when defensive ends attempted to get under pad level and create leverage. In other words, Fisher was never put on those dreaded "roller skates."
I've admitted that scouting offensive lineman from a technical standpoint isn't a strength of mine, but even I can notice when a player looks ugly (Lewan) or showcases special ability, which is the case with Eric Fisher. While his current weight suggests he'll need to add strength (has the frame to do so without sacrificing skill), his size, length, athleticism, balance, quick feet and fluid movement make him an ideal left tackle. Fisher missed the final two games of 2011 because of a knee injury, but if his medicals check out he profiles as a long-time starter and potential Pro Bowl player at the position, thanks to physical characteristics and elite athleticism that simply cannot be taught. If the Eagles choose to trade down, he is the kind of player they could target in the 10-20 range. You can watch Fisher yourself on Wednesday, December 26, when Central Michigan takes on Western Kentucky in the Little Ceasars Bowl. Unfortunately, he won't be attempting to block fellow draft prospect Quanterus Smith, defensive end for Western Kentucky, who tore his ACL last month.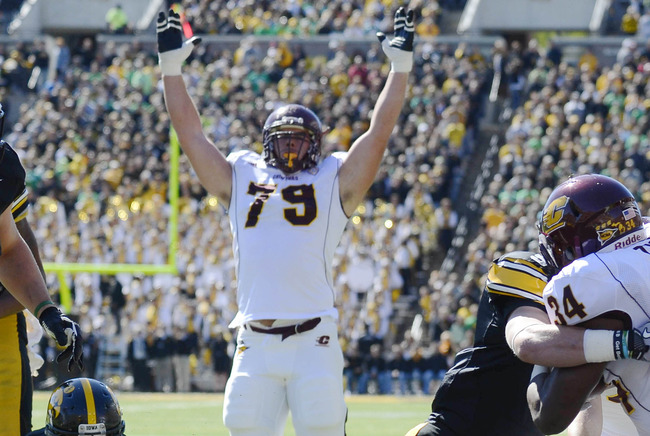 Two late-round prospects:
Bojay Filimoeatu - OLB - Utah State - 6012 / 258 - 4.72
The first time I ever heard of or saw Bojay Filimoeatu play was by accident. It was a Friday night, September 7, and I was sitting in the living room while a few friends were getting ready to go out. Not content to pound shots indiscriminately like REAL MEN, they wanted to devise a fun way to do it. Naturally, they decided the drinking should involve whatever football game was being televised. The only game on the tube was Utah's version of the civil war, pitting Utah against Utah State. As soon as we turned on the game, Filimoeatu made a play. And then another. And then another. Here's what I wrote:
Another guy who passes the name test. Elite ability to diagnose plays and get to the spot, head on a swivel/aware of everything going on, beats blockers with ease, disciplined, strong tackler, all over the field and made what seemed like every play/stop for Utah State defense in win over Utah, which was the first time I'd ever heard of or watched him. Filimoeatu's size and first step quickness alone are enough to intrigue, but it's his feel for the game and inspirational leadership that add to his overall appeal. During the Utah State/Utah game, the announcers alluded to Filimoeatu having an injury history, but he played all of last season, and, as far as I can tell, was healthy both years in junior college. So… yeah, I don't know.
I watched Filimoeatu again against Toledo in the esteemed Famous Idaho Potato Bowl last week and — surprise, surprise — he was all over the place, finishing with 11 TT (8 solo), 1 TFL, 1 sack, 1 PD. I almost felt like I was watching a copy of his performance against Utah. Hard-nosed, physical player who's an effective blitzer and always hovering around the line of scrimmage. Filimoeatu appears to have something of a, um, doughy build (which perversely makes me like him even more), and I wonder how well he'll test athletically. No matter, I doubt it's going to matter much to me in the end. I think he shows the skills to be a strongside linebacker in the NFL and represents a shrewd value pick somewhere in the 4th-7th round.
If anybody could hook me up with tape of Utah State/Wisconsin (September 15) so I can see how Bojay performs against AQ-conference competition, I'd be forever appreciative. 
Dexter McCoil - FS - Tulsa - 6032 / 222 - 4.62
I didn't discover Dexter "McPoyle" McCoil (bonus McPoyle fun) until a few weeks ago, but his measurements jumped out at me immediately. The only game tape on his Draft Breakdown page is the 2011 Bell Helicopter and Armed Forces Bowl against BYU, when he recorded 10 total tackles (almost always looks to wrap up ball-carrier's legs), two interceptions (plus a third that was nullified by a penalty) and a pass deflection where his long arms made up for not taking a good angle to the ball. McCoil has a big, long frame and wiry, gangly build; could bulk up a bit and retain athleticism, strides like a gazelle and shows incredible range. He's aggressive and unafraid to come up from the defensive backfield to stop ball carrier; good, solid open field tackler, much better than I expected actually. Like a true free safety, McCoil patrols the middle of the field and flashes great ball skills, having finished his college career with 17 interceptions. 2012 season stats: 85 TT (56 solo), 4 INT, 9 PD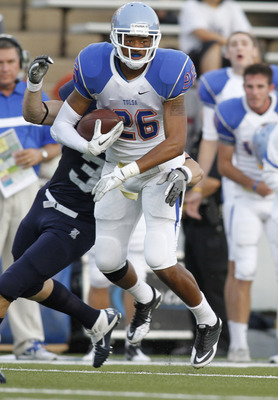 Dec 13
Examining 2013 Free Agency: Safety
I made a commitment a few weeks ago to start looking ahead to the offseason, and I'm sticking to it. That will start in the next paragraph. Sunday's thrilling and cathartic victory over the Buccaneers was extra sweet because, like douches, they celebrated the Super Bowl team that broke our hearts nearly ten years ago. It was good to have that (forgotten) winning feeling again, and I hope it proves to be a taste of what Nick Foles can do as a starting quarterback in this league. Two or three years from now, maybe we'll fondly look back on this game as when we first got a glimpse.
By now you've read about Foles' performance, both negative and positive — but mostly positive. I don't want to minimize that he missed some throws and should've been intercepted to end the game right before brilliantly concocting the fourth down play to Jason Avant. I just want to emphasize that the natural attributes Foles did show were highly impressive and indicative of the type of quarterback who has classically dominated the position. His pocket presence was sharp and subtle mobility Brady-esque, all the way down to slowly but smartly scrambling for crucial yards. Foles' football IQ, game awareness and general feel for the position are unlike what we, as Eagles fans, are used to seeing. Let's just say I'm somewhere between cautiously and enthusiastically optimistic. Tonight's game against the tough Bengals defense will be a key litmus test of his progression. After the stones — moxie, savvy, poise, HUGE BALLS — Foles showed on Sunday, I can barely suppress my glee and am thisclose to anointing him the real deal. Do you realize he did something that no other Eagles quarterback had achieved since the Elias Sports Bureau started keeping records in 1970 by throwing the winning touchdown pass on the game's final play? If you don't believe me, take it up with Merrill Reese.
Anyway, after last week's article, taking a look at the upcoming free agent class seems like the next step. Just remember, Eagles fans, as you know full well free agency can be a minefield of fool's gold. This first installment will feature the position you figure the team will target first and foremost, safety. There's a nice crop slated to become available, but I'm skeptical any of the best candidates will reach market due to getting re-signed or slapped with the franchise tag. Here are the top names (minus Ed Reed and Ronde Barber for obvious reasons):
Jairus Byrd - FS - Buffalo Bills - 5'10" / 203
One of the league's most dangerous game-changers on defense, Byrd would bring much-needed stability and playmaking ability to a flaccid Eagles secondary. His level of consistent excellence as a pro has been marvelous, and given the fact that he turns 27 next season, it's reasonable to think he still has at least four or five elite seasons remaining. Understandably, the Bills have already reached out with the intent to re-sign Byrd. They'll have to pay him as the top safety in football because his numbers warrant it. At worst the Bills will be forced to franchise Byrd, so I don't see him being on the market.
Dashon Goldson - FS - San Francisco 49ers - 6'2" / 200
First established himself in 2009 and, as far as the numbers go, has been producing well ever since. Pro Football focus harpooned his 2011 season and labeled him a "seemingly average player." I haven't intently watched enough 49ers games (aside from seeing their offense thanks to the glorious NFL RedZone Channel) to accurately assess Goldson this season, so I'll leave that up to the readers who can. Somehow I get the feeling he'll be commanding a sizable contract. Turns 29 next season, not worth big money to me.
William Moore - SS - Atlanta Falcons - 6'0" / 221
He just might be the most underrated safety in the league. I really liked Moore in the 2009 draft coming out of Missouri; the Falcons selected him in the second round, a few picks after the Eagles took LeSean McCoy. Yeah, can't say I would've wanted it to happen differently. Another player who will stay with his current team one way or another.
Under the radar options:
Louis Delmas - FS - Detroit Lions - 5'11" / 202
Like Moore, Delmas was a top-rated safety (of the free variety) in the 2009 draft. Like Moore, Delmas is a player of whom I thought highly. After making an immediate impact and looking like a potential All-Pro his first two seasons in the league, Delmas has been hit hard by injuries and seen his performance drop off. If the Lions don't retain him, he represents an intriguing low risk/high reward investment. One I'd endorse, for the right price.
Kerry Rhodes - FS - Arizona Cardinals - 6'3" / 212
Got two of his four interceptions against former teammate and all-around jag Mark Sanchez, so I'm not sure if we should count those (half joking). What sticks out to me most about Rhodes, however, is his high number of solo tackles. You might also remember him for causing this. Solid player overall but turns 31 next season and isn't worth breaking the bank. On a short-term deal, you  talk me into it.
Others: Kenny Phillips, LaRon Landry, Sean Considine (just kidding)
Ready for dessert? I think I'll finish with another mock draft, because, well, why not — it's a chance to introduce a new fleet of prospects. Plus, today's version includes something that so many fans are suggesting. I'm about to tickle the fuck out of my fancy with a fantastical trade down in the first round to acquire an extra pick (or two).
Trade (based on current draft order): #4 overall (1800 points) to San Diego for #9 (1350 points) and #41 (490 points). Points are based on the draft pick value chart.
* = underclassman
1 (9, via SD): *Taylor Lewan - OT - Michigan - 6061 / 310 - 4.98
Assuming he declares, Lewan has ideal measurables and is around the Luke Joeckel level athletically. Good length and a better run blocker than pass blocker; plays with a certain toughness and nastiness that would appeal to all of us who long for Jon Runyan, but the style is a double-edged sword. In the past Lewan was prone to instances of undisciplined play and letting his emotions get the best of him, which resulted in personal foul penalties that hurt his team. However, it seems as though the maturation process has paid dividends and caught up with his natural ability. After some early struggles, Lewan bounced back to have a quality (redshirt) junior season for the Wolverines and was voted the Big Ten Conference Offensive Lineman of the year.
I need to watch more tape (only seen a few Michigan games this season), but to be honest, Taylor Lewan is likely going to make or break his pro potential to me with how he performs in the Outback Bowl against Jadeveon Clowney, the projected first overall pick in 2014. That will be the lasting impression in forming my opinion.
If the Eagles want to trade down even further in the first round and get a king's ransom for their pick, they should target Texas A&M OT Jake Matthews (Joeckel's bookend partner and son of Hall-of-Famer Bruce), Central Michigan OT Eric Fisher, or Oklahoma OT Lane Johnson. All of them should end up going in the 10-25 range.
2 (36): *Justin Hunter - WR - Tennessee - 6035 / 200 - 4.49
Like fellow Volunteers wide receiver Cordarelle Patterson, I'm skeptical Hunter, if he declares (which appears imminent), would even last this long since I expect him to kill it at the Combine. Former track star who has everything you look for in a number one wide receiver and is the big, dynamic weapon the Eagles need to complete the offensive arsenal. Hunter has a long, wiry frame and is a fluid, freakish athlete with deft body control and mid-air adjustment capabilities; length creates a huge catching radius and propensity for high-pointing the ball, while he's shown ability to pluck passes out of the air with ease. An advanced route runner who can create separation with his speed, acceleration and ability to sink hips without decelerating, Hunter is a game-breaker who can make defenders miss and rack up yards after the catch. Sometimes loses focus and drops passes because he doesn't look ball into his hands (already has head turned upfield) or lets it get into his chest. Slender build and needs to get stronger, but that should come with continued maturation and NFL weight training. Superstar potential if mental component catches up with elite physical talents.
Justin Hunter would likely be a surefire top-15 pick in 2014 and steal at the top of the second round in 2013. Ah, I'm deluding myself, once the predraft process is over he'll probably be a top-20 pick in April.
Note: Hunter tore his ACL in the third game of 2011 season, and I wonder what kind of effect the injury had on his 2012 season. Profiles as a candidate to break out as an NFL rookie in 2013, when he'll be two years removed from injury.
2 (41): *Matt Elam - S - Florida - 5102 / 202 - 4.53
Here's what I wrote about Elam back in early October:
On defense, Matt Elam reminds me of Brian Dawkins (*drool*). A complete safety with elite instincts, he covers ground, excels playing center field and in coverage matching up with tight ends and running backs. Elam is good against the run, a physical tackler who flies to the football and blows up ball carriers, while also showing flashes of being a dangerous blitzer and disruptive force in the backfield. Plays violently and toes the line, but can sometimes let emotions get the best of him. To that extent, my only real concern about Elam at the next level is his size and whether he'll be able to sustain his current style of play. A scheme-flexible hybrid who could play probably both safety spots in the NFL, he has all the makings of a stud difference-maker at the next level. Capped with a dominant performance in Gator Bowl win over Ohio State (6 tackles, 2 tackles for loss, 1 sack), Elam was the best player on Florida's defense last year — what I loved most is that he actually led the Gators in tackles for loss with 11 — and remains so now. Seriously, Brian Dawkins-level unique skill set for the position, leadership intangible included. I want Matt Elam on my football team, but we might have to talk about wearing a bigger jersey. This isn't the 1980's.
Future note: In one of these mocks I'll address the potential (likely?) scenario that neither DRC nor Nnamdi will be back with the Eagles in 2013 and therefore spend two of the first three picks on cornerbacks.
3 (68): Chase Thomas - OLB - Stanford - 6036 / 248 - 4.74
Has the size, strength, skill set and rugged, physical style of a throwback era linebacker. Thomas is my favorite player on what's a ferocious, pro-caliber and highly enjoyable to watch Stanford defense. He's instinctive, always around the ball and a tremendous tackler. Quick and anticipatory as opposed to fast. A little stiff and most effective down near the line of scrimmage instead of in space, Thomas developed pass rush skills as an outside linebacker in Stanford's 3-4. While an average athlete at best, he should be able to play on his feet just fine in a 4-3.
As we saw in the Bucs game, Mychal Kendricks is best suited to play weakside linebacker, where he can utilize his elite speed (to close on the ball) and special athleticism (in coverage). With DeMeco Ryans in the middle and Chase Thomas ready to step in immediately, this selection would truly solidify the starting linebacker corps. I can't even express to you how ecstatic I'd be if the Eagles draft him.
4: Jordan Poyer - CB - Oregon State - 5111 / 190 - 4.49
Well-rounded player who impressed me with each successive viewing. Showcases the kind of versatility that appeals to NFL teams and lined up all over the place on the Oregon State defense. Poyer has experience covering outside wide receivers, slot receivers and tight ends. Great athlete with elite awareness and innate feel for both man and zone coverage. Unafraid, always in attack mode. Ball skills are tremendous (7 interceptions this season and 13 for his career), perhaps best among cornerback prospects in this draft. What sticks out to me most, however, is how well Poyer's able to turn and locate the ball while running with a receiver, so that even if he can't necessarily make a play, he's not face-guarding the receiver and committing pass interference. Not the prettiest tackler, but it's not for lack of effort or desire; size just prevents him from being anythig more than average in this area, and getting off blocks will be an issue. Poyer can be outmuscled by bigger wide receivers and must get stronger, but he has the undeniable skill set of a top-notch NFL corner.
Unfortunately, Poyer was robbed of a chance to match up with Keenan Allen when the latter was sidelined with an injury for Oregon State/California, as I was looking forward to seeing how he would fair against one of the nation's top wide receiver prospects.
Based on talent alone, another CB I'd want at this spot is Georgia's Sanders Commings (6012 / 216), but I can't in good conscience advocate selecting him. He was suspended for the first two games of the season and has a troubling history of domestic violent complaints.
5: Brandon Williams - DT - Missouri Southern - 6016 / 328 - 5.09
Williams might hail from Division II Missouri Southern, but he has everything you look for in a prospect and profiles as a player whose talent transcends that lower level of competition. In addition to being an unstoppable force, Williams' size, strength, quickness and versatility (played all along the defensive line) will appeal to NFL teams. So too will his character and personality. The thought of pairing Williams with Fletcher Cox has my salivary glands going haywire.
6: Larry Webster - DE - Bloomsburg - 6062 / 240 - 4.74
Second Division II player in a row. Webster popped up on my radar about a month ago while I was putting together a scourting report on Maryland DE/DT Joe Vellano, a personal favorite of mine. At the time, Vellano was ranked one spot behind Webster by NFL Draft Scout. A defensive end who's 6'6", 240 pounds and runs a 4.74? Well, with such enticing physical attributes he passes the eye test with flying colors, so I had to know more. Turns out Webster is the son of former 11-year NFL veteran defensive tackle Larry Webster, so put a check under favorable bloodlines. The junior Larry, a four-year starting center for the Bloomsburg basketball team, hadn't played football competitively since high school until this season. His length, athleticism, raw ability and seamless reintegration to the sport — where he was immediately dominant, even recording a sack and interception in the season opener — drew the attention of pro scouts. One of those "pieces of clay" who could be molded into something special with the right coaching. Very high ceiling, the type of talent you take a chance on at this point in the draft.
Another consideration here is Marquis Jackson (DE - Portland State - 6032 / 260 - 4.87). He's a former USC recruit and Texas Southern transfer who brings a ton of raw ability to the table. With the size and talent to be an NFL defensive end, Jackson is a project who could blossom in the right situation.
7: Adam Smith - OG - Western Kentucky - 6045 / 325 - 5.46
This Adam Smith might not be the father of modern economics, but he is a player whose sheer mammothness (not a word) caught my eye. A classic road grader-type; limited athlete who relies on simply engulfing and overpowering opponents. I imagine I'd learn everything I need to know about Adam Smith's NFL potential by watching the Alabama game (as an aside, this is when  teammate Quanterrus Smith sent his draft stock soaring with a three-sack performance), which is a tape I've been meaning to get my hands on.
7 (via DEN, Brodrick Bunkley trade): Drew Frey - SS - Cincinnati - 6026 / 212 - 4.58
Obligatory Cincinnati pick. Frey is a try-hard thumper in the classic SS mold who's effective down near the line of scrimmage and a liability in coverage. Athletic limitations and one-dimensional nature confine him to being a backup safety, but a player I envision earning his keep on special teams.
How do you like that Missouri Southern-Bloomsburg-Western Kentucky trifecta in rounds five, six and seven? God, I love the draft.
Finally, here's to tonight's game perpetuating the happy and hopeful feelings for the future. Here's to Folesmania continuing.
Dec 07
A Preliminary Look at the Eagles' 2013 Offseason
Losing to the Cowboys is always the antithesis of fun, a fate that typically tortures my soul and ruins my week. However, seeing as how I gave up on the season a long time ago, I'm now viewing games through the prism of preparing for next year and beyond. With that in mind, I saw reasons for optimism Sunday night. Nick Foles put forth by far his best performance to date. While he still missed open opportunities and was fortunate not to throw a pick-six to Danny McCray, the rookie showed encouraging signs of progression. He was poised and stood tall in the pocket, unafraid to take a hit to make a play. While Foles remains a project, for the first time I started to earnestly warm up to the idea of him being the Eagles starting quarterback in 2013. Whether I remain warm to that idea will be determined over the final four games.
Aside from Foles's performance, Dennis Kelly showed flashes of being an NFL-caliber right tackle, a position he held at Purdue his entire four-year college career. It didn't take long for the experiment of trying him at guard to be deemed a failure — with good reason, since he looked utterly lost and served as little more than a matador. Kelly, able to narrow his focus and utilize his size and athleticism to neutralize pass rushers, looked comfortable and competent with more space to operate. With the caveat in mind that the Eagles will be getting back three starters from injury in 2013, offensive line doesn't appear to be as dire a need as it was a month ago. In fact, when you consider how Jake Scott's addition has seemingly stabilized the unit, the Eagles suddenly have considerable depth there. Who knows if Scott will be offered a contract for next season with Howard Mudd retiring, but there's no denying the impact he's had since signing. Had you asked me a few weeks ago who the Eagles should target with their first round pick, I'd have said Luke Joeckel. Now I'm not so sure and lean more towards the best defensive player available. The Eagles need a rock solid performer, emotional leader and playmaker on that side of the ball. I know DeMeco Ryans has been one of the few bright spots on defense this season, but if Chuck Bednarik and Maxwell Award winner Manti Te'o is on the board, I think the Eagles should take him and go from there.
Don't worry, I didn't forget about Bryce Brown, who continued to show he's a unique package of physical ability with superstar talent. Know this: His potential is limitless. I'd venture to say there are few running backs in the league who can rival his skill set. I'm not even lathering this in hyperbole sauce, I really believe it. Of course, Brown has to learn to better protect the football and curb his fumblitis, or none of that immense promise will mean a damn thing. Luckily, you can teach ball security; you can't teach how he runs. An offense built around a tandem of LeSean McCoy and Bryce Brown carrying the ball 30-40 times per game can absolutely win in an NFL that's become tilted in favor of the passing attack. You know why? Because football is still, at its core, about lining up, putting a hat on a hat and beating the guy in front of you. Hopefully Jason Peters can be 100% healthy and back to form for next season because the thought of him clearing the way for McCoy and Brown is positively boner-inducing. Step back for a second and think about what the Eagles starting offensive line could look like next season: LT - Jason Peters; LG - Evan Mathis; C - Jason Kelce; RG - Todd Herremans; RT - Dennis Kelly. I could dig it.
I'd be remiss if I didn't mention Brandon Graham, Riley Cooper, and Damaris Johnson, all of whom made their presence felt against the Cowboys. Graham, for reasons that might have helped contribute to Jim Washburn's firing, only played 31 snaps against Dallas despite owning Doug Free (then again, it appears everyone owns Doug Free these days). He was a terror in the first half, recording numerous pressures and 1.5 sacks, before slowing down a bit in the second half. As for Riley Cooper, I'll continue to sing his praises until I'm blue in the face. I think Cooper is a legit weapon, especially down in the red zone, and he's exactly what the Eagles desperately need. That touchdown catch was a fantastic, NFL-caliber grab (credit to Foles for trusting his receiver to make a play) — his second one-handed snag in as many games versus Dallas! I've been a Damaris Johnson advocate for going on two years and will continue to lobby he get the ball more on offense. He's got a bona fide niche in this league as an offensive gadget player, waiting to be exploited. Against the Cowboys, however, Johnson made his mark at the end with a slick, electrifying 98-yard punt return that gave the Eagles a brief glimmer of hope.
At this point, I'd like to link my season preview article, where I posited the Eagles had to change their identity and forge a certain toughness on both sides of the ball. Part of this, to me, meant building the offense around its most dangerous weapon, LeSean McCoy. I was skewered at the time for romanticizing the power rushing attack and being antiquated, but I will not waver. The thing is, I'm not asking for a power rushing attack, I just want an offense where the best players touch the ball as much as possible. Like Andy Reid and Marty Mornhinweg stubbornly believe you win in this league by passing the ball ad nauseum, I stubbornly believe the next era of Eagles football must be constructed around a running game that has the potential to be dominant. Shit, I thought that before the emergence of Bryce Brown. As you might imagine, his play the past two games — he won me my fantasy matchup again! — has only strengthened my conviction.
What I really want to do in this article is get a head start on the offseason and assess the roster. I'll open up the forum to you, the readers. Those of you who wish to share your opinion and have your voice heard, this is your chance: Which of the current players should be part of the Eagles' plans in 2013, and which should be given their walking papers?
I'll throw a few ideas to get things started…
- The Eagles defense is an affront to what a real NFL defense should be. Remember how DRC essentially branded the unit as soft and intimated they were a joke around the league? Yeah, that wasn't emasculating or anything. We've heard the term "cancer" associated with the Eagles way too much the past two seasons. That influence has to be eradicated and the mindset of the defense has to be overhauled. In addition to a proven coach, the defense needs a real, demonstrative leader on the field. Someone whose presence and play can have a ripple effect and fundamentally change the defense's identity. Someone who's a playmaker, who can turn the game's momentum and come through in the clutch.
- Should the Eagles trade Jeremy Maclin? I know I'd shop him around the league to gauge value. I get a feeling the best offer might be a third or fourth round pick. If it's a third, I do it. Why? Because I don't think he has value to the Eagles beyond next season. Get what you can for Maclin now because it doesn't make sense to give him the contract he'll demand. DeSean Jackson is already making big money, and Jeremy has shown nothing to indicate he's more than a redundant, fairly "blah" complement. He's mostly ineffective after the catch, and his (lack of) effort as a blocker at times has been appalling and off-putting. I don't expect Jackson to do much more than just get in the way as a blocker due to his size, but Maclin has no excuse for playing like a bitch.
- Do the Eagles have to replace the entire secondary this offseason? I'm serious. Is that going to happen? The most dumbfounding, bizarre development this season is by far the thorough implosion of the pass defense. What the fuck happened? John Lynch, in an interview with Jome Rome, decried the secondary's effort as "disrespectful… to the game." Wow. We all know the video game numbers opposing quarterbacks have put up since Juan Castillo got shit-canned and Todd Bowles was elevated from defensive backs coach to defensive coordinator. The whole thing is simply mind-numbing. Talk about your all-time backfires, right, Andy? Speaking of Andy, I'm not buying the feared notion that he could be coming back next year, but I'm also in I'll-believe-it-when-I-see-it mode.*
*I just feel sympathy for Reid at this point. He is a captain going down with the ship, doing his martyr schtick to the bitter end. After 14 seasons and the most successful era in team history, the man deserves to go out with his dignity in tact. I've had my disagreements with Andy — mainly pertaining to his obstinate offensive philosophy — and directed some expletives his way over the years, but that doesn't mean I don't appreciate what he has done for the Eagles. The hard truth is his opportunity to win a Super Bowl in Philadelphia has long since expired. It's simply time for us to go our separate ways. Whenever Andy retires from coaching, he'll be brought back and inducted into the Eagles' Ring of Honor, the fans will cheer and celebrate him, it'll be happy feelings all around. The hollowness of not achieving the ultimate goal will never go away, but life is full of disappointments. I was fortunate to have Andy Reid as the Eagles' coach during my adolescent years. I got to watch relevant, competitive, winning football more often than not. Now it's time to move on and see if there's someone else out there who can help the Eagles win that elusive, almost mythical Super Bowl.
I'll devote a future post to free agency, but for the sake of discussion, here's a very early Eagles' mock draft:
Player - Position - School - Height / Weight - 40-Yard Dash Time (estimated)
1 (5): Manti Te'o - ILB - Notre Dame - 6015 / 255 - 4.75
I know, I know, DeMeco Ryans has earned the right to be the Eagles starting middle linebacker in 2013. I don't think this pick necessarily changes that right now, but given his age (29 in July) and contract — Ryans is due $6.6M in '13; $6.8M in '14 and '15 — finding his successor would be a prudent move. Te'o has been in the spotlight since his senior year of high school, when he was ESPN's second-ranked overall recruit. In addition to serving as the face of Notre Dame's resurgence under Brian Kelly, Te'o has established himself as a college football icon. A player whose mere nomination for the Heisman Trophy is a remarkable feat, a player who screams impact pro. The Eagles need a fiery leader and game-changing playmaker on defense. Manti Te'o has always been a fiery leader, but this season he's proven he can be that game-changing playmaker as well. The intangibles, solid tackling (most of the time), instincts and recognition skills have never been in question, and Te'o's coverage skills have improved. While his seven interceptions in 2012 are impressive, don't forget he had a grand total of zero his first three seasons. Interceptions or not, Te'o still profiles as a player who can dutifully and dependably lead an NFL defense for a decade.
Now, do I actually think Te'o will be the Eagles' first pick? Let's just say it would really surprise me. Then again, maybe such a selection would signify a shift in philosophy. A lot of the decision will depend on who's the next coach. More than anything, I want Howie Roseman — of whom I am a supporter, and who I think deserves a chance to create his own legacy independent of Andy (his actions this past offseason sold me on him as a GM) — to stick to the board and pick the best player available. You know, like the Eagles did in 2012 after Roseman admitted they had strayed in recent years. Everyone is entitled to their own opinion of Howie. Some will never be able to see past the fact that he made his bones on the business end of operations and thus label him an "outsider" unfit for talent evaluation. Some will crucify him for the mistakes of 2010 and 2011. I'm over that. I want to see if Roseman can build upon his most recent momentum and continue to improve. How he's handled himself to this point, and how he's progressed along the way, makes me optimistic that his best is yet to come.
Other options: Luke Joeckel (OT - Texas A&M), Star Lotulelei (DT - Utah), Bjoern Werner (DE - Florida State)
Edit: I'm switching around the Phillip Thomas and Arthur Brown picks (I struggled with this while writing the article)… though I doubt Arthur lasts until the third round.
2 (37): Phillip Thomas - S - Fresno State - 6003 / 215 - 4.57
You remember Phillip Thomas, don't you? The undrafted free agent out of Syracuse the Eagles signed, who also fell victim to a weird impersonator? Yeah, this Phillip Thomas is whole hell of a lot better. I don't know where Thomas, who leads the nation in interceptions and is up for the Jim Thorpe Award, is projected to go in the draft, but I currently have him ranked in my top-40. A player who flashed as a freshman and sophomore, he has had an incredible senior campaign after missing all of last season with a devastating broken leg and dislocated ankle. What makes Thomas so appealing is that he's a ball hawk who can cover tight ends and excels playing center field. He sometimes struggles when attacking downfield; needs to be more disciplined, as he has a tendency to launch himself instead of breaking down and exhibiting proper form. That said, Thomas has shown he can be a solid tackler, he's just inconsistent. For example, in the Fresno State/Boise State game in October, Thomas shed an offensive lineman at the goal line and stepped up to stuff the running back. That's an impressive, special play. Yet later in the game he had a chance to make a tackle but flew right by the ball carrier, allowing him to pick up extra yards. Thomas loves to lay the wood and is a fearsome hitter (different from "tackler") with instincts and a feel for the game to match. A true playmaker with few glaring weaknesses, I think he can be an immediate starter in the NFL.
Other options: Matt Elam (SS - Florida), Desmond Trufant (CB - Washington)
3 (69): Arthur Brown - OLB - Kansas State - 6005 / 228 - 4.62
No, this doesn't mean I've given up on Mychal Kendricks. Best player available, remember? Besides, competition at linebacker isn't a bad thing. Maybe the Eagles will switch to a 3-4 in the offseason, who knows? I'm just telling you right now: Arthur Brown is going to be an excellent pro, and the type of player you find ways to get on the field. Aside from the fact that it would be cool to reunite the Brown brothers as pivotal (re)building blocks for the Eagles, the elder Brown — only by 11 months (!) — served as an adept foil to Robert Griffin III in their only college matchup, intercepting him once and sacking him 1.5 times (the game tape is glorious). I have a feeling we're going to need players like that going forward. Brown's value is tricky to ascertain. I've read anywhere from late first to third round. Like Lavonte David last draft, Arthur's size will be scrutinized and obscure the fact that it's literally the only negative aspect of his game.
Other options: Quinton Patton (WR - Louisiana Tech), Ra'Shede Hageman (DT/DE - Minnesota - A rare specimen whose size/weight/speed combination is downright Fletcher Coxian)
4: Blidi Wreh-Wilson - CB - Connecticut - 6004 / 190 - 4.48
Wreh-Wilson has jumped out at me in limited viewings this season after missing most of 2011 with a knee injury. Like his athleticism and physical style, will be a player I watch closely if I'm able to make it to the Senior Bowl.
5: Travis Kelce - TE - Cincinnati - 6052 / 260 - 4.68
Yes, Jason's brother. Let's make the Eagles a family affair! Travis is a big dude and legit athlete; strong blocker and sneaky dangerous receiver who came into his own as a redshirt senior. He fits the prototype for the league-wide revolution taking place at the position and is a perfect complement to Brent Celek (better than the relatively forgotten Clay Harbor, at least).
6: Blaize Foltz - OG - Texas Christian  - 6036 / 310 - 5.32
Gotta love this guy. First, the name. Too awesome. On the field, Foltz is a true throwback, tough as nails and a mauler. He might also just be the strongest offensive lineman in the country. Seriously, dude is a freak. Going into this season, Foltz was benching 580 pounds, squatting 800, incline benching 530 and had clean jerked 430. And TCU coaches said he could do more if they let him. Um, whoa.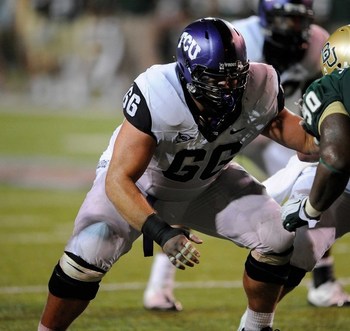 7: Mark Harrison - WR - Rutgers - 6024 / 230 - 4.58
Not a burner but has incredible size and strength, long limbs and makes highlight-reel catches. Harrison's physical skills are overwhelming, and he understands how to use them to his advantage. His development this season, after a breakout 2010 and injury-stunted 2011, really made me take notice. Strikes me as a player coming into his own and represents significant value at this spot.
7 (via DEN, Brodrick Bunkley trade): Cooper Taylor - SS - Richmond - 6034 / 228 - 4.57
Aside from the imposing size and physicality, Taylor, a Georgia Tech transfer whose freshman tape you should definitely watch, has dominated FCS competition the past two seasons. He's up for the Buck Buchanan Award and intrigues the hell out of me. College career was interrupted by rare heart disorder, but Taylor was cleared to play and, having seen his spot in the Yellow Jackets lineup usurped, transferred to Richmond.
Alright, flame away.
Nov 29
Where Do We Go From Here?
Think Monday night's game was rock bottom? Who knows, maybe this Eagles team is looking to redefine the phrase. It sucks, it's terrible, it's humiliating. But listen, sometimes you have to reach this nadir in order to understand the gravity of the situation, to cut the cord and start anew. Maybe a total implosion and widespread public ridicule is what it had to take for the insanity to finally end.
Looking at the division is a scary proposition since every other team is set at quarterback for at least the next five years. Eli will finish his going-to-be-Hall-of-Fame career with the Giants, Robert Griffin III is about to turn the Skins into the NFC East's new version of the early-2000's Eagles, and Tony Romo will continue to be Tony Romo for those wonderful Cowboys. Who, exactly, is the Eagles quarterback for 2013? I know the general feeling amongst the populace is to look at the franchise's current situation with feelings of dread and uncertainty, that the future is irrevocably doomed. I don't necessarily see it that way. Rather, I see opportunity. I see a chance for change, for resurrection. To make the Eagles a team that Philadelphia can love again. That Philadelphia wants to love. Basically, the kind of team that died for good in 2009, first when Brian Dawkins wasn't signed to end his career as an Eagle, and then again months later when Jim Johnson lost his battle with cancer. Because, let me tell you, the fans hate — so thoroughly loathe — these Eagles, and that's not how anyone wants to feel. That's not how it should be, and it breaks my heart. Ask ten people for one word to describe the 2012 Eagles, and I wager at least half would say "unlikeable." That's unacceptable.
I get excited when I think about the blank canvas that is the Eagles' future, and I hope to be a part of it in some capacity. The Eagles are approaching what has to be considered the most pivotal time in franchise history. What happens directly post-Andy Reid will (likely) define the next decade of football in Philadelphia. It will define the second half of Jeffrey Lurie's legacy as Eagles owner. Lurie and Howie Roseman can't afford to screw up this head coaching hire, but somehow I get the feeling they already know that. For the fans, it's open season on suggesting potential head coaches and looking ahead to the offseason, free agency and draft. 
I'm not going to talk about what happened against the Panthers because there isn't much I need to say… but I'll say something anyway. You understand what we are witnessing, right? This Eagles secondary, which was fairly excellent the first six games of 2012, has devolved into the worst in NFL history. It's mind-blowing. I'd say it's unbelievable, but these are the Eagles we're talking about. Nothing is unbelievable. I wonder if there was some kind of seismic shock that facilitated the collapse. I'm sure there was, just can't seem to put my finger on it. Oh well.
On the plus side, Bryce "Jim" Brown is super legit and delivered on the promise anyone who's seen him play football before knew was there. Brian Baldinger invoked a Bo Jackson comparison while reviewing the game film. If you remember, LeSean McCoy made the same comparison before the season even began. Yes, Brown showed his inexperience by carrying the ball loosely and fumbling twice (he's lucky that was it). We're talking about a player who hadn't received 15 touches in a game since high school. How to correctly and safely protect the football is a skill that can be taught, but Bryce Brown's rare blend of size, speed and power cannot. What we need now is a head coach committed to building the offense around Shady and Brown, around a run game that can physically devastate opposing defenses. Dare to dream, I guess. I mean, it's kinda simple, right? What you have here are two unique talents at running back, both of whom are still young and entering their primes. They also just so happen to complement each other harmoniously. How do you not build the offense around them? Am I crazy, or is this not what logic dictates?
Brown wasn't the only rookie to shine in the loss to Carolina. Vinny Curry made keeping him inactive the first ten games look positively foolish. Who was responsible for that decision? Yeah, fire him. Curry played with passion and had an impact nearly every time on the field, including a tackle on the very first snap of his NFL career. However, it was the hustle play he made to tackle Cam Newton at the line of scrimmage after falling down and missing him the backfield at first that tells you the kind of player Vinny Curry is. We so desperately need more of his caliber. With the merciful and overdue release of Jason Babin — probably THE poster child for the Eagles' unlikeableness, whom I detested even last season because he's an insufferable and self-important douche who plays a bitch brand of football (have fun in Jacksonville!) — we can finally see younger players who are hungry. Who have something to prove. Who play for more than just themselves. Who haven't already checked out.
Nick Foles' best moments of the game were when he recognized the blitz and audibled to a run at the line of scrimmage. Otherwise, his play was far below encouraging. Fine, it was bad. Hopefully Foles gets a few more games to start because I want to see if he progress at all. Right now it seems he has only regressed since taking over for Vick in the Cowboys game, and that's a troubling concern.
Wait, I said I wasn't going to write about the game. Damnit, my bad. Anyway, at the end of the season (only five weeks left!), Lurie and Roseman will have to make a critical determination: What kind of team do they want the Eagles to be? What kind of identity do they want to forge? What's their vision for the future? I've already written at length about what kind of team I want, but it's not up to me. In my ideal world, the Eagles are based on the current 49ers model. Mean, physical, imposing, badass you-know-whats. A team built on the solid foundational principles of football, that values strong defense and powerful rushing over finesse, glitz and gimmickry. Call me old school or antiquated, but that's how I want to see my team play, especially when my team doesn't have an elite or even efficient passer at the quarterback position. I want to make it very clear, however, for the people who mistakenly interpret my pleas as a romanticization of the three-yards-and-a-cloud-of-dust offense. I just want fucking balance. That's all I've ever asked for. Some discipline, some intuitiveness, some adaptability, understanding the ebbs and flows of a game. I delight in watching an explosive aerial attack — when it's capable of success and executed properly. Hell, I'd be lying if I said I don't enjoy Patriots' games and watching Tom Brady orchestra the offense's surgical, immaculate precision. It's a thing of beauty. Andy Reid made his bastardized version of the West Coast Offense painfully beautiful for a time with Donovan McNabb, but failed to find the successor he needed to complete a second term in Philadelphia. 
You've already heard the first rumor linking Chip Kelly to the Eagles, and I'm sure it won't be the last. This circus is just getting started, so do yourself a favor and take nothing too seriously. That said, I'm casting all my initial support behind Greg Roman, offensive coordinator for the 49ers. He profiles as the perfect candidate to lead the Eagles into a new era. Roman is someone who has more than earned the opportunity and is highly regarded around the league. Read that linked article and tell me you don't find the guy endearing.
Now, look at the offense Roman has created in San Francisco, where he's part of an exemplary group of coaches that's taking the league by storm. It's only natural to expect Jim Harbaugh's staff will get raided at some point. Speaking of which, defensive coordinator Vic Fangio will also be in demand on the head coaching market. I actually suggested him at the end of last season. Chatter is that Lurie will go after an offensive mind, so that's why I zeroed in on Roman. He will need to choose a quarterback from an underwhelming talent pool but can nonetheless come in here and immediately implement his philosophy, blessed with LeSean McCoy and Bryce Brown to jump start the operation. Roman, a Ventnor City native and Eagles fan as a youth (I think?), would also appeal emotionally to a fan base starving to feel a connection with its football team and coach. Listen to one of his press conferences and tell me it's not a breath of fresh air. He's articulate, insightful and forthright. Sure, Roman throws some general cliches in there, but it's not all cliches, which is what we've endured from Andy Reid. About the only thing these two have in common is their appearance — sans walrus 'stache. Greg Roman was once described as an "athletically challenged 5-foot-8, 255-pound nose guard" (FROM: John Carroll). I feel obligated to inform you of the rest of that quote: "… [who] earned a 3.5 GPA and had a consulting job during his final semester of college." Smart, if interestingly shaped, fella.
For the abortion that is this defense, we could only hope Roman manages to lure some of the 49ers' defensive staff with him. I doubt that will be easy, especially if Fangio gets a head coaching job elsewhere. But just for shits and giggles: Maybe Roman brings Jim Leavitt (yes, the former South Florida coach who was fired for this unfortunate incident). I'm desperate enough to say his old, gruff face reminds me of Jim Johnson. I'm not desperate enough to say he appeals to me more than defensive line coach Jim Tomsula. Tomsula cut his teeth as a defensive assistant in NFL Europe before becoming head coach of the mighty Rhein Fire in 2006. He joined the 49ers in 2007, survived the purge of Mike Singletary's coaching staff and sports a pristine 1-0 record as a head coach in the NFL. Undefeated! Add in Tomsula's fiery personality and, sure, I could see him fitting in just fine with our city. Of course, all this conjecture is but one of infinite coaching scenarios; I imagine everyone will have, and be eager to share their own opinions and desires regarding the matter.
I'll leave you with this final thought: Yeah, the season is over, but, come on, FUCK Dallas. Go Eagles, provide a sweet moment while we ingest this shit sandwich of a season by effectively ending the Cowboys' season. And hey, if Bryce Brown could win me my fantasy matchup for a second week in a row, I would certainly appreciate it.
Nov 21
NHL Lockout: No Good, No Bad, All Ugly
Guest post by Michael Alloy
(Editor's note: This article was submitted last week, before the most recent round of NHL/NHLPA meetings that are currently taking place in New York City and emitting a faint heartbeat of positivity. If you're wondering why I haven't written a piece about the lockout, it's because ignoring the lockout altogether is my personal form of protest.)
So I just got hired for a new job and boy was I excited! My company boasted a record revenue number for 2011 with $3.3 billion. Well, naturally they felt they could hire more employees and offered me a $75K annual salary. I said yes, we shook hands, moved to another city, put a deposit down on a new apartment and got ready to work. Before I could even start my boss told me that the other executives in the company felt they weren't being compensated fairly compared to other executives in other companies. Logically, my boss came up to me and my fellow new hires saying our salaries would be cut to $40K annually. If I didn't agree then I would be fired.
Ladies and gentleman, welcome to the 2012 NHL lockout.
The scenario I just presented is essentially what the lockout is all about. Only a few NHL teams regularly post profits, and the smaller market owners (the other executives) are angry and want more revenue sharing. The owners making money certainly don't want to give up more than they already are, and why should they? Honestly, why should they be punished for having a successful product? Well, that money has to come from somewhere. With a 43% share of Hockey Related Revenue (HRR), the owners feel the players should take a hit from their 57%. I mean think about it, that is an awfully high percentage going to the players. On top of dropping the players' share in HRR, the owners want to roll back the current salaries and place a maximum number of years for players' contract lenghts. Once again, it kind of makes sense. Obviously the owners saw this coming and were signing players responsibly to non-outrageously long contracts this summer with crazy bonuses.
What's that? Multiple contracts over 10 years in length were doled out as well as massive signing bonuses just this summer leading up to the final hours before the lockout? And the owners agreed to the players' 57% share of HRR when the last lockout ended in 2004? And the players took a salary rollback then?
Well, fuck me then.
So this is the part where I go on and on about how ridiculous the owners are being in trying to shortchange the players from a deal the owners themselves agreed to only eight years ago. Nope, sorry, the players are equally becoming at fault in the, "Let's make the other side look bad to distract everyone from us!" PR battle.
Look at any player's Twitter or Facebook — the tug-of-PR-war is on and the fans are the rope. While the players have taken to social media in an attempt to gain sympathy from the fans, it has actually started to make fans even more disgruntled. For the most part, I side with the players. The owners agreed to pay players these contracts and are now trying to renege on them — especially when some deals were signed in the past year by owners who had complained about contracts getting out of control — is outrageous, hence my analogy at the beginning of the article. And then it hit me, the owners aren't the losers and neither are the players anymore.
Who are the losers?
You.
Me.
Anyone who is a fan of hockey is a loser.
Between the NHL contracting a top PR official who has helped the GOP with their PR campaigning and Gary Bettman insisting he won't negotiate through the media while releasing every little detail, along with explanations, of a previous offer made to the players, the fans are left behind wondering what will become of hockey. The game of hockey has extremely loyal fans who love the game, but this lockout is seriously testing our resolve. Unlike the NFL, NBA and MLB, professional hockey leagues exist outside North America where players can continue to earn millions of dollars. Don't confuse these leagues with Euro-League Basketball or any Asian baseball league, they don't hold a candle to the big European leagues. The KHL (Russian Super League), Elitserien (Sweden), Extraliga (Czech Republic), SM-Liiga (Finland) and even the DEL (Germany) can afford to pay multiple players millions of dollars to play. While only the KHL can somewhat challenge the NHL, none of them can truly rival the biggest league on Earth. However, these leagues don't sign many of the role playing/minimum salary players. Who gets to play then? The superstars. Who would have the most impact putting pressure on the NHL and NHLPA to get a deal done? The superstars. Who is still earning their millions (sometimes six-figures) during the lockout? The superstars. If the NFL, NBA and MLB go into a lockout, the players feel the pressure, want paychecks again and become more desperate to make a deal. Strippers don't put $1 bills in their own thongs, you know! The players have every right to go out and earn a paycheck. There's just one word that comes to mind that the players used at the beginning of the lockout.
United.
That's right. The players claimed they were "united" to stand strong and come out on top on the other side of the lockout. Well many of those players who claimed to be united have bolted North America to where the ice is greener (God, that's a bad pun) in Europe. Being a die-hard Flyers fan, I have been paying attention to where players are. Hey, Claude Giroux, Danny Briere, Jakub Voracek and Wayne Simmonds, how united are you with Max Talbot and new teammate Bruno Gervais who didn't get huge offers to play abroad? Yup, real united.
Michael Grabner, I met you while I interned for the Islanders last season and by all accounts you're a stand-up guy. Well, you never punched me when I asked you to sign 20 Bobble heads and 40 pucks. But while you're over in Austria earning a paycheck, have you called teammates Marty Reasoner or Jay Pandolfo or Mark Eaton to tell them you're "united" in the cause while they are in the twilights of their careers and may not even play again, thus living their final season in hockey purgatory wondering if they'll have one more shot at glory?
I tried to side with the players. Really, I did. I still hate the owners and Gary Bettman's approach to the lockout like a vegan hates me when I wolf down a bacon-cheeseburger, but the players have lost my support. They say they want to negotiate, yet they stand pat and make no attempts to get the owners in to a room in a "we'll leave when we're done" mentality. Both sides are completely and utterly destroying the game I love more than anything.
I made a vow that if the NHL completely scratches the 2012-2013 season, I would spend absolutely ZERO money on any NHL Licensed product or attend any game when the league returns. Don't be fooled, this is hundreds, if not thousands, of my own money I won't spend. Sure, it won't make a dent, but what if the message gets out there and more fans do it? I've seen what fans pay on hockey merchandise (you don't want to know the markup), trust me an impact can be made.
That is, if there ever is hockey again….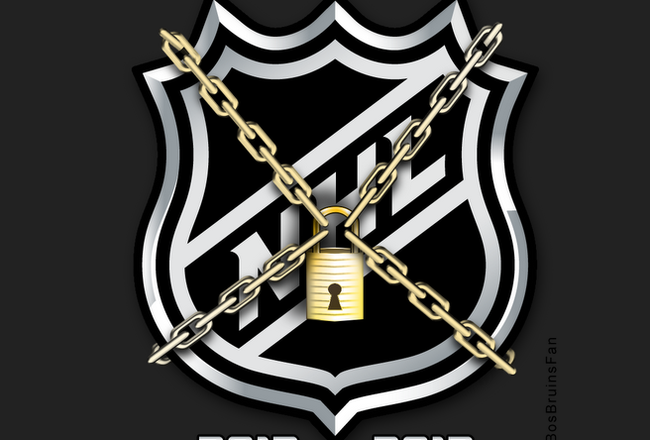 Nov 19
Eagles/Redskins: I Refuse To Write About This Game
Nov 13
Week 10 Recap: Cowboys 38 Eagles 23
Rock bottom hit Sunday evening at Lincoln Financial Field, with the Eagles spectacularly imploding in the fourth quarter and handing Dallas the win on a silver platter. It happened in the span of 2:35 from the end of the third quarter through early in the fourth quarter, when all three phases of the team — defense, special teams, offense, in that order — utterly failed. Fitting, really.
I started to type out this column Sunday night, complete with the typical sections for "The Good," "The Bad," and "The Ugly." After about ten minutes, I let out a sigh and said, "Fuck this." Then I got a second wind on Monday, sort of. I'm not going to follow the normal format, I'm just going to write. So if this article appears at all lazy, I apologize in advance. I'm just fatigued and over the whole mess that is the Eagles, you know?
LeSean McCoy, coming off a week when he missed two days of practice due to illness, did what he always does. He ran hard, made the most of his opportunities, and churned his way to 5+ yards per carry. Shady also appeared to be getting stronger as the game went along, averaging nearly 9 yards per carry in the second half — on just seven carries. Instead of feeding his bell cow, Andy Reid insisted McCoy looked tired (Shady disagreed) and didn't want to overwork him. Oh, hey, would you look at that, more bullshit. There were various instances throughout the game where the Eagles should have run the ball, but since Andy Reid and Marty Mornhinweg are smarter than everyone else on the planet, they decided that calling pass plays and having Demetress Bell attempt to block DeMarcus Ware — while King Dunlap commited penalty after penalty — was a better course of action. I'd continue, but you should just read Ray Didinger's "Eagles Film Study: Coaches ignore ground game." Why Ray didn't add "again" at the end there, I don't know. I hate repeating myself, and that's all I ever do when criticizing how Andy/Marty utilize their best offensive player. I'm spent, and I'm done devoting keystrokes to their idiocy. I just hope that the next coach is smart (and flexible) enough to build the offense around Shady, instead of arrogantly and pigheadedly wasting the prime years of his career because of an insatiable desire to satisfy a bloated ego.
Edit: How about that ridiculous, nonsensical offensive possession before halftime? That couldn't have been more vintage Andy Reid. Too funny. I was kinda rooting for the punt to get blocked, honestly (came close). Can't believe I forgot to include this originally.
Adendum: Can we please start seeing more Bryce Brown? Not only is he a talented and powerful runner, but his adept blitz pickup allowed Foles time to roll out and find Jeremy Maclin for the 44-yard touchdown pass.
It wasn't all good with Shady, though. His post-game quotes about the Eagles being able to "dominate" when things "come together" reaks of last season's interminable delusion. I saw Flight in theatres on Saturday, and Shady's words reminded me of Denzel Washington's character trying to convince everyone he's not addicted to alcohol or drugs while simultaneously chugging a handle of vodka and snorting cocaine. This team's self-perception is so warped and out of whack, it's pathetic. Newsflash: You are what you are —a bad, stupid team that can't get out of its own way. It's well beyond time to accept reality. After all, admitting you have a problem is the first step in correcting it.
On defense, the players didn't do much of anything to refute Dominique Rodgers-Cromartie's claim that the rest of the league views them as a "pretty" unit with no interest in "hitting" anybody. I feel the need to nitpick a bit with that critique. You see, Eagles defenders love hitting, it's tackling that they shun. There's a significant difference between the two. Aside from being allergic to tackling, the defense set an NFL record for Swiss cheeseness by allowing a third straight quarterback to complete over 70% of his passes while throwing for at least two touchdowns and zero interceptions. Bravo, guys. Bravo. Of course the entire secondary, which had been a strength the first six games of the season, would collapse the moment its coach was elevated to defensive coordinator. It wasn't all bad, though. The defense settled down after a porous start and held Tony Romo and company to 17 points, while the pass rush has started to show signs of life again. I haven't seen this mentioned, but Mychal Kendricks was brilliant in coverage against Jason Witten and the running backs. The main issue is that the unit has no legit playmakers, no one who can force turnovers or spur a swing in momentum. Nevertheless, I feel compelled to mention that Fletcher Cox had a tremendous game, even single-handedly stifling the Cowboys' first full possession of the second quarter. If only he could've corralled Romo on that fateful 3rd and 5 when the Gomer Pyle lookalike eluded every Eagles defensive lineman deep in the backfield before stepping up in the pocket and completing a 25-yard pass to Miles Austin. Three plays later came Dez Bryant's diving touchdown catch that hit the ground and shouldn't have counted, immediately followed by the coup de grâce that took all of 2:35 to transpire.
Finally, and most importantly, Sunday we witnessed the long-anticipated debut of Nick Foles, franchise savior (tongue, meet cheek). To whomever had Week 10 in the "When would Michael Vick suffer a serious injury?" pool, congratulations. Given the difficult circumstances, I thought Foles handled himself admirably and showed reasons for optimism, both from a tangible and intangible standpoint. He certainly didn't get any help from a coaching staff that abandoned an effective rushing attack and had him drop back 30+ times. As a passer, Foles already displays anticipation that Michael Vick could only dream of (see: the two passes when Jason Avant and Jeremy Maclin slipped coming out of their breaks). As a leader, he commanded the offense, made calls at the line, and interacted with his teammates on the sidelines. Was Foles lights out? No, not even close. There were certainly some terrible decisions and poor throws. He's a rookie, that's going to happen. What will be most telling is if he learns from those mistakes or repeats them. All I know is it looked like the Eagles finally had a quarterback playing that position instead of an athlete. I also found Foles' post-game comments refreshing and endearing. If nothing else, at least the Foles situation creates intrigue for what remains of another otherwise disappointing and disastrous season.
The rest of the season basically amounts to a trial run. Now we get to see if Foles can be the future at quarterback, or if the Eagles will have to look eslewhere for a solution in the offseason. This also means Andy Reid's short-term interests can no longer supersede the long-term interests of the franchise, which was an undeniable conflict. He's just lucky the decision was made for him. The Yahoo! report that states Andy will try to use Foles' potential progression during the last seven games of the season to save his job pisses me off to no end. As I tweeted yesterday, short of a miraculous 7-0 or 6-1 record with Foles that propels the Eagles to the playoffs, Andy does not deserve anymore chances, regardless of how good Foles might look. Just go away already and give me my team back. I want to enjoy the Eagles. I want to like them again. Andy Reid has made that impossible.
Among other things I'd like to see during the rest of the season: Increased playing time for Damaris Johnson and Riley Cooper. I've made my opinion on Damaris Johnson and his skills as a playmaker known in the past. He deserves more touches as part of the regular offense. Cooper fulfills a different role. The Eagles desperately need a big, physical target to play opposite DeSean Jackson. An "unbitch" receiver, as my dear friend Ari Lowell puts it. Someone who can go up and get the ball when it's in the air, someone who doesn't need a perfect throw to make the catch. Cooper is the only player on the roster who fits the bill and has serious ability, as he showed with his jaw-dropping touchdown catch against the Cowboys and in limited opportunities last season (see: second Giants game). I used to be very high on Maclin and thought he was a better pure receiver than Jackson, but I've soured on him this season. In addition to being afraid of contact, he is redundant in this offense and should be shopped for a trade before the draft.
Two weeks after losing for the first time post-bye, Andy Reid has now experienced his first five-game losing streak as Eagles head coach. Here's another upcoming first for him: Getting fired. It's not even the middle of November, but I'm already looking forward to the offseason and, PLEASE GOD, the beginning of a new era. Just make this insanity stop.