College Football: What to Watch (Part 1)
It seems like summer transformed into fall within the span of a few hours yesterday afternoon, and I can say it really feels like the college football season is now in full swing because of the slate of games this weekend. #3 LSU and #25 Mississppi State started us off with a 19-6 slugfest that featured a slew of NFL prospects. I'll preview tonight's noteworthy game now and the rest that are on the docket (Oklahoma/Florida State, Maryland/West Virginia, Penn State/Temple, etc.) and then watch and review the other enticing matchups tomorrow.
Tonight (Friday), 8 PM, ESPN: #4 Boise State at Toledo
You should watch this game for multiple reasons. First, and most importantly, it's prime drinking material if you're pregaming before going out and hitting the bars/clubs. Second, it features a surprising number of NFL draft prospects, my favorite of which being Eric Page, the junior wide receiver for Toledo who did his best to almost single-handedly beat Ohio State last weekend. And, third, it should actually be an exciting game. Toledo's a sneakily solid team that has the talent to be a spoiler, and Boise State's going to find its season ruined if it doesn't come to play. Remember, this game is at Toledo, and the Rockets are still 20-point underdogs. This team fought Ohio State tooth and nail and had the lead until the final three minutes. Of course the loss had to be disappointing, but the Rockets' confidence should be buoyed by their performance against the then-15th ranked Buckeyes. I like them to at least cover the spread tonight, and, who knows, perhaps even pull off the biggest upset of the season thus far. With that in mind, Toledo is +700 to win outright. You know what, fuck it. I'm feeling lucky, dangerous, and stupid all at the same time and putting down $100 on the Rockets to shock the nation. If that happens and I collect the $700 payout, I'm buying drinks for everyone who reads this blog. (The likelihood of me bitching out and only betting $50 to win $350 is currently at 99.9%).
(Postgame Edit: It's a good thing I only ended up betting $50. Still, I'm an idiot.)
Now, for the players to watch on each team…
TOLEDO
Eric Page - WR - Junior - 5096 / 192 (according to his NFLdraftscout.com page)
Here's what I wrote about Eric Page eight months ago in my epilogue to the 2010 college football season:
About the only thing that went wrong for Eric Page in 2010 was a lackluster performance in the Little Caesars Bowl against Florida International (alright, so I lied a bit when I said this section would only be for players who performed well in their bowl games). For the second straight season, he recorded 80+ catches and 1100+ yards to go along with being highly dangerous in the return game. Page will remain the #1 target in the Toldeo passing game in 2011, so look for another impressive season.
If the first two games are any indication, it does indeed look like Page is on his way to another impressive season. He introduced himself on a national stage in a big way against Ohio State, totaling 12 catches for 145 yards and two touchdowns. The Buckeyes simply could not cover him. And just for good measure, Page threw and completed the pass for the two-point conversion that put Toledo up 8-7 in the first quarter. You know who he reminds me of? Another Toledo Rocket currently playing in the NFL: Lance Moore. To take the comparison a step further, let's take a look at both players' size and stats. Coming out of college, Moore measured at a shade over 5-9 and 182 pounds, while running a 4.52 in the 40-yard dash at his pro day. He went undrafted in 2005 before signing with the Saints. During Moore's junior and senior seasons, he put up the following stats (with Bruce Gradkowski as his quarterback, by the way):
2003: 103 receptions, 1194 yards (11.6 ypc), 9 touchdowns
2004: 90 receptions, 1189 yards (13.2 ypc), 14 touchdowns
Eric Page is slightly taller at a shade under 5-10, ten pounds heavier at 192, and, if his NFLdraftscout.com player page is to be believed, has been clocked at 4.53 in the 40-yard dash. Furthermore, here are the stats from his first two collegiate seasons:
2009: 82 receptions, 1159 yards (14.1 ypc), 7 touchdowns
2010: 99 receptions, 1105 yards (11.2 ypc), 8 touchdowns
The difference is that Moore's numbers were from his last two years in college, while Page's were from his first two. I think Page will have his best season yet in 2011 and has a future in the NFL. He has a natural feel for the game, routinely finds openings in the defense, will take a hit to make the play, and is harder to bring down than one might think upon first glance (I always find myself marveling at how many tackles he breaks). A reliable and consistent target, Page has great hands and can make things happen after the catch despite not being a burner. Instead, he uses his agility, elusiveness, and an uncanny start-and-stop/change of direction ability that leaves defenders flat-footed and looking for their jock strap.
Adonis Thomas - RB - Senior - 5097 / 185 (according to his NFLdraftscout.com page)
The senior tailback had a breakout season in 2010 (ESPN Player Page), when he ran for 1098 yards on 175 carries (6.3 average), added another 372 yards on 31 receptions (12.0 average), and scored ten total touchdowns (eight rushing, two receiving). Thomas is undersized and not a workhorse back by any stretch of the imagination, but he's a versatile dual threat with 4.45 speed. Despite tallying just 47 yards on 14 carries against last week (which included a touchdown), Thomas hurt the Buckeyes with six receptions for 111 yards. He's a quick, explosive, fast-twitch, deftly agile athlete who darts around the field and can make defenders miss in space. Enticing talent, flashes serious big-play ability.
BOISE STATE

Kellen Moore - QB - Senior - 5115 / 195 (according to his NFLdraftscout.com page)
You've already watched plenty of Kellen Moore over the years and know what he can do. As such, you either think he can succeed in the NFL despite his height and lack of arm strength (he also has a weird delivery), or you don't. I love Moore's intelligence, poise, touch, and accuracy, but I have my doubts about whether he'll be able to be anything more than a solid backup at the next level.
Nate Potter - LT - Senior - 6055 / 298 (according to his NFLdraftscout.com page)
Potter is big, long, strong, athletic, and a standout performer both on and off field. He's been a consistent force on the Broncos' offensive line for the past four seasons. Potter has the frame to put on more weight and will likely have to at the next level. That's pretty much all I can tell you. Currently projected as a second round pick and is poised to follow in the footsteps of fellow Boise State alumni Ryan Clady and Daryn Colledge.
Doug Martin - RB - Senior - 5090 / 210 (according to his NFLdraftscout.com page)
Doug Martin is a dual threat who started to emerge in 2009 before really breaking out in 2010, when he had 1260 yards on 201 carries (6.3 average), 28 receptions for 338 yards, and 14 total touchdowns (12 rushing, two receiving). He has an ideal, compact build, keeps his pad level low, runs HARD, patiently waits for his blocks to set up, and displays excellent vision and burst when attacking the hole. Martin is a shifty runner with an array of moves who's also strong and breaks tackles. He's been timed in the sub-4.5 range but doesn't appear to have that extra gear once he gets in the open field; while Martin has has shown the ability to break off long runs if he gets a step, I've also seen him get caught from behind a bit too much for my liking. Though I wouldn't classify him as explosive/dynamic or a home-run threat (which is really the only negative I can think of), Martin is a solid, steady, and dependable three-down workhorse of a back who excels in pass protection and has the look of a future starter at the next level. He strikes me as one of those guys who won't necessarily wow you too much over the course of a game, but looking back on the stats you'll see he went for 125 yards and at least one touchdown on 25 carries.
George Iloka - FS - Senior - 6033 / 213 (according to his NFLdraftscout.com page)
First off, Iloka definitely passes the eye test. He's got excellent size for the position with 4.5 speed and has been a major contributor since his freshman season. A former wide receiver in high school, Iloka took seamlessly to the safety position immediately. He's a ball hawk who's long, athletic, fluid, and plays fast. Not only does Iloka excel in pass defense, but he's improved considerably as a tackler over the course of his career. He's also a capable blitzer who has shown the ability to disrupt plays in the backfield. I really like Iloka's game a lot and believe he has the potential to be an impact player at the NFL level. I will be keeping a close eye on him tonight.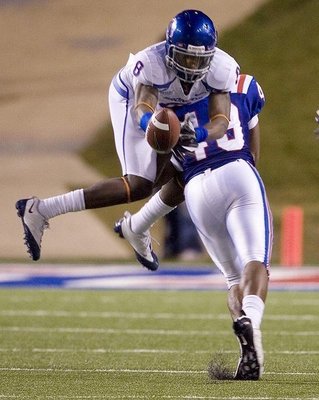 Tyrone Crawford - DE - Senior - 6041 / 273 (according to NFLdraftscout.com page)
Watch out for this guy. Crawford is an athletic freak with great size, 4.75 speed, and the raw skills to dominate. His quickness, acceleration, explosion, and strength make for a deadly combination. A junior college star who transferred to Boise State prior to the 2010 season, Crawford led the Broncos in tackles for loss (13.5) as a backup, to go along with seven sacks. He came into 2011 as a starter and immediately made his presence felt against Georgia, totaling five tackles (one for loss) and 1.5 sacks. The Windsor, Canada native has undeniable NFL talent and all the tools to succeed at the next level. It's just a matter of getting more playing time, refining his technique, and learning to harness his tremendous ability. Tyrone Crawford, remember the name. He and Billy Winn, who's actually considered the better prospect, make that Boise State defensive line a destructive force.
Shea McClellin - OLB/DE - Senior - 6032 / 260
Had no clue who McClellin was going into the game against Georgia… hard not to be a fan after watching him play all over the defense and dominate. Enticing versatility, could play DE in a 4-3 or OLB in a 3-4, great athlete with incredible quickness and agility, threat wherever he lines up. Made life miserable for Georgia's offensive line, recording 2.5 sacks to go with his 7 total tackles. Impressive player.
Happening elsewhere:
Steele fucking Jantz is happening elsewhere. It's pretty cool watching him play… when he's playing well. Which he did, in ridiculous fashion, against Iowa. Iowa State at UConn (8 PM, ESPN2) is also on tonight, in a game so bizarre that it feels weird to see these two teams on the field playing against each other. Iowa State and UConn? What the hell is that?!
(Postgame Edit: And when Jantz isn't playing well, it's not a pretty sight. Then again, after starting 0-4 with a remarkable THREE interceptions, Jantz finished the night 18 of 25 for 200 yards and the game-winning touchdown pass. Seeing how a player responds to a little adversity is pretty crucial, and Jantz really bounced back after perhaps the worst first quarter in the history of organized football.)