It's Senior Bowl Week
I'd rather pretend that the Super Bowl isn't being played this season. On to the Senior Bowl, where we can determine which player the Eagles will pick in the first or second round pick — just look for who either impresses the most during drills or wins the game's MVP. So, who will be this year's Trevor Laws, Brandon Graham, or Danny Watkins? THE SUSPENSE IS KILLING ME. Howie Roseman, Marty MornHINweg, Juan Castillo, and all the other coaches are in attendance; Andy Reid, who makes the final call on draft picks, is not. The mind boggles. Then again, there's no way he wanted to subject himself to the avalanche of questions from the media down in Mobile, especially when he hasn't uttered a peep about his plans for the defensive coordinator position. These are your Philadelphia Eagles, gold standard embodied.
Snark aside, I like that Roseman took ownership of what's happened with the Eagles recently on the personnel side and conceded that some reevaluation of the team's draft methods is necessary. Admitting a mistake is the first step in correcting it, so at least we can point to this as progress, especially for an organization that is loathe to admit it's capable of missteps. But Roseman's words, much like those of owner Jeff Lurie in his post-season press conference, won't matter if the subsequent actions don't show the organization is committed to practicing what it is now preaching. I've written this before about the Eagles, and I'll write it again: Time to put up or shut up. Roseman gets a lot of shit from the all-knowing public, often disparaged  as "the lawyer" and Joe Banner's pet project. The pompous opinion that because he is not a former player he can't possibly know how to judge talent is misguided and, frankly, unfair. However, until Roseman's draft hauls surpass mediocre, he'll do nothing to silence the critics, and the Eagles will continue to come up short. Hitting on late round picks is admirable, but acquiring impact players in the early rounds is paramount. The reason the Eagles made such a splash in free agency after the lockout ended was because they'd drafted so poorly on defense in recent years and needed to compensate for the dearth of talent on that side of the ball. People realize that Trent Cole is the only defensive player drafted by the Eagles since 2005 to make the Pro Bowl (or really even be just an above average NFL starter), right? Championship rosters are built primarily through the draft, while free agency should be utilized as a complementary component in the process. That's how the Eagles used to construct their teams.
After three days of intense practices down in Mobile, the hype machine that accompanies the months leading up to the draft has begun in earnest. Here are some players of interest (to the Eagles) taking part in the Senior Bowl.
North
Audie Cole - ILB/OLB - North Carolina State - 6041 / 248
Certainly looks the part — dude's built like a brick shit house. I watched a few NC State games this season (including the hilarious Maryland contest; stood out against Maryland last season, too) and really liked Cole's game. Lacks athleticism but is strong, instinctive, and a dangerous blitzer. Should be able to play inside in either a 4-3 or 3-4 or strong side in a 4-3. Makes up for 4.8 speed by being a step ahead and knowing where the play is going.
Demario Davis - OLB - Arkansas State - 6016 / 232
A player who I think will be a riser in the coming months. Knew his name from draft websites, but first got a chance to watch him in the GoDaddy.com Bowl and was blown away. Obtained some torrents of Arkansas State games from the season and came away even more impressed, especially because Davis played behind a defensive line that moved around a lot and didn't occupy blockers like a normal front four. As a result, he had to be very adept at taking on blockers and flashed the ability to stack and shed. Davis is a tremendous athlete — Arkansas State offensive coaches actually wanted him on that side of the ball last season — for the position who can run (wouldn't surprise me if he ends up being the fastest linebacker prospect not named Zach Brown); he's a true sideline-to-sideline guy who quickly diagnoses what's going on and also makes plays in the backfield. Very fluid in his movements and drops; comfortable in coverage and can hang with running backs and tight ends. As I watched Davis play, the one thought that came to mind over and over again was that he looked like a pro. Honestly, I can't believe he hasn't gotten more hype, regardless of playing at Arkansas State. Oh, and the cherry on top is that Davis is a fundamentally sound tackler. He exhibits great form, maintains leverage, is strong at the point of attack and impact; wraps up and exerts real "pop" upon contact, more often than not driving the ball carrier backwards. Unquestioned emotional leader of one of the nation's best overall defenses. Intriguing prospect with obvious NFL skills and the potential to be a starter — worth keeping an eye on.
Lavonte David - OLB - Nebraska - 6004 / 225
David is built more like a safety than a linebacker and conventional wisdom says his size will be a major detriment in the NFL, but there's no denying his impact on the field. It seemed like he made a huge, momentum-changing play every game for the Cornhuskers; really packs a punch as a hitter and is also regarded as one of the nation's best tacklers. Excellent athlete who excels in coverage and isn't as weak against the run as you might think. In fact, David's instincts and knack for getting a quick jump on the play allow him to beat blockers before they even have a chance to get their hands on him. If he was two inches taller and 15 pounds heavier, I think he'd be a lock for a top-20 pick.
Leonard Johnson - CB - Iowa State - 5098 / 198
Compact and strong, not afraid to get in a receiver's face at the line of scrimmage; a willing and capable tackler in run support. Average athlete, short arms, probably limited to playing inside at the NFL level. Nevertheless, he really impressed me when matched up against Justin Blackmon of Oklahoma State.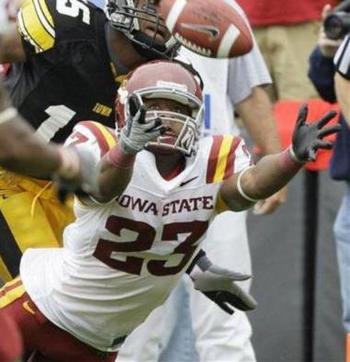 George Iloka - FS - Boise State - 6035 / 222
Rare physical specimen for the safety position. I wrote about him back in September (Doug Martin, too). The thing that really stood out to me from the Senior Bowl weigh-in is Iloka's wingspan, which was measured at 81 3/8"; given the way the NFL is trending with the evolution of the tight end position, Iloka's size, length, and athleticism present a possible solution to that matchup problem for defensive coordinators. 
Full text for those who don't feel like clicking on the link:
First off, Iloka definitely passes the eye test. He's got excellent size for the position with 4.5 speed and has been a major contributor since his freshman season. A former wide receiver in high school, Iloka took seamlessly to the safety position immediately. He's a ball hawk who's long, athletic, fluid, and plays fast. Not only does Iloka excel in pass defense, but he's improved considerably as a tackler over the course of his career. He's also a capable blitzer who has shown the ability to disrupt plays in the backfield. I really like Iloka's game a lot and believe he has the potential to be an impact player at the NFL level. I will be keeping a close eye on him tonight.
Harrison Smith - SS - Notre Dame - 6016 / 212
Big, strong, physical, speed in the 4.5 range. Ideal size and build for the position. While he's listed as a strong safety and thought to be most effective in run support, I think Smith's coverage ability is very underrated. Notre Dame's always on TV, so he's gotten a lot of exposure and always looked pretty good matching up one-on-one with tight ends (the game against Michigan State was by far his best in coverage). Smart, confident, mature player who exudes leadership and is a dependable tackler.
Derek Wolfe - DT - Cincinnati - 6047 / 286 
Don't care if he's undersized as a DT (I'm sure teams that run a 3-4 will have interest in him as a DE), I know Wolfe can flat out play. He's quick, disruptive, and deceptively strong with a tremendous burst off the ball; uses leverage to his advantage and is a crafty player who looks very polished. At times Wolfe was simply unblockable as both a run stuffer and pass rusher; consistently penetrates into the backfield and wreaks havoc on opposing offenses — and when I say "consistently", I mean literally every game. He's a better athlete than most give him credit for and can move all over the defensive line. Co-Big East Defensive Player of the Year, finished with a staggering 21.5 tackles for loss (1.65 per game) and 9.5 sacks. Classic overachiever who'll be overlooked and passed on because of his unsexy measurables, but some team is going to get itself one hell of a player in the mid-to-late rounds. Here's to hoping it's the Eagles, who have a pretty favorable track record when it comes to picking guys from Cincinnati (Trent Cole, Brent Celek, Jason Kelce). In fact, I say it should be team policy to draft one or two players out of Cincinnati each year.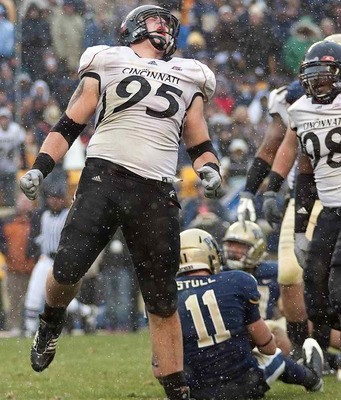 PS - The other Bearcat at the Senior Bowl is running back Isaiah Pead, who just happened to be named Big East Offensive Player of the Year. And if you've watched any Cincinnati games over the past few years, you know he's a shifty dual threat with dynamic skills and a future in the NFL. Explosive and elusive instead of powerful, though I do think his toughness as a runner is understated — he routinely finishes strong and fights for extra yards. Sets up blocks and only needs a sliver of daylight to break a big play; lightning quick in and out of the hole and very dangerous if he can get to the outside. Routinely leaves would-be tacklers looking for their jockstraps. Once Pead gets into space, that's when he really excels.
 South
Melvin Ingram - DE/OLB - South Carolina - 6017 / 276
You couldn't watch a South Carolina game this season and not notice Ingram getting into the backfield with aplomb and terrorizing the opposing quarterback. He has the ability to totally dominate a game by himself and can play either standing up as a 3-4 OLB or with his hand on the ground as a 4-3 DE. Explosive, sudden, ferocious, and strong; showcases an array of pass rush moves and isn't just a one-trick pony. I could tell you Ingram has rare athleticism for a guy his size, but then I could also just show you this clip, when he took a fake punt to the house against Georgia. Excellent awareness, gets arms up into passing lanes, and has incredible hands (two interceptions and played on the hands team for onside kicks, as seen below). He looks like he can be an impact player in the NFL from the outset and should go in the first round.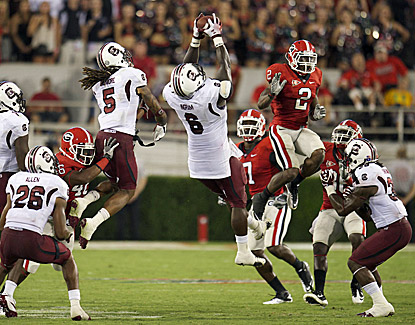 Courtney Upshaw - DE/OLB - Alabama - 6014 / 273
Similar player to Ingram, albeit less athletic and explosive. Another guy who looks like he will be able to play as a 3-4 OLB or 4-3 DE and has the ability to dominate. More a brute strength/power guy than Ingram but has shown he can get around offensive tackles in addition to going right through them. Downright unblockable when he turns it on.
Zach Brown - OLB - North Carolina - 6013 / 236
A former member of the Tar Heels' track team, the first thing you'll hear/notice about Brown is his sub-4.5 speed, and how that gives him a distinct advantage in coverage and as a blitzer. He's an elite athlete for the linebacker position who's comfortable in space and can blanket running backs and tight ends. Inconsistent as a tackler and some questions exist about his instincts and ability to diagnose plays — he was fooled multiple times by play action and misdirection in the games I watched (vs. Miami, @ Clemson, vs. Missouri), even when he played well otherwise. Also have to wonder about his toughness; doesn't consistently play as physically as you'd like to see and had trouble disengaging from blocks. While Brown was able to overcome certain deficiencies in college because of his speed and athleticism, there's concern whether he'll be able to similarly compensate in the NFL. Superior hands for a linebacker and catches the ball with the ease of a wide receiver (three picks this season and seven total for his college career). 
Emmanuel Acho - OLB - Texas - 6010 / 235
I liked his brother, Sam, in last year's draft (who ended up having a fantastic rookie season, notching 40 tackles, 7 sacks, and 4 forced fumbles for the Arizona Cardinals). Emmanuel is smaller than his brother and not quite the player nor athlete — he's still a good athlete, his brother is just a different breed — and proficient tackler who also holds his own in coverage. Skilled blitzer with long arms who can beat offensive linemen and get to the quarterback.
Casey Hayward - CB - Vanderbilt - 5110 / 188
The best college cornerback you've never heard of; underrated and under-hyped, but a guy who I think can start in the NFL from day one. Hayward won't really stand out from a physical standpoint or because he's got blazing speed, yet when you watch him play it's obvious he's legit. Instincts, intelligence, technique, and overall feel for the game are second to none. Flashes excellent ball skills with the hands of a wide receiver (seven interceptions this season, 15 total in his college career) and had multiple dominant performances, including in the Liberty Bowl against Cincinnati. Hayward shut down Alshon Jeffery in the South Carolina game and had six passes defended — two of which should've been intercepted — against Arkansas when charged with covering the likes of Joe Adams (see below) and Jarius Wright (though he did give up a touchdown to Wright). Willing, solid tackler for a corner who attacks the ball carrier and never shies away from the physical parts of the game. Just looks like a pro and has apparently been drawing rave reviews during the Senior Bowl practices.
Ladarius Green - TE - Louisiana-Lafayette - 6056 / 237
Wrote his name down at the beginning of the season as I was doing some initial, cursory draft research. When a TE prospect stands nearly 6'6" and runs in the 4.6 range, he's going to attract plenty of attention. Green is more a TE/WR hybrid than a true TE but has the size, length, and athleticism to pose matchup problems at the next level. He's not an in-line TE who can block, but he can split wide and make plays down the field. With the way the new age TE is taking the league by storm, Green certainly appears to fill a niche. Made a number of remarkable catches and dominated in the New Orleans Bowl against San Diego State.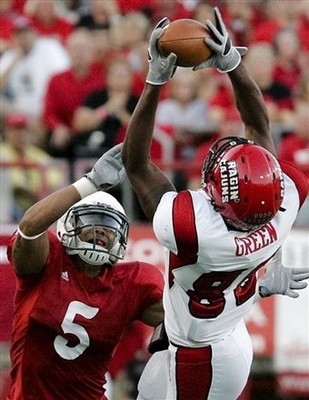 Joe Adams - WR - Arkansas - 5104 / 174
Here, just watch this video. One of the country's elite return men, Adams is also a dangerous wide receiver who's a home-run threat every time he touches the ball. Given his sub-4.4 speed, the comparison you'll see thrown around most is DeSean Jackson, but Adams is tougher, more willing to go across the middle or into high-traffic areas to makes catches, and will fight for the football. Small build, huge heart, electrifying talent.
Jeff Fuller - WR - Texas A&M - 6041 / 217
Came into 2011 as one of the better wide receivers in the country after a breakout junior season. However, Fuller had an underwhelming senior season in which he was plagued by inconsistency catching the ball and has seen his stock plummet as a result. The Senior Bowl will be the first step in reviving his draft prospects or further confirmation that he's not going to cut it in the NFL.
Players not at Senior Bowl who should be…
Jordan White - WR - Western Michigan - 6001 / 215
Actually first wrote about him before last year's Combine, when I mistakenly thought he had entered the draft. It's amazing to me how underrated and undervalued Jordan White still is, especially in light of the ridiculous senior season he just had — 140 catches (led the nation), 1,911 yards, and 17 touchdowns! Not a bad way to improve upon the 94-catch, 1,378-yard, 10-touchdown campaign he had in 2010.
You probably saw him in a number of SportsCenter highlights this past season — that tends to happen when a player goes for at least 12 catches in a preposterous 8 of 13 games. That includes a 16-catch, 238-yard, 3-touchdown performance against Toledo in a 66-63 loss (a game in which another of my favorite wide receiver prospects, Eric Page, went for 9 catches, 168 yards, and 5 — yes, 5 — touchdowns) and a 13-catch, 265-yard, 1-touchdown performance against Purdue in the Little Caesars Bowl. He also went for 12 catches and 119 yards in an opening week loss to Michigan.
Granted, injuries have plagued White throughout his college career, but there's no denying his cartoonish, video game-esque production. The only negative to his game is that he's not a burner, but, honestly, it doesn't matter because his speed looks good enough to me and his acceleration more than makes up for it anyway. White is just a phenomenal wide receiver — athletic, strong, powerful, tough (catches the ball through contact better than anyone I can remember), reliable, not afraid to go over the middle, and has perhaps the best hands of any wide receiver in his draft class (rarely will ever see him let the ball get into his body). So pure, a natural at the position, makes some simply insane catches (just go to YouTube), and is dangerous when he turns upfield. Trust me, Jordan White is the real deal.
Tyrone Crawford - DE - Boise State - 6041 / 285
Like Iloka, Crawford is another guy I wrote about back in September. I think he's a major sleeper in this draft.
Full text for those who don't feel like clicking on the link:
Watch out for this guy. Crawford is an athletic freak with great size, 4.75 speed, and the raw skills to dominate. His quickness, acceleration, explosion, and strength make for a deadly combination. A junior college star who transferred to Boise State prior to the 2010 season, Crawford led the Broncos in tackles for loss (13.5) as a backup, to go along with seven sacks. He came into 2011 as a starter and immediately made his presence felt against Georgia, totaling five tackles (one for loss) and 1.5 sacks. The Windsor, Canada native has undeniable NFL talent and all the tools to succeed at the next level. It's just a matter of getting more playing time, refining his technique, and learning to harness his tremendous ability. Tyrone Crawford, remember the name. He and Billy Winn, who's actually considered the better prospect, make that Boise State defensive line a destructive force.
Dexter Heyman - OLB/ILB - Louisville - 6026 / 238
I actually haven't seen a single write-up about Heyman anywhere, which is surprising given his size, athleticism, and speed (4.5 range). Had a breakout season as a senior and led the Cardinals defense in tackles (90), tackles for loss (15.5), and interceptions (3) in 2011; also added 4.5 sacks. One of those guys who's just always making plays all over the field. Audie Cole was the main linebacker prospect in the Belk Bowl that pitted North Carolina State against Louisville, but Heyman flashed his skills with a 7-tackle, 0.5-sack performance and showed that he also deserves recognition.