It's Senior Bowl Week
While everyone else is gearing up for the Super Bowl in a little over a week, NFL coaches and player personnel executives (general managers, scouting directors, etc.) have descended upon Mobile, Alabama, for what marks the official beginning of the draft process. The Senior Bowl grants a collection of the nation's best senior college football prospects the opportunity to work with and play for pro coaches for the first time. Likewise, it gives teams a chance to finally see these players up close and how they stack up against one another. For most coaches and player personnel executives, this is their first opportunity to interact with the country's top seniors and get a read on their personality, practice habits, receptiveness to instruction… all the stuff you can't decipher just by watching a player on tape.
You can go to NFL draft websites all over the Internet and read reports from media pundits who are there watching the practices, as they proffer helpful insight for those of us who can't be in Mobile to watch for ourselves. That said, I'm going to do a little writeup on a number of prospects participating in the Senior Bowl that were flying under the radar coming into the week.
Note that when I list the measurements for each player, it'll go as follows: Height / Weight / Hands / Arms / Wingspan
Vincent Brown - WR - San Diego State
5110 / 184 / 10 4/8" / 33 2/8" / 76 5/8"
Look beyond the 5-11, 187 lbs frame and average straight-line speed (he'll probably run in the 4.5 range) because if that's what you value most in a receiver, you're not going to be overly impressed with Vincent Brown. Dig a little deeper and you'll find that his 10 4/8" hands are the second largest of any player at the position (Miami's Leonard Hankerson's hands are 1/8" bigger, but he has 2.5" and 21 lbs on Brown). When you watch Brown on tape, it immediately becomes apparent that he understands those abnormally large mitts are perhaps his greatest asset, as he effortlessly snags almost everything thrown his way with his hands out in front of his body. Those gargantuan hands are attached to equally freakish 33 2/8" arms. To give you some perspective, the only wide receiver at the Senior Bowl with longer arms is South Alabama's Courtney Smith at 33 6/8" — and he's 6-4. Brown's arms were even longer than a number of offensive and defensive linemen, some of whom were as much as 5" taller than him. Those long arms allow him to play a lot bigger than his 5-11 body might otherwise indicate; Brown always attacks the ball at its highest point and is routinely able to reach over taller defenders to make catches. I'm not exaggerating when I say that his hands and arms belong on a player who measures in the 6-3/6-4 range.
Anyway, Vincent Brown is a guy who caught my eye last year and really broke out for the Aztecs this season, becoming one of the nation's most productive wide receivers. I also love the fact that he had two of his biggest games against TCU, by far the best team San Diego State faced all season, and Utah, which at one point was ranked as high as #5. He also obliterated Navy in the Poinsietta Bowl. Brown always struck me as a fluid athlete with great length, leaping ability, and body control, to go along with those aforementioned hands of his. Again, he plays bigger than his size, effortlessly plucks the ball out of the air, and is as smooth a route runner as you'll find. Perhaps the most underrated parts of Brown's game, however, are his athletic ability (he routinely makes circus catches) and knack for gaining yards after the catch. From the reports I've read out of Mobile, it seems like he's been a standout performer during the practices so far this week. I like Vincent Brown a lot as a football player and definitely see him as a starting wide receiver at the next level.
Projected round: 3rd/4th
http://sports.espn.go.com/ncf/player/profile?playerId=238332
EDIT: Well, well… look what we have here: http://blogs.nfl.com/2011/01/28/senior-bowl-stock-watch/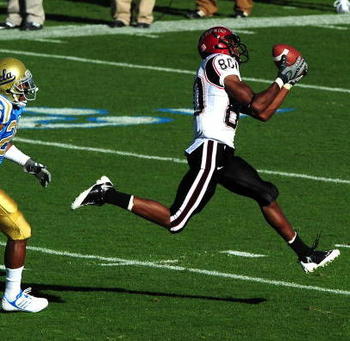 Mason Foster - OLB - Washington
6011 / 241 / 9 6/8" / 31" / 74 5/8"
Mason Foster projects more as a traditional 4-3 weakside linebacker at the next level, despite the fact that he emerged as an effective pass rusher with seven sacks for the Huskies this season (to go along with an obscene 162 tackles, second most in the nation). Unlike an edge-rushing outside linebacker prospect like Von Miller — who's cementing his status as a top-15 pick in the draft by dominating the week of practice at the Senior Bowl — Foster doesn't have the good fortune of possessing the long arms necessary to gain leverage against opposing offensive tackles and probably wouldn't be a fit on the outside for teams that run the 3-4. That said, he could probably play inside in a 3-4 scheme.
Where Foster does excel, however, is when it comes to the more intuitive parts of the game that cannot be taught; he has elite football instincts and understands how to read what the offense is doing and then react to it at the same time. Foster was a highly productive collegiate player (very opportunistic too, accounting for six forced fumbles and three interceptions during his junior year) who flows to the football and exhibits excellent technique as a tackler. He's a sideline-to-sideline guy who flies all over the field and plays with an endearing brand of tenacity. Perhaps what sticks out most, however, is how comfortable he looks in space when asked to drop into coverage. Foster is a superb athlete who possesses fluid hips and changes direction with ease. I watched him play on three separate occasions this season (@ USC, @ Oregon, Holiday Bowl vs. Nebraska) and came away impressed each time. There is no question in my mind that Mason Foster can be a reliable, every-down linebacker at the next level. I expect he will have no trouble earning immediate playing time for whatever team drafts him. Honestly, I think Foster has the makings of a future Pro Bowler.
Reports out of the Senior Bowl indicate that Mason Foster is garnering a lot of attention from NFL teams and will likely see his draft stock rise in the coming months. This shouldn't come as a surprise to anyone who has watched him over the course of his college career.
Projected Round: 2nd/3rd
http://sports.espn.go.com/ncf/player/profile?playerId=237019
Derrick Locke - RB - Kentucky
5081 / 186 / 9 3/8" / 29 2/8" / 71 5/8"
I mentioned Derrick Locke as a possible draft pick in my article about how to fix the Washington Redskins. His build likely precludes him from being a feature back in the NFL and raises concerns about his durability, but I think he can immediately step into a pro offense as a scat back and receiving threat. Locke has blazing speed — I expect him to run in the 4.2/4.3 range — and exhibits great cutback ability once he sees a hole. He's a blur in the open field, where his elusiveness and agility are on full display as he leaves would-be tacklers grasping at air. Alright, so he'll probably have trouble blocking NFL defenders… but that's not why he'd be in the game.
Perhaps 15-20 years ago Locke would have been pigeonholed as a return specialist (a role in which he can and will excel, by the way) and never gotten a second look as a running back that could fill a substantial role in an offense. However, with a majority of teams trending toward a two-back system nowadays, some coach is going to value what he brings to the table and find a way to get him involved in the offense. Basically, just get Derrick Locke the ball in space and let him do his thing; the guy is a home-run hitter and can take it to the house any time he touches the rock.
Projected Round: 5th/6th
http://sports.espn.go.com/ncf/player/profile?playerId=236441
D.J. Williams - TE - Arkansas
6017 / 236 / 10 3/8" / 32" / 75 5/8"
Williams doesn't really have the kind of size teams look for in a modern-day tight end. That said, he's a reliable pass catcher with deceptive speed who does the dirty work and gets those tough yards. Ryan Mallett always seemed to look to him whenever the offense needed to make a play, which is probably the best compliment you can bestow upon a player. I think Williams projects as more of a H-Back at the next level — either way, there's a spot for him in the league, and some team will figure out a way to properly utilize him (I could definitely see him lining up at fullback in certain packages). Is D.J. Williams going to channel his inner Antonio Gates and take over a game as he explodes for 10 catches and 100+ yards? Unlikely. He's not the kind of player who will make the sexy plays deep down the field, but you want Williams out there if you're facing a 3rd and 6 because he isn't afraid to go into high traffic areas and won't be stopped until he gets to the sticks. His route running is precise, and he might have the best hands of any tight end in the draft.
Now, while D.J. Williams doesn't have the kind of build that would suggest he can be an effective blocker at the next level, it certainly won't be for a lack of effort. He excelled as a run blocker in college because he was technically sound with his hand placement and in getting proper leverage as he consistently overpowered linebackers and safeties. Williams won't be able to dominate in the blocking game against NFL-caliber linebackers, but I don't think he'll be a total liability, either.
Projected Round: 3rd/4th
http://sports.espn.go.com/ncf/player/profile?playerId=242277
Cedric Thornton - DT/DE - Southern Arkansas (D-II)
6035 / 299 / 10" / 34 4/8" / 80 3/8"
Raw. Very raw. But, man, does this kid have the tools, to go along with size and length. His brute strength, athleticism, quickness, ability to bull rush/get leverage, and nonstop effort were on full display during the week of practice, and he caught the eyes of numerous scouts and player personnel executives. Thornton will be a developmental prospect, but it sounds like the potential to be an effective player at the next level is definitely there. He could play defensive tackle in a 4-3 or end in a 3-4, and that kind of versatility is undoubtedly an attractive quality. All reports indicate that he has the right attitude and is very coachable, which should further endear him to NFL teams. If I'm running a team's draft, Cedric Thornton is a guy I keep a close eye on in the following months. Depending how the workouts and interviews go, I might even pull the trigger on him as early as the fifth round.
Projected Round: 6th/7th
Senior season stats: 52 tackles, 13 tackles for loss, 1.5 sacks (http://ncaafootball.fanhouse.com/2011/01/27/senior-bowl-showcases-less-heralded-prospects-along-with-big-nam/)
Junior season stats: 80 tackles, 8.5 sacks, 2 forced fumbles (http://www.nfldraftbible.com/Players/List/2011-Big-Board/Cedric-Thornton.html)
Curtis Marsh - CB - Utah State
6001 / 194 / 9 2/8" / 32 4/8" / 75 6/8" 
If you've been watching the NFL playoffs, odds are you're familiar with Green Bay's rookie cornerback Sam Shields, especially after his breakout performance in the NFC Championship Game. After being bypassed by every team in last spring's draft, Shields signed with the Packers as an undrafted free agent with (understandably) little fanfare. Despite posting impressive measurables — 5-11, 184 lbs, 4.32 40-yard dash — he was seen as a developmental prospect who'd need a few years of coaching before being ready to contribute. You see, Shields was recruited by the University of Miami (FL) as a wide receiver — which explains his great hands — and wasn't switched to cornerback until his senior season. That means this is only his second year playing the position, which makes his rapid ascent all the more remarkable. 
Curtis Marsh followed a similar path, as he was originally recruited by Utah State to play running back before being switched to cornerback going into his junior year. After two seasons, his athleticism and instincts have allowed him to make a seamless transition; Marsh has improved by leaps and bounds and looks like a natural at the position. Unfortunately, he suffered a hamstring injury early in the week and has been sidelined since, so NFL teams haven't gotten a chance to evaluate him on the practice field. As such, Marsh will have to prove his worth during individual workouts. Still, if you look at the stats, you can see this guy has potential, as he ranked second in the WAC and sixth in the FBS (D-IA) in passes defended with 1.25 per game — for a total of 15 — to go along with two interceptions.*
*(http://www.nfldraftscout.com/ratings/dsprofile.php?pyid=70779&draftyear=2011&genpos=CB)
Projected Round: 4th/5th
http://sports.espn.go.com/ncf/player/profile?playerId=232694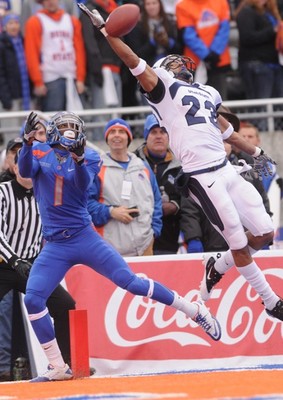 Other names to remember:
Brandon Fusco - C - Slippery Rock (D-II)
 6041 / 302 / 9 7/8" / 33 6/8" / 79 5/8"
The first player from Slippery Rock to be invited to the Senior Bowl, 2010 recipient of the Gene Upshaw Division II Lineman of the Year Award, and an impressive physical specimen for the position. According to draftinsider.net, 60 different scouts attended Slippery Rock games this season to get a look at the hulking center prospect.* That's really all I can tell you right now.
*http://www.draftinsider.net/blog/?p=4310
Projected Round: 5th/6th
Danny Watkins - OG - Baylor
6034 / 312 / 10 1/8" / 33 6/8" / 81 6/8"
He's been a revelation so far at the practices and is drawing unanimously rave reviews, which is pretty impressive when you consider he only started playing football upon arriving in the states fours ago from his native Canada. Very rarely is an interior lineman the talk of the Senior Bowl, but that's exactly what Watkins has become. Suffice to say he's flying up the draft boards. The one major downside: Watkins is already 26 and will turn 27 during the 2011 season.
Projected Round: 2nd
Greg McElroy - QB - Alabama
6016 / 222 / 9 3/8" / 30 6/8" / 74 4/8"
I saved him for last on purpose. Listen, people are going to talk shit and devalue McElroy for not having the elite physical skills of some 6-4 cannon-armed quarterback prospect (I think his arm strength is just fine, by the way). That's fine, I don't care. I've seen enough of McElroy over the past few years to know that I like him and think he can play — and start — at the next level. In addition to possessing all the intangibles you look for in a signal caller, he displays pinpoint accuracy, a quick release, throws a very catchable ball, is supremely intelligent (Rhodes Scholar), and doesn't commit turnovers. Oh, and most important of all, the kid is a WINNER. I'll take him on my team any day. Mark my words, Greg McElory will be a starting quarterback in the NFL. A damn good one, too.
Projected Round: 5th/6th
http://sports.espn.go.com/ncf/player/profile?playerId=191494