Belated Senior Bowl Recap
Standout performers:
(Remember… Height / Weight / Hands / Arms / Wingspan)
Brooks Reed - DE/OLB - Arizona
6024 / 257 / 10 1/8" / 32 5/8" / 78 6/8"
I'm a big fan of this guy. I've known about him for a while but rarely got a chance to see him play. The long, flowing locks of blonde hair flapping in the wind will have people doing a double take and wondering if it's Clay Matthews coming around the edge. Reed played defensive end at Arizona, but he'll almost definitely be switched to 3-4 outside linebacker in the pros. He had a great week of practice at the Senior Bowl, flashing an impressive array of pass rush moves while at times simply dominating opposing offensive tackles that dared try to block him. What's more, he didn't look out of place when asked to drop into coverage and play in space. In the game itself, I particularly noticed the way Reed used his hands and the balance he showed when executing a spin move. I'd also be remiss if I didn't mention his relentless effort (or "motor," in NFL lingo) — just constant hustle until the whistle each and every play. On more than one occasion, it really did look like Clay Matthews had taken time off from preparing for the Super Bowl to participate in the game.
Brooks Reed's intriguing combination of size, strength, and athleticism will make him an increasingly hot commodity as the draft approaches. I think the legendary exercise routine he cultivated at Arizona will translate very nicely to the combine, where I expect him to achieve "workout warrior" status and leave scouts and player personnel executives drooling. As of right now Reed is probably a mid-round pick, but he could end up going as early as the second round if he separates himself at the combine and during individual workouts/interviews.
One side note: Turns 24 at the end of February.
Further reading: http://tucsoncitizen.com/wildcatreport/2011/01/28/ex-wildcat-brooks-reed-earns-good-reviews-at-senior-bowl/
Derrick Locke - RB - Kentucky
5081 / 186 / 9 3/8" / 29 2/8" / 71 5/8"
I wrote about Derrick Locke in my previous Senior Bowl article, and he did not disappoint upon getting a chance to play in the game itself. In addition to what I already wrote about him, I was impressed with how physical he was while running the football, especially between the tackles. Locke didn't shy away from getting hit and actually initiated contact with would-be tacklers as he attempted to fight for extra yards. Couple that kind of physicality and determination with the vision, explosion, athleticism, and shiftiness he displayed whenever he touched the ball, and I came away even more confident in my opinion that Locke will be a player at the next level. He also caught the eyes of the announcers, who sang his praises on more than one occasion. Will Derrick Locke be a workhorse running back who can carry the ball 20-25 times per game? Again, no. But he'll be perfect as a change-of-pace back and big play threat — as both a runner and receiver — who can put the fear of God into a defense.
Christian Ponder - QB - Florida State
6021 / 222 / 10 1/8" / 31 6/8" / 77 2/8"
At one point, Christian Ponder looked like a surefire first round pick, but a nondescript senior season left him lost in the shuffle with all the other quarterback prospects in the country. As such, he came to the Senior Bowl as one of the players with the most to gain. Ponder was sure to leave his mark on the game, going 7-for-13 for 132 yards and two touchdowns to secure the MVP award. My overall opinion on him is one of ambivalence. I watched a number of Ponder's games this season and was never sure what to make of him (he was underwhelming against Maryland, for one). On one hand, he showed good accuracy, athleticism, toughness, a knack for improvisation, and the ability to make throws on the run. On the other, Ponder's arm strength was lacking (probably as a result of lingering effects from offseason shoulder surgery; he had another arm surgery, his third in two years, in early December to remove scar tissue from his throwing elbow), he forced way too many throws, and I frequently found myself questioning his decision making. There were plenty of occasions where he flashed pro skills, but his inability to put it all together consistently always left me wanting more. Even on his first completion in the Senior Bowl, a 49-yard bomb to Leonard Hankerson (more on him later), Ponder underthrew the ball and made it a much tougher play than it had to be for his receiver. Then again, he made a perfect throw to Hankerson for the game's first touchdown. The surgeries are a concern, and I'd like to see some more consistency out of Ponder overall, but his skill set makes him an intriguing prospect nonetheless.
Leonard Hankerson - WR - Miami
6015 / 205 / 10 5/8" / 33" / 77 6/8"
Quite simply, Leonard Hankerson played like a man amongst boys throughout most of the week of practice and during the game. He even looks bigger than his measurements suggest. Hankerson utilizes his considerable strength to outmuscle smaller defenders and plays a physical brand of football that will endear him to NFL teams. He exhibits excellent body control in the air, fights for every ball, and is a nightmare to cover, especially once he gets position on a defensive back. Perhaps the most impressive part about Hankerson's performance throughout the week, though, was how well he ran routes and the ease with which he seemed to get open downfield. During the game itself, he routinely had his way with defenders who tried to cover him, finishing with five catches for 99 yards and a touchdown. I'd say Leonard Hankerson solidified his position as a second round pick and might even end up sneaking into the first round.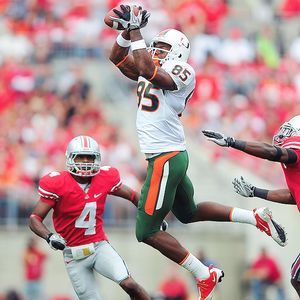 Von Miller - OLB - Texas A&M
6025 / 237 / 9 4/8 " / 34" / 80 2/8"
Wow. That's the word that most often comes to mind when you watch Von Miller play. A 3-4 pass rushing outside linebacker, he's a freakish athlete with unparalleled explosiveness, and his speed off the edge is breathtaking (he should run in the 4.5 range). Offensive tackles literally don't stand a chance. If you're thinking about raising concerns over his height and weight, don't waste your time; Miller's 34" arms and 80 2/8" wingspan allow him to gain considerable leverage against would-be blockers. I'm not going to bog you down with a long-winded analysis and superlatives about his ability as a football player because I don't feel like typing that much. Just know that this guy can do it all and will be one of the game's elite sack artists in no time. He also has no issue dropping into coverage and playing in space. As if his dominance on the field wasn't enough, Miller was equally impressive away from the gridiron, with a number of executives remarking that he was among the most pleasant young men they'd ever met. I don't think I've heard a single negative about him, in any capacity. Von Miller is going to be a top-10 pick, and deservedly so. I wouldn't even be surprised to see him make the Pro Bowl as a rookie. In fact, I'm kind of expecting it. Oh, sweet glasses, too.