Players to Watch at the Combine
Alright, so the NFL Scouting Combine is a few weeks away, and assuming there isn't a boycott, the invitees will show up. Here are a few perhaps relatively unknown players to remember (including ones I've mentioned in previous articles, such as Jeff Maehl, Derrick Locke, Brooks Reed, Curtis Marsh, etc):
Muhammad Wilkerson - DT/DE - Temple - 6-5 / 305
One of my favorite defensive prospects in the entire draft (first mentioned in the "How to Fix the Washington Redskins" article from a few months ago). Wilkerson emerged onto the college football scene as a sophomore and only continued to improve as a junior in 2010. He'll be a fit at either defensive tackle in a 4-3 or end in a 3-4, as his versatility allows him to play anywhere along the line. I was able to watch two of his games this season (@ Penn State, @ Miami-OH) and came away highly impressed each time. Wilkerson displays keen awareness, a great burst off the line, and fluid athleticism for a guy his size (was a standout basketball star in high school), which, especially when coupled with his brute strength, makes him a terror for opposing offensive linemen to block. He uses his hands (well, at least tries to — he's still pretty raw when it comes to technique) and is a heady player with a nose for finding the football. I also noticed his ability to get leverage and shed blockers and am interested to see what length his arms are once all the measurements are done at the Combine (that's when we'll find out his official height and weight, too).
This past season Wilkerson put up pretty gaudy statistics for a defensive tackle, notching 70 tackles (13.5 for loss) and 9.5 sacks (according to Temple's official athletics site; the ESPN.com player page for him says 68 tackles and 10 sacks). As you can tell from his sack totals, he's quite the disruptive presence when teams decide to pass and consistently gets penetration into the backfield. Also keep in mind all that production came while Wilkerson was being double-teamed because he was the one player along the Temple defensive line that offenses KNEW they had to stop him in order to have success. Detractors can say he played in the MAC and therefore won't be as effective against NFL competition, but I'm not buying that argument because I think his natural ability will more than make up for the significantly increased talent level he'll face in the pros. Plus, Wilkerson totally dominated that lower level of competition, which is what you look for when evaluating a player from a less noted school. I actually think the challenge of going up against NFL-caliber players everyday will only make him better.
Right now Wilkerson looks to be a second round pick with first round talent. If he has a big Combine, don't be surprised to see him sneak into the first.
http://sports.espn.go.com/ncf/player/profile?playerId=385317 
Rob Housler - TE - Florida Atlantic - 6-5 / 228
This is going to be an interesting weigh-in at the Combine. I've seen a whole range of listed weights for Housler: ESPN.com lists it at 215, NFLdraftscout.com at 249, and CBSSports.com's Rob Rang (founder of NFLDraftscout.com) at 228. I'll go with the latter number, but we won't know for sure until two weeks from now. As for Housler's skill set, he makes for a very intriguing prospect because of his size and ability to get down the seam. He supposedly has 4.5-range speed (again, something that will be settled at the Combine), which would make for a tremendously dangerous 6-5 receiving target in the middle of the field. Not too many linebackers can match up on a 6-5 tight end with that kind of speed, so there are obvious matchup problems a guy like Housler can pose when he gets on the field. Is he a good blocker? No, but if a team drafts him with the intention of asking him to block a lot, it's wasting what could otherwise be a valuable asset. Watch the YouTube link below and tell me Rob Housler looks like a traditional tight end.
http://www.youtube.com/watch?v=GHbOuF2vTZs
All that considered, I don't think Housler will transition into being a tight end at the next level. Whatever team drafts him will probably figure out some sort of wide receiver/flex tight end/H-back hybrid position for him to play… and it could definitely work. I feel Housler's the kind of player whose game, more so than that of any other prospect, would tremendously profit from getting elite quarterback play. Trust me, if an NFL offensive coordinator can figure out a way to get a 6-5 receiver matched up on a smaller cornerback when the opposition's nickel or dime package defense is on the field, it's going to happen. Is he going to be an 80-catch or 1000-yard receiver? Highly unlikely, but it's certainly not out of the realm of possibility that he'd put up comparable stats to what he did in college. If I'm running a team's draft, I'd probably put a fourth round grade on him. I think Rob Housler's going to be a pretty useful player in the pros.
http://sports.espn.go.com/ncf/player/profile?playerId=184925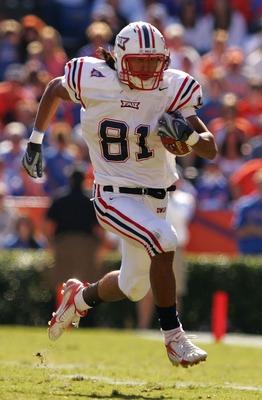 Cortez Allen - DB - The Citadel - 6-1 / 194
Cotez Allen is an intriguing combination of size and speed who could probably play either cornerback or safety at the next level, so check off versatility as an attractive characteristic. He's a long athlete with good ball skills and isn't afraid to get up on receivers and jam them at the line of scrimmage. That physicality also serves him well as a tackler. After a breakout 2009 season (57 tackles, 3 passes broken up, 3 interceptions), teams decided it would be an exercise in futility to frequently test Allen and hardly bothered to throw to his side of the field in 2010 (22 tackles, 5 passes broken up, 2 interceptions). Naturally, the main knock on Allen is going to be his low level of competition, but one thing you can't teach is size and speed. We're not talking about a first round pick — he's going to go later in the draft (if he's selected at all), at a point where it's appropriate to take a risk on a player based solely on measurables and raw ability. We'll see what Allen runs at the combine (4.4 range is the guess), where his performance will go a long way in determining if he hears his name called on draft day. Cornerbacks close to 6-2 and 200 pounds with speed in the 4.4 or 4.5 range are normally intriguing enough as physical specimens, at the very least, to get drafted.
During the East-West Shrine game a few weeks ago, Allen showcased his athleticism and physical play against opposing receivers and impressed NFL scouts enough to warrant an invite to the Combine. He'll look to join the Cardinals' Andre Roberts, a third round pick in 2010, in the NFL, where they would be the first pair of players drafted from The Citadel in successive years since 1959 and 1960.
http://www.draftcountdown.com/ScoutingReports/CB/Cortez-Allen.php
http://www.nfldraftscout.com/ratings/dsprofile.php?pyid=103378&draftyear=2011&genpos=CB
Torrey Smith - WR - Maryland - 6-0 / 205
Sure, I have an obligation to mention a Terp as part of this list, but Torrey Smith happens to be a very dangerous player, both as a wide receiver and kick returner. He looks like a borderline first round pick right now, and he's going to run in the 4.3 range. Once Smith gets in the open field, it's game over because no one is catching him. Also, have no fear, he's a much better player than Darius Heyward-Bey… as in he is actually going to know how to play the wide receiver position as a rookie. It's remarkable how much better Smith got over the course of his three-year college career, and I think that kind of improvement can continue in the pros. If nothing else, he will give you a number of exciting kickoff returns and a few touchdowns that way. Dude's fast. Real fast.
http://sports.espn.go.com/ncf/player/profile?playerId=236807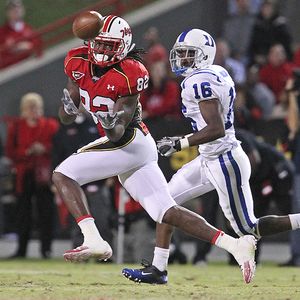 Others:
Ryan Williams (RB, Virginia Tech, 5-9 / 205) — He was one of the nation's best running backs in 2009 as a freshman but suffered through a lackluster, injury-plagued 2010. A redshirt sophomore, he's now three years removed from graduating high school and exercised his draft eligibility. Would it have been a good idea to stay in school for another year? Perhaps, but his draft stock is pretty high as it is (first/second round). Williams is a player with the size/speed/strength combo that teams desire in a starting running back, and he looked like a sure-fire NFL player during his freshman year. If he runs well and impresses at the Combine, there will be an even greater demand for his services.
Jacquizz Rodgers (RB, Oregon State, 5-6 / 192) — There's some personal bias here because I find it so cool and fun to watch Rodgers play. I've been told by a former NFL player personnel executive that he won't hack it at the next level because he's not built like a fire hydrant in the lower half of his body (he has no "base"). That's fine, I'm confident Quizz will use his skill set to carve out a niche for himself as a useful weapon in some team's offense. Besides, how do you not root for this guy?
Dontay Moch (DE/OLB, Nevada, 6-1 / 230) — He's going to run in the 4.4 range, and perhaps even a little under that, so you can bet there's going to be a lot of talk about him. That said, Moch lacks a natural position in the NFL. He isn't big enough to play defensive end like he did in college, and, really, he's a little on the small side for a linebacker. Has a defensive end ever been transitioned to safety? Because if there's ever a candidate, it's Dontay Moch. If he's enough of an athlete to run a 4.4, then you should really see if he can play in space. Imagine a rover type of safety, like LaRon Landry. In all likelihood, Moch will just put on 20 more pounds and some 3-4 team will make him an edge rushing linebacker.
Kenrick Ellis (DT, Hampton, 6-5 / 336) — This dude was born to play nose tackle in a 3-4. He sports a figure that blocks out the sun and throws opposing blockers around like rag dolls. After a dominant week of practice down in San Antonio during the NFLPA Bowl festivities, Ellis is generating a lot of buzz in draft circles. Character and effort are the two main red flags (transferred from South Carolina after being suspended multiple times for off-the-field incidents) that could hurt his draft stock, but his talent level will never be in question.
Markus White (DE, Florida State, 6-4 / 262) — I think I've mentioned him before. If not, I should have. Looks to be a pass-rush specialist type of player at the next level and boasts an intriguing height/weight/speed combo.
Owen Marecic (FB, Stanford, 6-0 / 246) — Easily the coolest player in the draft. Do yourself a favor and read this article about him:
http://sportsillustrated.cnn.com/vault/article/magazine/MAG1174606/index.htm
DeAndre Brown (WR, Southern Mississippi, 6-5 / 239) — Came in as perhaps the most highly touted recruit in Southern Miss history. Brown had an outstanding first two collegiate seasons but was severely hampered by a leg injury in 2010. Still, when a 6-5, nearly 240 pound wide receiver shows up at the Combine, everyone is going to take notice, especially if he puts up a good time in the 40-yard dash (sure, the 40 is overrated, but let's not pretend people don't pay attention to it more than anything else).
Lester Jean (WR, Florida Atlantic, 6-3 / 211) — Rob Housler's teammate, and another intriguing player from the football powerhouse that is Florida Atlantic. You only need to see him play once to know he has the raw skills to be an NFL receiver.
Jah Reid (OT, Central Florida, 6-7 / 325) — If there's ever a guy who's 6-7, 325 pounds and has any semblance of athleticism, you have to try him out at left tackle. If his arms measure long enough, Reid will likely garner a lot of interest.
Andre Holmes (WR, Hillsdale, 6-5 / 209) — After watching Jared Veldheer establish himself as a starting offensive lineman for the Raiders during his rookie season in 2010, Hillsdale, a tiny college in rural Michigan with only 1,400 undergrads, has a chance to see another one of its players drafted into the NFL. At this point Holmes warrants no more than a late-round grade, at best. I'm sure his 40-time at the Combine will determine where he lands. Still, taking a chance on a 6-5 receiver late in the draft is never a bad idea.
Doug Hogue (OLB, Syracuse, 6-2 / 235) — Saw a few of Syracuse's games in what was a season of rejuvenation for that football program, and Hogue never failed to stand out. If he runs in the 4.5 range, I guarantee you'll start hearing his name. While Hogue's a little undersized for an NFL linebacker, you can tell he's a good, instinctive player, and I think he'll prove he belongs at the next level.
Nick Bellore (ILB, Central Michigan, 6-1 / 250) — He's going to make some team that runs a 3-4 defense very happy.
Zane Taylor (C, Utah, 6-2 / 313) — He's been the anchor of a very good offensive line at Utah over the past few seasons, during which the team was a fixture in the Top 25 rankings. Taylor possesses ideal size for the position, and what he lacks in natural athleticism, he makes up for by displaying the nastiness you love to see from a lineman.
David Arkin (OG, Missouri State, 6-5 / 302) — I only know what I've read about him, and it's enough to pique my interest. Call it a hunch, I guess. We'll see if Arkin makes any waves at the Combine.
Julius Thomas (TE, Portland State, 6-4 / 250) — One of those token college basketball players who always draw interest during the draft process. Thomas only played one year of football for Portland State, but he showed enough to make NFL scouts consider him an intriguing prospect.
Ricardo Lockette (WR, Fort Valley State, 6-2 / 207) — Speaking of token Combine invites, Lockette represents the athlete that attempts to parlay his talents as a track star into a potential NFL career. When you're 6-2, 207 pounds and run in the 4.3 range, some team's going to give you a look. After all, everyone's always looking for the next Bob Hayes. Lockette's story is actually an interesting one and worth reading about (scroll down to the first paragraph of the "Draft Scout Ricardo Lockette News" section in the link provided below).
http://www.nfldraftscout.com/ratings/dsprofile.php?pyid=102900&draftyear=2011&genpos=WR
Non-invitee name to remember as the draft process continues:
Tommie Campbell (FS, California-PA, 6-2 / 204) — Transferred from Pitt (due to a suspension for conduct off the field), so you know he has D-IA talent. Campbell stands at 6-2, 204 pounds, and had scouts drooling when he ran in the 4.3 range at the Valero Cactus Bowl in Texas in early January. If you're a safety with that kind of size and speed, it's enough to warrant mention; there's no question a number of teams are going to be interested in acquiring his services. Campbell also happens to be from Aliquippa (PA), which is never a bad thing if you're trying to make it in the NFL (natives of the Quip: Mike Ditka, Tony Dorsett, Sean Gilbert, Ty Law, Darrelle Revis).
3 Notes/ Hide
dontdropthebaby reblogged this from dklausner