Long Overdue Combine Report
The NFL Scouting Combine has been over for a week, so a belated mini recap of perhaps the world's most grueling job interview process is in order. I'll split up the article into two portions. The first will cover prospects I've already mentioned in previous posts, while the second will profile players I haven't written about before.
Previously Mentioned
(I should also note that a number of running backs, in what has been labeled a relatively weak year for the position, had impressive workouts.)
Da'Rel Scott - RB - Maryland - 5107 / 211
First mentioned in my "How to Fix the Washington Redskins" post from back in December, Scott stole the show among running backs when he ran a 4.34 in the 40-yard dash, which exceeded everyone's wildest expectations (I expected him to run in the 4.4 range). That time was the best of any offensive player — including wide receivers — invited to the Combine. Scott has the body type to be a full-time starting running back in the NFL, but he's really only carried the full load once before (as a sophomore in 2008, when he rushed for over 1000 yards). He battled a number of nagging injuries throughout college, and with the emergence of Davin Meggett was forced to partake in a timeshare in the Terps' backfield his last two seasons. Regardless, there's something to be said for a back who recorded at least 5.0 yards-per-carry in each of his collegiate seasons. Unfortunately, his heaviest workload consisted of only 209 carries (in 2008), so the sample size isn't as large as it would be for other running back prospects.
Despite sharing carries, whenever Scott got a chance to touch the ball he showed the kind of ability that leads me to think he can be a dangerous player at the pro level. As evidenced by his 4.34 speed, he can burn would-be tacklers and break off long gains at any time. For a prime example, look no further than his final college game against East Carolina in the Military Bowl, when he broke off touchdown runs of 61 and 91 yards, en route to 200 yards rushing on 13 carries. One thing that really stuck out to me about Scott over the course of watching him for three years is that he's an impressively patient back with good vision and always seems to wait for his blocks to set up before finding the hole and exploding through it. He exhibits good awareness and cutback ability; he also runs hard and keeps his pad level low, so as to maximize the effectiveness of his solid build when encountering contact with defenders. It's difficult to say with any certainty whether Scott could be a starting running back in the NFL — even though the potential is certainly there — because he's relatively untested in that role, but one thing that's for sure is he can immediately contribute to any offense as a change-of-pace/big play option. 
http://sports.espn.go.com/ncf/player/profile?playerId=193394
Muhammad Wilkerson - DT/DE - Temple - 6041 / 315
Already mentioned a few times on this blog, Wilkerson put forth a good performance at the Combine and continued to impress teams as both a player and person. If anything, he should now be considered a probable first round pick. This draft is rich with defensive line talent, and Wilkerson is an example of a guy who's being overshadowed by more hyped prospects. Teams love his size, athleticism, and versatility, and he has the look of a player who will succeed as a pro. I know the Eagles selected Brandon Graham in the first round last year and a defensive tackle to pair with Antonio Dixon isn't the highest priority, but if Wilkerson is there at #23, I think they'd be smart to take him. You still win in this league by dominating up front and getting pressure on the quarterback; a fearsome front four is something the Eagles have lacked for quite some time now. Also, Wilkerson's ability to play defensive end would help alleviate whatever adverse effects might hamper Graham in his first season back from ACL surgery (and you know how players say it normally takes a full year to really get back to normal). If Graham is healthy and proves himself worthy of starting (which he will — if healthy — with Jim Washburn as his position coach), then Wilkerson can play tackle full time and rotate with Dixon and Mike Patterson (and Broderick Bunkley, if he's still on the team). Whatever the case, we'll be boasting a shit ton of talent on the defensive line. Besides, Andy Reid obviously felt the defensive line needed to get better because he hired Washburn, generally regarded as the best in the business at his profession. Now give him some more talent with which to work so we can get after the fucking quarterback.
http://sports.espn.go.com/ncf/player/profile?playerId=385317
Chris Culliver - DB (CB/S) - South Carolina - 6001 / 199
Remember James Starks of the Green Bay Packers? Well, before he emerged as an unsung hero in the playoffs, he was a rookie sixth round pick who had been on the PUP list most of the season. As a collegiate player at Buffalo, Starks was highly productive and at one point projected as likely a second or third round pick in the 2010 draft. Then he suffered a shoulder injury that cost him his entire senior season. The old "out of sight, out of mind" adage also applies to sports, especially when a prospect is recovering from a serious injury. Starks saw his stock plummet, and you can be sure a number of teams didn't even have him on their draft board. Then, in the sixth round, the Packers took a chance on him, and the rest, as they say, is history. Why do I bring up the story of James Starks? Because Chris Culliver's story is similar (and one I mentioned in that article about the Redskins). After two impressive seasons as a sophomore and junior, he suffered through a senior season marred by injuries. Now healthy, Culliver made the most of his invitation to the Combine, where he ran a 4.40 (some reports had it at 4.36) and caught the attention of scouts in the agility tests; he placed first among free safeties in the vertical jump (38.5"), broad jump (10'3"), and 3-cone drill (6.88 seconds), and second in the shuttle (4.08 seconds).
A long, superb athlete with gazel-like strides and a slender build, it's Culliver's range that sticks out most. He covers ground unlike many players you'll see. I watched two South Carolina games when Culliver was a junior in 2009 (@ Alabama, vs. Florida), and he made an impression on me in both (I really didn't know much about him at the time). I don't know if he's going to be a cornerback or free safety at the pro level, but I think he could play either. As a cornerback he can use his elite athleticism to directly match up against wide receivers, and as a free safety he can use his speed and length to blanket the defensive backfield. Culliver is a willing tackler, but he likely isn't going to be a major factor in that regard. Plus, his instincts in diagnosing plays have been questioned. While not the most physical player, Culliver is not afraid to grapple with wide receivers and compete for the football. Lastly, he provides utility as an able kick returner. I think Chris Culliver represents a tremendous value pick in the mid-to-late rounds.
http://sports.espn.go.com/ncf/player/profile?playerId=243296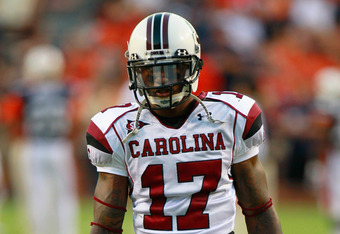 Rob Housler - TE - Florida Atlantic - 6053 / 248
As far as tight ends go, Nevada's Virgil Green stole the show in Indianapolis. Still, it was hard to ignore Rob Housler's performance. There's no way he is a traditional tight end at the next level, but when you have an athlete this good that can create significant matchup problems, it doesn't really matter what position he plays. Housler ran the fastest 40-yard dash (4.55 according to the "official" results) and placed at or near the top in every other drill (including a 37" vertical). He might not be the smoothest of receivers, but he has a ton of potential and some team is going to figure out how to utilize his skills.
http://sports.espn.go.com/ncf/player/profile?playerId=184925
Ricardo Lockette - WR - Fort Valley State - 6021 / 211
Read the blurb I wrote about him in the "Players to Watch at the Combine" article. Predictably, Lockette ran in the 4.3 range and "opened a lot of eyes" in Indianapolis, according to Gil Brandt, NFL.com analyst and former VP of Player Personnel for the Dallas Cowboys for nearly 30 years. Then again, if professional scouts didn't really know about him before the Combine, they should all lose their jobs. Lockette's very much a sprinter trying to learn how to be a wide receiver and is as raw a talent as you'll find. Still, you can't teach speed and explosion, and he has both in spades. So, he's going to be an Oakland Raider, right?
Jah Reid - OT - Central Florida - 6071 / 327
Yet another prospect I mentioned in my "Players to Watch at the Combine" article. Listen, I'm not going to pretend I watched a bunch of Central Florida games (I haven't seen any), or that I know how to evaluate offensive tackles in the technical way that pro scouts do. What I can tell you, however, is that I like Jah Reid's story. He arrived at Central Florida weighing 370 pounds before transforming his body and turning into an imposing physical specimen. Reid, who played right tackle, went on to anchor a Knights' offensive line that paved the way for one of the nation's best rushing attacks in 2010, earning First Team All-Conference USA honors for the second straight season in the process. And, if his performance in the agility drills at the Combine is any indication, this guy is one hell of an athlete for a man his size, too. If for no other reason than that, Jah Reid is worth drafting.
Vincent Brown - WR - San Diego State - 5112 / 187
Post-Combine: Ouch. After an impressive Senior Bowl performance that made me look like I might, perhaps, have even the slightest idea that I know what I'm talking about, Vincent Brown's name was steadily climbing up draft boards. Then he arrived at Indy and had a workout that went about as poorly as possible. He ran an unsightly 4.7, placing him dead last among all wide receivers. That's going to kill his draft stock, and he'll probably slide into the later rounds. Still, I'll go off of what I saw from Brown on the field and remain confident he can be a player — specifically a starting wide receiver who's likely best suited as a #2 — at the next level. He still has some of the most sure hands of anyone at the position and played his best in the biggest games. Brown is also very cerebral and seems to have an innate feel for the game, which helps mask some of his other limitations. The 4.7 is obviously cause for concern (although Anquan Boldin is an example of a wide receiver who ran a similarly woeful 40-yard dash but went on to have success in the NFL), but it's important to remember that speed is not his game. I'm not  jumping ship.
http://sports.espn.go.com/ncf/player/profile?playerId=238332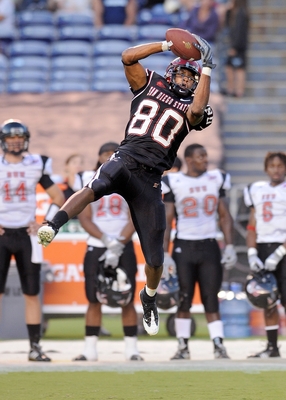 Not Previously Mentioned
Ryan Kerrigan - DE - Purdue - 6037 / 267
After being pigeonholed as a relatively unathletic player who made up for his deficiencies by displaying a relentless motor, Kerrigan came into Indianapolis and totally crushed the Combine drills. He ran a 4.67 (third among defensive ends), put up 31 reps on the bench (second), had a 33" vertical (fourth), and broad jumped 10'2" (first). At the very least, Kerrigan seems to be more than just a "blah" athlete. So much for not testing well at the Combine, right? Given his performance in Indy and robust production as a Boilermaker, I expect Kerrigan will see his stock rise as the draft nears. I had a friend, someone whose opinion I value, tell me back in early October that he really liked what he saw out of Kerrigan (and on a somewhat unrelated note, thought the uber-hyped Allen Bailey was a bum). Based on this recommendation, I tuned in for Purdue's games against Ohio State, Michigan, and Michigan State, just so I could watch Kerrigan. I too was impressed by his play — the guy was everywhere — and have been a fan ever since.
http://sports.espn.go.com/ncf/player/profile?playerId=237333
Chris Carter - OLB - Fresno State - 6011 / 248
Ran the second-fastest time (4.62) of any outside linebacker and was one of the nation's most productive pass rushers in 2010, notching 11 sacks, 16.5 tackles for loss, and four forced fumbles. Although he played along the defensive line in college, Carter will be converted to a 3-4 edge rusher (he actually came to Fresno State as a linebacker before being switched to defensive end). Love his size/weight/speed combination, even if he's undersized, and explosion off the line. What stuck out to me most when watching Carter play was how effectively he dipped his shoulder and maintained balance, which allowed him to slip by blockers. He's going to need to develop more sophisticated pass rush moves and learn how to use his hands to complement his raw ability because he won't be able to just get around offensive tackles in the pros like he did in college. Still, from an athletic standpoint, Chris Carter has everything you want from a 3-4 outside linebacker/edge rusher and could be a steal in the middle rounds.
Martez Wilson - ILB - Illinois - 6036 / 250
Ran the fastest 40-yard dash of any linebacker at 4.49, which would have been an impressive time for a running back or wide receiver, let alone a linebacker who measures nearly 6-4 and weighs 250 pounds. That's just beastly. Wilson might be the only player at his position to get drafted in the first round after finally putting all his physical talents together and posting an eye-opening senior season. Still, in order for me to be sold on a player, I prefer to see a track record of solid production, and that's something missing from Wilson's resume (even though he recorded 73 tackles as a sophomore in 2008). Even so, you can't deny his awesome athletic skills.
http://sports.espn.go.com/ncf/player/profile?playerId=237318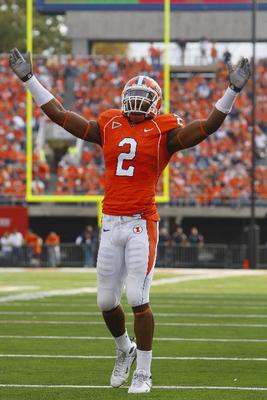 DeMarco Murray - RB - Oklahoma - 5115 / 213
DeMarco Murray probably has the most enticing combination of physical and athletic attributes of any running back in this entire class. He boasts excellent speed (4.41) and acceleration but lacks the instincts that separate the best backs from the rest of the pack. While Murray is trouble once he hits the hole, he isn't patient enough and runs too upright (which puts a back more at risk to take hits and get injured). There are also concerns about his durability and potential as a full-time running back. Murray looked like a first round pick early in the season after getting off to a blistering start but hit a wall in mid-October and really tailed off. He's projected to go in the second or third round range. Still, there's no denying Murray's physical gifts (speed and strength) and elite receiving skills. This guy is the best dual threat in the draft and presents serious matchup problems out of the backfield or when split wide.
http://sports.espn.go.com/ncf/player/profile?playerId=188948
Kendall Hunter - RB - Oklahoma State - 5072 / 199
Don't let the diminutive stature fool you, Kendall Hunter has the build to play at the next level. He has a thick and muscular base — a necessity for shorter backs — as well as impressive upper body strength (24 reps on the bench). According to the official Combine results, he ran a 4.53 (another well-regarded site has it at 4.46). Whatever the actual time is, Hunter wasn't really able to break many big plays, despite posting 5.7 yards per carry or better in three of his four collegiate seasons. He was instead a back who got stronger as the game went along and thrived when given a lot of carries. Hunter displays good vision and cutback ability and had some excellent seasons at OSU while very quietly establishing himself as one of the nation's best running backs. He is also a capable — albeit underused — receiver out of the backfield and should be a second or third round pick.
http://sports.espn.go.com/ncf/player/profile?playerId=235661
Jordan Todman - RB - Connecticut - 5087 / 203
Like DeMarco Murray and Kendall Hunter, Jordan Todman made a favorable impression at the Combine. He's another solidly built running back who has excellent speed (4.40), understands how to play the position, and put up impressive stats in each of his two seasons as a starter at Connecticut. One of the nation's most consistent producers, Todman was a force in every game he played. He literally did not have a single subpar performance his entire senior season, rushing for at least 100 yards in 10 of 12 total games (and registering at least 100 total yards in 11 of 12) and 14 touchdowns — all this after emerging as a legitimate prospect in his junior season. Todman was barely used as a receiver, but that doesn't mean he can't catch the ball. It actually wouldn't surprise me if he ends up being among the best backs to come out of this draft.
http://sports.espn.go.com/ncf/player/profile?playerId=382319
Mario Fannin - RB - Auburn - 5103 / 231
This player, who had scouts and player personnel executives in Indianapolis doing a double take when looking at their stopwatches, was Auburn's fourth-leading rusher this past season — registering 61 carries for 395 yards (6.5 yards per carry) and five touchdowns. He also added 17 receptions for 173 yards and two scores. Fannin was so integral to the Tigers' success that he had zero carries and one reception (for 16 yards) in the BCS National Championship Game. So, how does a guy who's 5-10, 231 pounds, and runs a 4.37 get used so sparingly? It probably has something to do with him being more of an impressive athlete than pure running back. According to scouting reports, Fannin's size/weight/speed ratio (or "speed score" rating) is about the only thing he has going for him, as he lacks instincts and vision, doesn't run with good pad level, and has a propensity for fumbling. But one thing is for certain: He is built like a bowling ball, runs under a 4.4, and has some serious big play ability. I have to think Fannin can fit with a team somewhere and be utilized effectively in certain offensive schemes.
http://sports.espn.go.com/ncf/player/profile?playerId=189729
Buster Skrine - CB - Tennessee-Chattanooga - 5094 / 186
One of the classic small-school sleepers that has an excellent Combine and whose name you now start to see printed more often. Even before he impressed in Indy, Buster Skrine was on draft radars for his performance in the NFLPA Game in early February. Lots to like about him from a size/speed/strength/athleticism standpoint. If you look at the results from the Combine on the NFL's website, Skrine officially ran a 4.48. Meanwhile, NFLdraftscout.com lists his time at 4.37, and the National Football Post's Wes Bunting (who is, and has been, driving the Skrine bandwagon) mentions that he ran an "unofficial" 4.29. Whatever, he's fast enough, absolutely dominated in the agility drills (only player to run a sub-4.0 20-yard shuttle and also placed first in the 60-yard shuttle and three-cone drill), and had an impressive 37" vertical. If nothing else, Skrine is worth remembering as the draft draws closer.
Further reading: 
http://timesfreepress.com/news/2011/mar/08/ex-moc-skrine-hot-nfl-topic/