NFL Draft Update: Quarterbacks
This is the first in a series of updates on the NFL draft, with each successive article focusing on a certain position or group of positions (in no particular order):
Quarterbacks
Running Backs and Fullbacks
Wide Receivers and Tight Ends
Offensive Line (Centers, Tackles and Guards)
Defensive Line (Ends and Tackles)
Linebackers (Inside and Outside)
Secondary (Cornerbacks and Safeties)
——————————————————————————
Quarterbacks
Overall, I'm pretty lukewarm about the consensus top prospects at the quarterback position in this year's draft. I can't say I'm absolutely sold on any of Blaine Gabbert, Cam Newton, Ryan Mallett, or Jake Locker. Not that I don't think they're talented, but each has a certain deficiency that leads me to question how he'll translate to the pro game. I guess I'm just not feeling the hype machine this year, but I do think there's good depth at the position and potential starters to be had later on.
Blaine Gabbert has all the physical tools, but in the games I've been able to review (which included two of his better performances of the season against Texas A&M and Oklahoma), I just don't see a quarterback who's cool, calm, and collected in the pocket. He gets jittery at the faintest hint of pressure and stops looking downfield as he tries to escape oncoming defenders. I sort of get the feeling Gabbert doesn't always trust himself or isn't confident in some of the decisions he makes, either. Everything else is there, as he's a highly intelligent player with a strong arm and the (underrated) speed and athleticism to get outside the pocket and make things happen when the play breaks down. However, the overriding adage in scouting circles is "the tape doesn't lie" — game film is the most important component in evaluating a player's ability. I'm not a pro scout, but that would seem to make sense. Buying in to all the other hype that comes with the measurables and Combine/Pro Day performances over what the player has done on the field during the course of his collegiate career is myopic and irresponsible. Gabbert's numbers also aren't exactly impressive for a quarterback who played in a spread offense system, and that's something I view as a concern (but what do I know, right?). The fact that he only completed 44% of his passes on third down is something else that makes me wonder, is this the kind of guy who's going to come through in clutch situations? I'll give Gabbert credit for being more than a one-read quarterback, but, overall, when it comes to assessing him based upon his on-field performance, I've never really been all that impressed. For that reason, I'm not comfortable unequivocally anointing him the best quarterback in this class.
You already know how I feel about Cam Newton, so there's no use in beating a dead horse. He has truly rare physical skills, but let's just say I'm more than a little skeptical about him.
Ryan Mallett is about as immobile as it gets — he'd have trouble winning a race against 300+ pound offensive and defensive linemen. He's just not athletic at all and has zero ability to escape pressure and extend plays outside the pocket. Mallett also struggles when the pocket collapses and he has to step up to avoid pressure and then reset his feet to make a throw. That said, he has a sneaky ability to sidestep oncoming rushers (which is different from having to step up in the pocket). Yes, he's huge at nearly 6-7 and has the strongest arm of any quarterback; Mallett probably throws the best deep ball in this class, so if you want to call a healthy dose of 50-yard fly patterns, he's your guy. He ran a pro style offense at Arkansas and exhibits impressive mechanics — specifically, he consistently sets with a wide base, which allows him to generate power on his throws without taking a step. Despite completing 64.7% of his passes this season, Mallett's accuracy was never something that jumped out at me as a strength when I watched him play (I thought he lacked touch). I also wasn't a fan of some of the decisions he made under duress late in games with the Razorbacks' fate on the line (i.e. against Ohio State in the Sugar Bowl) — sometimes the moment just seemed to be too big for him, and he never really struck me as a genuine leader. There were also mumblings at the Combine that concerned Mallett and drug/substance abuse, but I haven't read anything in the way of hard evidence to substantiate those rumors. Regardless of the veracity of said rumors, questions about his general character and personality persist among more than just a few player personnel departments (according to some of the reports I've read).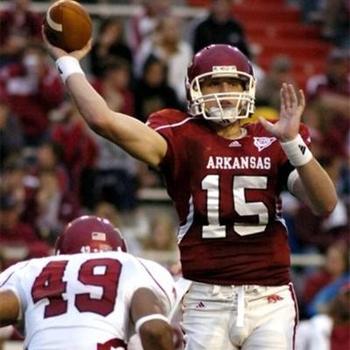 Now for Jake Locker. This is a guy who seems to generate a lot of divisiveness among player personnel people. On one hand, you have an elite athlete with all the physical tools to succeed at the next level, who's also a fiery and respected leader. On the other, the most frequently cited negatives concern his accuracy (although he's a more accurate passer outside the pocket) and instincts. Given that I value those two traits above all else at this position, I have a hard time seeing Locker as a starting NFL quarterback. Still, it would be unfair not to factor in the kind of talent — or lack thereof — that he was playing with on a Washington team bereft of NFL caliber players, aside from running back Chris Polk (might be the best running back prospect in the 2012 class, by the way, assuming he comes out after next season). While Locker's supporting cast certainly didn't help matters, a truly elite quarterback — in college, especially — is able to overcome those obstacles, make lesser players better, and lead his team to victory regardless (i.e. Matt Ryan). The sexy traits are certainly enticing, but it takes much more to be a starting quarterback at the professional level. Overall, I'm not selecting Jake Locker to be my franchise savior and/or cornerstone, but I could be talked into attempting to cultivate his talents. If I'm a team with an aging starting quarterback, an eye to the future, and the luxury of letting Locker sit and learn for at least a few years… I just might be comfortable taking him in the third round (but I doubt he'll still be there at that point). No matter how you feel about Locker, this profile of him is a worthwhile read.
I'm of the opinion that the best quarterback to come out of this draft won't be selected in the first round. If you've read any of my previous draft columns, you know that I'm a big fan of Greg McElroy's game and think his pro potential is really underrated. Same goes for Andy Dalton, who saw a meteoric rise in his draft stock this past season, and with good reason. He was actually one of the main players I came into the season with a vested interest in watching, as his breakout performance in 2009 for the Horned Frogs is what put him on the map. What I really like about Dalton is how efficiently he is in running an offense; he stays within himself, doesn't try to do too much (the Rose Bowl against Wisconsin being a perfect example), plays a smart and cerebral game, and possesses all the intangibles (leadership, poise, toughness, etc.) you look for in a quarterback. Boasts an underrated arm, too. Whereas Dalton was probably a fifth or sixth round prospect when the season started, he now looks to be cemented as a likely second round pick. And you can be sure he's ranked ahead of Locker, and probably even Mallett, on a number of teams' draft boards. Dalton strikes me as the kind of quarterback who could excel with a team that runs a West Coast Offense. He looked like a legitimate pro quarterback in the Rose Bowl, that's for sure.
McElroy: Stats / Player Page
Dalton: Stats / Player Page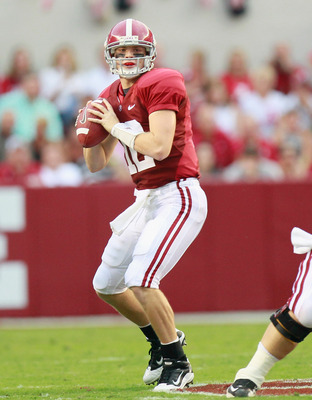 I've also always been intrigued by Christian Ponder's skill set and think he's one of the more interesting prospects out there. Sure, there are reasons for doubt, but, I don't know, I like the guy. There's just something about the way he plays, competes, and improvises that I find endearing, even if he can be erratic at times. Not convinced he'll pan out (injury issues are a red flag), but I lean more toward yes than no and wouldn't be opposed to giving him a chance. Here's the excerpt linked above:
At one point, Christian Ponder looked like a surefire first round pick, but a nondescript senior season left him lost in the shuffle with all the other quarterback prospects in the country. As such, he came to the Senior Bowl as one of the players with the most to gain. Ponder was sure to leave his mark on the game, going 7-for-13 for 132 yards and two touchdowns to secure the MVP award. My overall opinion on him is one of ambivalence. I watched a number of Ponder's games this season and was never sure what to make of him (he was underwhelming against Maryland, for one). On one hand, he showed good accuracy, athleticism, toughness, a knack for improvisation, and the ability to make throws on the run. On the other, Ponder's arm strength was lacking (probably as a result of lingering effects from offseason shoulder surgery; he had another arm surgery, his third in two years, in early December to remove scar tissue from his throwing elbow), he forced way too many throws, and I frequently found myself questioning his decision making. There were plenty of occasions where he flashed pro skills, but his inability to put it all together consistently always left me wanting more. Even on his first completion in the Senior Bowl, a 49-yard bomb to Leonard Hankerson (more on him later), Ponder underthrew the ball and made it a much tougher play than it had to be for his receiver. Then again, he made a perfect throw to Hankerson for the game's first touchdown. The surgeries are a concern, and I'd like to see some more consistency out of Ponder overall, but his skill set makes him an intriguing prospect nonetheless.
Edit: A highly intelligent, bright young man who was a stellar student at Florida State, graduating in just two-and-a-half years with a degree in finance before going on to get his MBA. Won the James Tatum Award as the ACC's top student-athlete.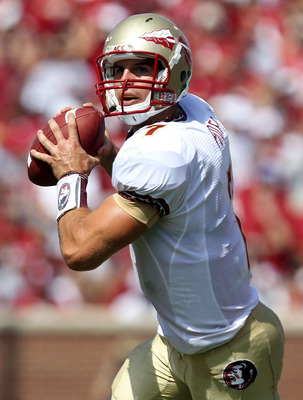 Colin Kaepernick, out of Nevada, is another interesting prospect at the quarterback position because of his unorthodox skill set. He's athletic (although not as agile as you might think), has ideal size (nearly 6-5), and runs like a gazelle with those long, elegant strides (4.53 in the 40). Kaepernick has a lean, slender build and probably would need to fill out his frame some more in order to withstand the physical rigors of playing in the NFL. While he wowed teams with his arm strength at the Senior Bowl and followed that up with good workouts, I watched a fair number of his games in college and not once did I ever come away thinking he'd be able to succeed as a pro quarterback. Kaepernick has an elongated throwing motion — a byproduct of his days as an elite high school baseball player — that'll need refining, and I wouldn't classify accuracy as a strong suit. I do, however, think he could find his niche as a dangerous weapon in certain formations and gimmicky packages.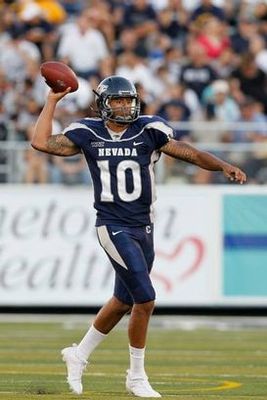 As for prospects flying under the radar:
Ricky Stanzi, of Iowa, is another name to remember. He has the type of size and build that translates to the next level, and his dedication to the game on and off the field are second to none. One thing you'll never have to worry about with Stanzi is his work ethic and love for football. He is an underrated yet solid, if unspectacular, prospect with deceptive athleticism (does a nice job sidestepping the rush and moving within the pocket) who could end up being a nice find for some team in the middle rounds. One thing I always look for when evaluating quarterbacks is their career arc, and I like that Stanzi improved in each of his seasons as a starter for the Hawkeyes, especially with his accuracy. While he has been inconsistent in workouts and generally failed to make himself stand out, he displays a maturity and advanced understanding of the game that shows up on tape (I remember reading about how scouts were impressed by how well he looked off safeties). The Insight Bowl against Missouri notwithstanding, Stanzi's game footage is pretty encouraging. On film, he displays a cool demeanor in the pocket and plays a very steady, intelligent game. He directed a pro style offense at Iowa and was required to make reads and go through multiple progressions on each passing play. There's nothing flashy about Stanzi's game, he just manages to get the job done. While I'm somewhat ambivalent about his potential as a starter, it wouldn't at all surprise me if he eventually ends up succeeding in that capacity.
Taylor Potts, out of Texas Tech, about whom I wrote in my "Notable Combine Snubs" article. He might be downgraded because of the stigma associated with Texas Tech signal callers, which is understandable, but his physical tools are undeniable and probably the best of any quarterback prospect to come from that program. Potts has the ideal build to play the position, is accurate with the football, and makes plays that indicate an intuitive feel for the game. Interestingly enough, the game that really made me buy into Potts as a next level talent was when he came off the bench and outdueled Blaine Gabbert in leading the Red Raiders back from an early 14-point deficit, en route to an eventual 24-17 victory. There's a smoothness to his game that really appeals to me. He also seems to have a certain presence about him and commands the attention and respect of his teammates; the fact that Potts been lauded for his leadership ability is definitely another positive. Worth a later round pick as a developmental prospect.
Pat Devlin, of Delaware (by way of Penn State), is another quarterback considered to be a mid-round pick. I'm not going to pretend I've ever watched a Blue Hens football game, but the school does boast Rich Gannon and Joe Flacco as alumni. Good enough for me. If a team believes in the kid and wants to draft him in the mid-to-late rounds, more power to it. I'm going to venture a guess that the guys who do this for a living know what they're doing. Well, at least most of them. I will tell you one thing, though, I really like the kind of stats Devlin put up (especially completion percentage), regardless of the whole level of competition detraction. If you're legit, it doesn't matter where you played collegiately.
Scott Tolzien, of Wisconsin, is a smart player with fantastic accuracy and a soft touch, if pedestrian physical and athletic traits (sort of like Greg McElroy in that respect). He fits the bill as a classic "game manager" type of quarterback. I think Tolzien will carve out a spot as a solid backup who can start in a pinch and fill in admirably in case of injury.
Tyrod Taylor, of Virginia Tech, whose electric speed (4.47) and elite athletic ability have garnered the inevitable comparisons to a poor man's Michael Vick (if Vick were a righty). That's actually a pretty accurate description, all the way down to size and build. I don't think Taylor's ever going to be a consistent starter in the league, but, at the very least, he can serve as a (better) version of Kordell Stewart and be a weapon for the offense.
4 Notes/ Hide
texasamaggies reblogged this from dklausner