NFL Draft Update: Offensive Line
Offensive Tackle
Tyron Smith — Southern California — 6050 / 307
Passes the eye-ball test, for sure. Incredibly athletic and agile with long arms and weighed in at a chiseled 307 pounds, just a jaw-dropping physical specimen. Only a two-year starter and very young (age 20), Smith will probably need to add some more bulk/strength and the kind of pro coaching that will help him harness his remarkable talents. The sky's the limit for him. So, I guess Smith is the guy who's supposed to protect Tony Romo's blind side for the foreseeable future. He certainly has the raw ability, and I'll get to see whether the guy can play at the NFL level at least twice a year when he goes against Trent Cole.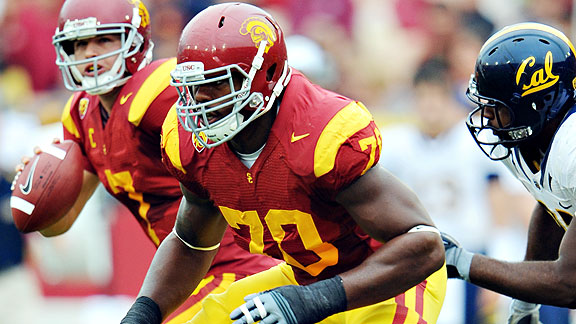 Nate Solder — Colorado — 6082 / 319
A phenomenal physical specimen; you simply do not find guys his size with this kind of athleticism. Solder used to be a tight end and has those quick feet, but he's still learning the position. Needs to add strength and bulk and has the frame to do so without sacrificing quickness and agility. If Solder pans out, he'll be a Pro Bowl left tackle.
Benjamin Ijalana — Villanova — 6035 / 317
I wrote about Ijalana back in December when I was previewing draft prospects on teams still playing deep into the FCS/D-IAA playoffs and have not wavered from my belief that he has the ability to become a 10-year starter at left tackle in the pros. And even if he doesn't work out at tackle, he could seamlessly transition to guard and be a long-time starter there. Here's my initial report on him:
There's a lot of talk about Ijalana, and with good reason. He's as talented an athlete as you'll find when it comes to offensive linemen (the way he moves for a 6-4, 320 pound guy shouldn't be physically possible), and his long arms should alleviate any concerns over his height and whether he can play tackle at the next level. In fact, I think Ijalana's going to be one of the better linemen to come out of this draft and can be a Pro Bowler at either guard or tackle. There's even a chance he might sneak into the end of the first round. 
Edit: My initial observation that I thought Ijalana had long arms (based on what I had seen of him in action) and could therefore play tackle at the next level despite being undersized was bolstered by the fact that his arms measured 36", which is a much more important characteristic than his height. Games I personally watched were Villianova's first of the season, against Temple, and last, against Eastern Washington in the FCS/D-IAA National Semifinals. Unfortunately, Ijalana couldn't perform at the Senior Bowl because of a sports hernia injury, so NFL personnel people couldn't see how he matched up against superior competition. I'll tell you one thing: he was matched up against Muhammad Wilkerson a bunch of times in the Villanova/Temple game and more than held his own. Main concern I've read is about his mental makeup. Scouts feel he's too passive out on the field, although I didn't see that in the games I watched. If true, perhaps it's just a matter of Ijalana being bored with lesser competition, but it could also be reflective of his personality and approach to the game. Then again, Greg Gabriel, the former Director of College Scouting for the Bears with 29 years of experience in the league, commented that he liked "the nasty attitude [Ijalana] plays with,", so go figure. The talent isn't in question, it's just all about what's going on upstairs. As one scout relayed to Wes Bunting of the National Football Post, "[Ijalana's] an interesting character." I didn't come away with questions about Ijalana's intensity nor concerns about the way he played the game, but I don't have access to the wealth of tape that scouts do. Who knows, maybe it's all misinformation and gamesmanship, which is ubiquitous at this stage of the draft process. All I know is I liked what I saw when I watched Ijalana play.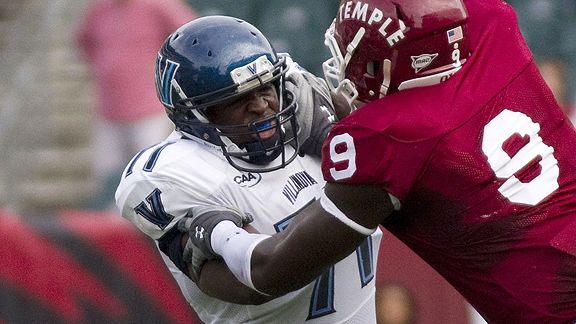 Gabe Carimi — Wisconsin — 6070 / 314
Big, physical, smart, strong, nasty — a classic mauler. What he lacks in athleticism, Carimi makes up for in every other category, most notably as a technician. He's Jewish — something that, from a personal standpoint, I'm obviously going to mention — and actually takes his faith pretty seriously, which I respect. If Wikipedia is to be trusted, Carimi's nicknames include "The Jewish Hammer" and "The Bear Jew." Awesome. I watched him at Wisconsin and was instantly reminded of Jon Runyan, which should be considered one hell of a compliment for any right tackle. Carimi won the 2010 Outland Trophy and is a safe pick who projects as a steady, solid starter at the next level. Wisconsin also has a tendency to produce NFL-caliber offensive linemen, which shouldn't be discounted.
James Carpenter — Alabama — 6043 / 321
Here, instead of writing something about Carpenter, I'll just show you this video clip of the incredulous — and hilarious — reaction from his college coach, Nick Saban, when the pick was announced:
http://www.youtube.com/watch?v=ynvbg3QzpDM
For those of you who have trouble reading lips: "James Carpenter went in the first round??" Yeah, maybe that's not such good news if you're Seattle. At least it provided a moment of high comedy for us viewers.
Underrated:
Jah Reid — Central Florida — 6071 / 327
From the post-Combine report:
Yet another prospect I mentioned in my "Players to Watch at the Combine" article. Listen, I'm not going to pretend I watched a bunch of Central Florida games (I haven't seen any), or that I know how to evaluate offensive tackles in the technical way that pro scouts do. What I can tell you, however, is that I like Jah Reid's story. He arrived at Central Florida weighing 370 pounds before transforming his body and turning into an imposing physical specimen. Reid, who played right tackle, went on to anchor a Knights' offensive line that paved the way for one of the nation's best rushing attacks in 2010, earning First Team All-Conference USA honors for the second straight season in the process. And, if his performance in the agility drills at the Combine is any indication, this guy is one hell of an athlete for a man his size, too. If for no other reason than that, Jah Reid is worth drafting.
Offensive Guard
Danny Watkins — Baylor — 6033 / 310
Overager who will turn 27 in November. Watkins doesn't have the wear and tear on his body because of the fact that he only just started playing football at the age of 22. Instead, he grew up in British Columbia playing ice hockey and rugby (and worked as a firefighter before coming to the States in 2007). Scouts fell in love with him at the Senior Bowl when he was moved from tackle inside to guard and took to the position instantaneously. Plays with an edge and snarl that you love to see in an offensive lineman. Agile, strong, nasty, and technically sound, Watkins should start immediately. Check that, because of his age, he must start immediately. Still, at 26 going on 27, you have to wonder just how much upside he has. What if you only get five years out of him? Hopefully it'll be a damn good five years.
From my Senior Bowl article:
He's been a revelation so far at the practices and is drawing unanimously rave reviews, which is pretty impressive when you consider he only started playing football upon arriving in the states four ago from his native Canada. Very rarely is an interior lineman the talk of the Senior Bowl, but that's exactly what Watkins has become. Suffice to say he's flying up the draft boards. The one major downside: Watkins is already 26 and will turn 27 during the 2011 season.
Edit: Ah, my Eagles, making the solid, not sexy pick. I wanted Muhammad Wilkerson, but I'm fine with this, Watkins definitely has that snarl and blue collar work ethic Philly loves. He'll ingratiate himself immediately and start from the first day of training camp, whereupon he should help solidify an offensive line that nearly got Michael Vick killed numerous times last season (or will we keep Kolb and have him step in when Vick inevitably gets injured?). I'm also excited Watkins gets to be coached by Howard Mudd. As for a potential domino effect: Perhaps this is a precursor to moving Todd Herremans to right tackle to protect Vick's blind side if the team is no longer confident in Winston Justice.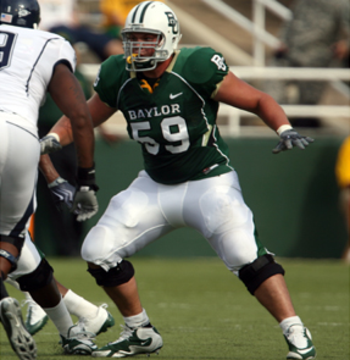 Center
Stefen Wisniewski — Penn State — 6030 / 313
For my money, Wisniewski's the best center in this class — one of the best five offensive linemen, period, actually — and will be a starter from the first day of training camp. I was actually privy to a little bit of inside information about his high school days, namely that he crushed advanced calculus as a junior and was second in his class academically (or something like that). I know this because my roommate, Ben Keegan, was a year older than Wisniewski's while both attended Central Catholic, a famed football powerhouse in Pittsburgh whose alumni include Dan Marino and Marc Bulger. The anecdote about Wisniewski's performance in the classroom doesn't come as a surprise to me because his superior level of intelligence translates to his play on the football field. Suffice to say that this guy's mental aptitude is off the charts, and he will have no problem being the brains of an NFL offensive line and making all the necessary pre-snap calls and adjustments. In addition, he's strong, durable, technically sound, versatile (played both center and guard), and started 37 of 38 games played in college. The favorable bloodlines and pedigree don't hurt Wisniewski's case, either. His father played in the NFL, and his uncle, Steve, a former All-Pro guard for the Raiders, now coaches the team's offensive line. Dear Eagles: Please draft him.
Edit: I guess it was pretty obvious that Oakland was going to take him. That's the second good draft in a row for the Raiders, which means someone other than Al Davis must be getting more say on personnel decisions. Speaking of the Raiders, they traded their 2012 second round pick to the Pats for a third and fourth in this draft. Between this and the Richard Seymour trade, why doesn't some team other than the Pats take advantage of the Raiders? Now the Pats, for the second season in a row, will have two picks in each of the first two rounds. Asset management, people. Asset management.