NFL Draft Update: Cornerbacks
There is a consensus top three here, with Patrick Peterson the consensus number one, followed by Prince Amukamara and Jimmy Smith. There's a bit of a drop-off after them, but that doesn't mean there won't be good talent available later on in the draft.
Patrick Peterson — Louisiana State — 6002 / 219
Complete and total stud, a future perennial Pro Bowler at a pivotal position where elite talent is scarce. Believe the hype, Peterson's a rare blend of size, weight, speed, and athleticism who can match up with any wide receiver. He has supreme confidence in his abilities, plays with an unmistakable swagger, and will never be intimidated. A ferocious competitor who brings it on every play, Peterson is simply a complete player for the position, possessing both superior ball skills and excellent tackling ability. The cherry on top: He's going to be a dangerous weapon in the return game.
Prince Amukamara — Nebraska — 6000 / 206
Here, I'll let KC Joyner break down the Prince. If you don't have ESPN Insider, you should buy it — well worth whatever money I pay for it each year.
Jimmy Smith — Colorado — 6022 / 211
I had him ranked second behind Peterson. If there's any environment that can help Smith harness his immense talents while also letting him retain some of that arrogance and edge, it's in Baltimore with the Ravens. Guys like Ray Lewis, Terrell Suggs, and Ed Reed won't put up with any shit that could potentially get in the way of winning football games. Smith is a big, strong (24 reps!), fast, and physical cornerback who shows a knack for playing the run in addition to blanketing receivers, even if not forcing turnovers (teams didn't throw at him as much last season, but you want to see at least one interception, so you have to wonder about his ability to create turnovers). Lots of potential with the newest Jimmy Smith in the league, and Baltimore has a really good track record in the draft. This is where Ozzie Newsome and Eric DeCosta excel, and you'd probably be wise to trust their judgment.
Flying under the radar:
Ras-I Dowling — Virginia — 6013 / 198
Going into the season Dowling was right up there with Patrick Peterson as the top cornerback prospect and a lock for the first half of round one. Then injuries ruined his senior season. Big, fast, physical, strong, smart, a complete cornerback who takes pride in playing the run as much as he does covering receivers. He can match up with anyone and has all the makings to be a long-time starter at the NFL level.
Edit: Of course the Pats took him. Dowling and McCourty is a scary duo.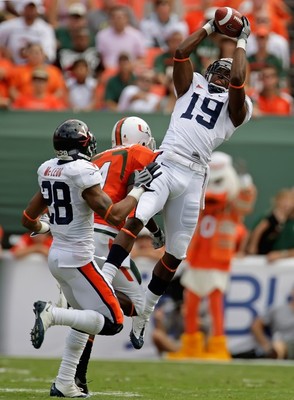 Underrated:
Curtis Marsh — Utah State — 6004 / 197
From the Senior Bowl preview:
If you've been watching the NFL playoffs, odds are you're familiar with Green Bay's rookie cornerback Sam Shields, especially after his breakout performance in the NFC Championship Game. After being bypassed by every team in last spring's draft, Shields signed with the Packers as an undrafted free agent with (understandably) little fanfare. Despite posting impressive measurables — 5-11, 184 lbs, 4.32 40-yard dash — he was seen as a developmental prospect who'd need a few years of coaching before being ready to contribute. You see, Shields was recruited by the University of Miami (FL) as a wide receiver — which explains his great hands — and wasn't switched to cornerback until his senior season. That means this is only his second year playing the position, which makes his rapid ascent all the more remarkable. 
Curtis Marsh followed a similar path, as he was originally recruited by Utah State to play running back before being switched to cornerback going into his junior year. After two seasons, his athleticism and instincts have allowed him to make a seamless transition; Marsh has improved by leaps and bounds and looks like a natural at the position. Unfortunately, he suffered a hamstring injury early in the week and has been sidelined since, so NFL teams haven't gotten a chance to evaluate him on the practice field. As such, Marsh will have to prove his worth during individual workouts. Still, if you look at the stats, you can see this guy has potential, as he ranked second in the WAC and sixth in the FBS (D-IA) in passes defended with 1.25 per game — for a total of 15 — to go along with two interceptions.
Cortez Allen — The Citadel — 6012 / 197
From the Combine preview:
Cotez Allen is an intriguing combination of size and speed who could probably play either cornerback or safety at the next level, so check off versatility as an attractive characteristic. He's a long athlete with good ball skills and isn't afraid to get up on receivers and jam them at the line of scrimmage. That physicality also serves him well as a tackler. After a breakout 2009 season (57 tackles, 3 passes broken up, 3 interceptions), teams decided it would be an exercise in futility to frequently test Allen and hardly bothered to throw to his side of the field in 2010 (22 tackles, 5 passes broken up, 2 interceptions). Naturally, the main knock on Allen is going to be his low level of competition, but one thing you can't teach is size and speed. We're not talking about a first round pick — he's going to go later in the draft (if he's selected at all), at a point where it's appropriate to take a risk on a player based solely on measurables and raw ability. We'll see what Allen runs at the combine (4.4 range is the guess), where his performance will go a long way in determining if he hears his name called on draft day. Cornerbacks close to 6-2 and 200 pounds with speed in the 4.4 or 4.5 range are normally intriguing enough as physical specimens, at the very least, to get drafted.
During the East-West Shrine game a few weeks ago, Allen showcased his athleticism and physical play against opposing receivers and impressed NFL scouts enough to warrant an invite to the Combine. He'll look to join the Cardinals' Andre Roberts, a third round pick in 2010, in the NFL, where they would be the first pair of players drafted from The Citadel in successive years since 1959 and 1960.