NFL Draft Update: Safeties
Free Safety
Jaiquawn Jarrett — Temple — 5117 / 198
Like Jets first round pick Muhammad Wilkerson, Jarrett played right in the Eagles' backyard. There were reports after Temple's pro day that the team was very interested in him. Solid player with high character and exhibits traits the Eagles love, all the way down to being undersized and compensating for it with his motor and instincts. Jarrett is known as a fierce hitter who's smart, physical, tough, fundamentally sound, and plays a very cerebral game, which, in college (see: not the NFL), helped make up for his 4.62 speed and the fact that he's not an explosive athlete. But what if that 4.62 indicates he's a step slow? Whereas it wasn't a death knell in college, that could spell his demise in the pros. Something tells me Andy Reid will refer to him as a "battler" on more than one occasion. I just hope Jarett can reward the team's faith. The question now is, how do the Eagles see him? If it's as a free safety, that would seem to speak volumes about their concern regarding the severity of the injury Nate Allen suffered when he ruptured his patellar tendon against the Giants late in the season. Jon Gruden — who feigned prophetic prognostication powers as he let everyone know this would be the pick moments before it was announced — thinks Jarrett can also play strong safety at the next level (so, is he Quintin Mikell's replacement?). I hope he's right. I like the way Jarrett plays the game and think he can be a fine NFL player, I'm just not sure what position will give him the best chance to succeed in the pros. Perhaps the team sees him as a Brian Dawkins type of player in the free safety/strong safety hybrid mold. I'm less optimistic, though interested to see where he plays.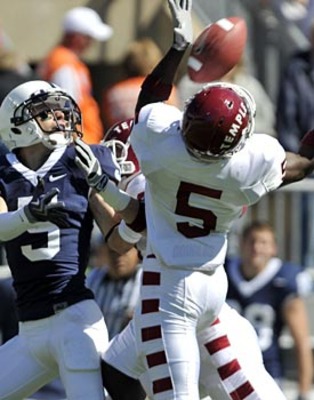 Underrated/Flying under the radar:
Mark Legree — Appalachian State — 5114 / 210
First off, Legree finished his college career with 22 interceptions and leaves Appalachian State as the active leader in all of Division I (includes both the D-IA/FBS and D-IAA/FCS). So I'd say he has pretty good ball skills. Personally, I don't care where you play or who you play against — if you pick off 22 passes over the course of your career, you're doing something right, and I'm going to take notice. A nominee this past season for the Buck Buchanan Award (D-IAA/FCS Defensive Player of the Year), Legree ran a 4.49 at the Combine, has good size, quarterbacked the Mountaineers' defense for the past three seasons, and is praised for his smarts, instincts, and awareness. All of which, especially when combined, make him a dangerous center fielder patrolling the secondary and deep half of the field (even more so because he has the speed to close on receivers while the ball's in the air). Legree's forte is playing the pass, but he's an underrated tackler and has been known to deliver some big hits (for that reason I will feature a photo of him laying someone out). Nevertheless, he's a true free safety in the sense that he's the member of the tandem primarily responsible for defending against the pass and will never be mistaken for someone who can or should play in the box. Sometimes Legree can let his eagerness to make the interception adversely affect his play and will get caught trying to read the quarterback when he should be tracking the receiver. Still, you have to love his opportunistic style of play and ability to cause turnovers, even when teams purposely stay away from him (as they did this past season).
Here are his stats as a starter:
2010: 42 TT, 1 TFL, 5 INT, 6 PBU … 2009: 70 TT, 2 TFL, 7 INT, 6 PBU … 2008: 53 TT, 3 TFL, 1 Sack, 10 INT, 7  PBU
Strong  Safety
Shiloh Keo — Idaho — 5112 / 219
Instinctive, intelligent, intense, and hits like a fucking mack truck. Keo makes up for his lack of straight line speed by diagnosing routes and getting a good jump on the ball. He has a powerful build and is an underrated athlete; placed first among safeties at the Combine in the bench press and short shuttle. Excels as an in-the-box defender but is no slouch against the pass either and has great ball skills and soft hands (11 career interceptions). Just don't expect him to stick with a receiver one-on-one down the field (which shouldn't be his responsibility anyway). Keo is versatile and could play safety or linebacker, depending on the defensive package — he'll likely often be featured as a rover in the strong safety/linebacker hybrid mold. If nothing else, he'll be an elite special teamer who goes balls to the wall on every play and earns the respect and admiration of his coaches and teammates.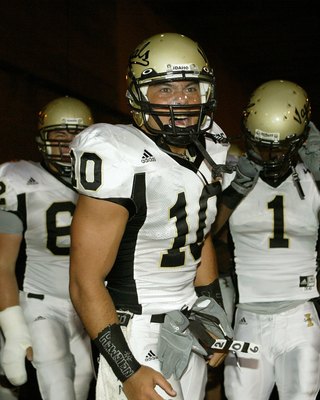 Underrated:
Jeron Johnson — Boise State — 5102 / 212
A four-year starter and unquestioned leader of the Broncos' defense, Johnson is a highly productive player (325 career tackles) who led the team in tackles the past three seasons and has solid ball skills (eight career interceptions). He's thickly built and has excellent upper body strength (23 reps), good speed for the position (4.51), and earned First Team All-WAC honors in 2010. Jeron's not the most gifted athlete, but he makes up for it by being an instinctive player who reads and reacts well; he nary misses an assignment nor gets beat deep. I also like the fact that he had his two best games of the season against Viriginia Tech and Nevada. Plays the game hard and loves to deliver big, momentum-changing hits. Johnson's a good football player, and I see him as a potential starter at the next level.
Might as well sign him as a free agent:
J.C. Sherritt — Eastern Washington — 5095 / 220
Mentioned in one of my very first articles, Sherritt doesn't have the speed nor range to play safety in the NFL and is too small to play linebacker. However, he's a smart player and a tackling machine (2010: 158 total tackles, 13.5 tackles for loss) who's always around the ball and put up some ridiculous numbers over the course of his college career. Look beyond the underwhelming measurables and you'll see that Sherritt just makes plays and has very underrated ball skills. Also, I'm always a proponent of bringing in a player who has won the Buck Buchanan Award (as well as the Walter Payton Award). Sherritt actually was the runner up for the award in 2009 before capturing it this past season. Now, is this method for selecting a player foolproof? No, of course not, but it has turned me on to future Pro Bowlers like Rashean Mathis and Jared Allen, as well as relatively unknown yet effective players such as Arthur Moats and Kroy Biermann. Unfortunately, Chris Gocong didn't work out for my Eagles (of course), but I digress. Other past winners who played in college before I started following the draft and went on to be impact players at the NFL level include Dexter Coakley (twice), a three-time Pro Bowler for the Dallas Cowboys, and Edgerton Hartwell, who had the look of a rising star playing next to Ray Lewis in Baltimore before signing a big contract with Atlanta and subsequently succumbing to injuries that ended his career.
Sherritt likely won't get drafted, but he's the kind of player you want on your roster, even if only as a special teamer (which is where he'll have to earn his way in the pros).
7 Notes/ Hide
nickthejam likes this
dklausner posted this