Flyers Offseason Wish List
Regular Font — Mike Alloy
Italicized Font — Dan Klausner
 
Stop me if you have heard this before: The Philadelphia Flyers are going into the summer without having won the Stanley Cup. At least they are consistent. After last season ended, GM Paul Holmgren felt he needed to only tweak a roster that came within two wins of a parade down Broad Street. The additions of Jody Shelley, Nikolay Zherdev, Sean O'Donnell, Andrej Meszaros, and later Sergei Bobrovsky left many hockey pundits picking the Flyers to once again contend for the Cup. We all know what happened next — a blistering start that led to the best record in hockey at the All-Star break, followed by a horrific second half of the season marred by injuries and lackluster play. Then the playoffs started, and the one thing that always seems to haunt the Flyers reared its ugly head: appalling goaltending. The team was able to survive the first round because, quite simply, it was deeper and more talented than the Sabres. That was not the case against a hungry, determined and vengeful Boston Bruins squad. The Bruins dominated the Flyers in every facet of the game — offense, defense, goaltending, physical play, discipline, coaching, you name it — and swept the series with embarrassing ease, on their way to winning the Cup (that really hurt to write).
 
I don't know about you, but the most humiliating part of the series was how completely and utterly the Bruins bitch slapped the Flyers up and down the ice. Forget about the goalie fiasco, this team played like a bunch of timid, spineless pussies (aside from the third period of Game 2). I'm not sure I've ever been as embarrassed watching a Flyers game quite like I was during Game 3. After blitzkrieging the Flyers and taking a 2-0 lead a minute into the game, the Bruins smelled blood and started throwing their weight around at every opportunity. I swear, there must have been two or three bone-rattling checks each shift for the rest of the first period — and none of them were thrown by a Flyer. At that point — in my mind, at least — the series was over. The Flyers were just letting the Bruins physically dominate and bully them. No one stood up and took charge. No Flyer did a single fucking thing about it. The whole team had accepted defeat (their play and facial expressions intimated as much), and a sweep became all but inevitable. I never want to see something like that happen again. Ever.

Unfortunately, the ugly truth is that this team has lost its historical identity as a nasty, bruising, and physically formidable opponent. By the end of this season, other teams no longer feared the Flyers nor respected their ability to play a style of hockey that inflicted bodily harm. And that's unacceptable. The writing was on the wall in the first round series against the Sabres when they not-so-quietly felt they could physically impose their will on the Flyers. Buffalo didn't have the players to make good on their belief, but the Bruins did.

The primary focus this offseason, aside from addressing the goaltending situation, should be getting bigger and tougher. Meaner, too. This group needs more snarl. Mike Richards typically plays with an edge but was clearly not himself at the end of the season and in the playoffs (which, we now know, was primarily the result of a nagging wrist injury that required surgery).* Claude Giroux has always had an edge to his game and loves to deliver the big, momentum-changing hit. He defies conventional thought in terms of what a player his size should and should not be able to do from a physical standpoint. Listed at 5-11, 181 pounds, one might think Giroux — especially for a player of his immense skill level — wouldn't be so eager to get involved physically and throw his weight around. But he does, and he absolutely relishes that part of the game. It's what makes him such a special player. I want more guys who play like that, and less like Jeff Carter, who is probably the most infuriating player I've ever watched — and it's because I know he has the potential to be so much better.

Carter plays soft despite having the physical attributes to truly dominate. What makes it all the more aggravating is that he's showed his toughness in coming back from injury the past two playoffs, so it's not like he's a bitch. I mean, we're talking about a guy whose broken left foot had just healed before last season's playoffs, only for him to break his right foot against the Devils (on a play when he scored a rare playoff goal, no less) in the first round. Carter somehow only missed about a month before returning for the Conference Finals against Montreal. Then, this season, he sprained his knee in Game 4 of the Sabres series but came back against the Bruins. From a talent standpoint, Carter can't stick-handle for shit, but, my God, can he skate and sometimes even take advantage of his size. Again, there have been flashes over the years of what he can do when he's pissed off and/or motivated. But that's the thing, there have ONLY been flashes. You saw what happened with van Riemsdyk in the playoffs, how he went into beast mode and just took over games. It's because he got nasty, physically assertive, and took the game to his opponent. I can't even remember the last time I saw Carter get mean. You either have that as part of your mental makeup or you don't, and he doesn't. That kind of mean streak doesn't just magically develop later in a player's career.

* And now we have some members of the local media — whose collective hockey knowledge is shamefully rudimentary and superficial — foolishly questioning Richards' captaincy and trying to run him out of town. Listen, so he isn't always the most forthcoming or gregarious with the media, I get that. Richards has become somewhat of a polarizing figure because of his personality. Quiet. Reserved. Maybe even a little awkward. And, yes, occasionally irritable (perhaps that's because reporters so often ask tedious, stupid questions). Sometimes that kind of behavior can be confused with being "moody and withdrawn," I guess. Lest we forget this is the same Mike Richards who helped carry last year's team to the Stanley Cup Finals with a gritty, inspiring, and, well, quintessential captain-like performance. Maybe he needs to grow up a little bit with regard to how he interacts with reporters, but those in the media should also get off his fucking back and stop being such insufferable sourpusses. Everybody just chill out. At least Peter Laviolette isn't a hysterical yenta when it comes to all the hoopla surrounding Richards.
 
A closer look at a few of the numbers shows exactly what went wrong, mixed in with some things that went right, for the Flyers. First, the bad news.
 
Matt Carle set a career high for assists this season (39) and came within two points of his career high of 42. However, without his partner Chris Pronger participating in the playoffs (aside from two full games) due to injury, Carle's play went to shit. He added four assists through 11 games, but his -8 rating shows he hurt the team far more than he helped. The lasting image of him this season is the unforgivable turnover he committed at his own blue line that led to the Milan Lucic goal that put the Bruins up 3-1 and effectively ended the Flyers' season.
 
Seven points in 11 games really isn't bad, but captain Mike Richards had clearly run out of gas by the end. He is the heart and soul of the squad and everyone could see he was physically drained once the playoffs rolled around. In addition to contracting a flu virus near the end of the season and never looking the same after coming back, it has now come to light he needed wrist surgery to correct a nagging injury dating all the way back to training camp.
 
Danny Briere had one of his best seasons as a Flyer and continued scoring into the playoffs. His seven goals tied for the team playoff lead with James van Riemsdyk. Now, Briere is not a defensive specialist, but a -7 rating? He was definitely another player who looked as though he'd simply run out of gas against the Bruins.

And now for the good…

With each game, Claude Giroux continues to prove he is going to be the star of this team going forward. His puck-handling is mesmerizing, passes are perfect, and he is starting to validate those Peter Forsberg comparisons. He had 11 assists and 12 points in the playoffs to lead the team and was heavily involved in the physical part of the game, too, throwing his weight around and delivering thunderous checks (as Patrice Bergeron can attest). It's safe to say that Klausner and I both have serious man crushes on the shifty ginger. The future looks bright for the Flyers with #28 in the fold.
James van Riemsdyk, or JVR, has faced an exorbitant amount of pressure since being picked second overall in 2007 behind Patrick Kane, who has already won a Stanley Cup — at our expense, no less. Some people began to think the smart thing would be trade him away while his value was still high (Brian Burke wanted him in exchange for Kris Versteeg). Then the playoffs came around and JVR stepped into the limelight and tied for the team lead in goals with seven. He played physically, displayed a breathtaking blend of speed and power, and led all skaters in shots during the playoffs through the first two rounds. JVR showed no fear, played with supreme confidence, and took major steps in proving that he is worth keeping for years to come. He now knows for certain he can play at the NHL level, and we're starting to see the evolution of his game take hold.

Now that the offseason has arrived, Paul Holmgren will hold countless meetings with head coach Peter Laviolette, owner Ed Snider, and every scout within the organization in order to determine what moves need to be made to have this team back in the Stanley Cup Finals. Dan Klausner and I are going to play the role of general manager and rework the roster the way we think Holmgren should.

First, a few guidelines. These moves have to be reasonable and believable; that means we have to abide by the rules of the salary cap and cannot make unrealistic trades. These moves are not what we THINK is going to happen, but what we WANT to happen. So don't yell at us when absolutely none of these moves actually occur. All monetary figures can be found on capgeek.com, and any "signed" free agents will receive an amount based on their current salary and the amount for which we think they'd realistically sign. The salary cap was at $59.4 million this season and is once again expected to rise. According to TSN the cap is going to be set at $64 million* even, so this is what we will use as our base.

* We need to pause and reflect how fucking awesome this is. Seven years ago, when the NHL came out of the lockout the cap was set to $39 million. By '10 P.L. (Post Lockout for those of you who have never heard of P.L. because I just made it up while hyper on caffeine, coupled with a deep belief that I am hilarious and intellectually witty), the cap will — well, at least should — have almost doubled. And as much as it pains me to say it, Gary Bettman has had a lot to do with it. Klausner will attest to my detestation of Bettman, but the guy has pushed the NHL back into relevance within sports culture faster than anyone thought before and after the lockout. My God, it's good to have hockey back on the main stage. If the NFL lockout drags on to the point that the league starts losing games, coupled with the seeming certainty that the NBA will be locked out for at least half of next season, come November hockey would be the ONLY North American major sport playing its games.

First thing's first, the players who will be leaving via free agency:

F - Nikolay Zherdev ($2.0 million)
F - Daniel Carcillo ($1.075 million)
F - Ville Leino ($800,000)
D - Sean O'Donnell ($1.3 million)
G - Brian Boucher ($925,000)

Zherdev was never coming back, and especially won't now after allegedly going psycho on his wife and her car. Let's move on.
I like Carcillo — when he's not being a total idiot. He plays his role well, gets under the other team's skin, and can even chip in on offense here and there. Still, I don't think it's worth re-signing him at a cap hit over $1 million.
Re-signing Leino would be more of a luxury than necessity, and it's increasingly apparent that he's probably not in the Flyers' plans going forward, especially after the trade for Bryzgalov (no matter what Holmgren says to the contrary). I'd be surprised if the team offers him anything over $3 million a year, and seeing as how his agent has already rejected two other contract offers, it seems as though his departure is inevitable. I'm sure Leino will get a fairly lucrative offer from another team and justifiably accept it. There will be no more Ville Time in Philadelphia, and that makes baby Jesus cry. It is with great regret that I bid him adieu, but this is a business and difficult decisions must be made. 
O'Donnell and Boucher… both very replaceable, even if they're good veteran leaders.
With the new cap at $64 million, the subtraction of the five players above, and the already scheduled salary increases for a few players, the Flyers have $6.2 million dollars to use before re-signing any players or free agents.

As for re-signings and moves, we elect to assign Oskars Bartulis ($600,000) and Michael Leighton ($1.55 million) to the AHL. These moves give the Flyers $8.35 million to re-sign Andreas Nodl and Darroll Powe. Powe will receive a one-way contract, meaning he has to clear waivers in order to be sent to the minors and have his salary off the cap. Nodl's contract will be two-way, so he can be reassigned to the AHL and brought up as management deems fit (players on two-way contracts don't have to clear waivers). Nodl and Powe will receive the following salaries (old contract/new contract):

F - Andreas Nodl ($850,000/$925,000 — 3 years/$2.775 million)
F - Darroll Powe ($725,000/$850,000 — 4 years/$3.4 million)

Nodl's most recent contract was an entry-level one, and it's very rare for a player to earn the same or less than that amount. We would choose to give him a two-way contract and assign him to the Phantoms to start the season. While Nodl showed some flashes this season, the cap relief is more important, and he can be brought back up if needed.

Powe led the Flyers in hits this season, even though he received minimal playing time and most of his minutes came as a penalty killer. He's a solid fourth liner and energy player and should be re-signed.

Since Bartulis has now been assigned to the Phantoms, he will be replaced by Erik Gustafsson ($900,00). He was by far the biggest bright spot in an otherwise dismal season for the Adirondack Phantoms and registered a highly impressive 49 points (4 goals, 55 assists). Gustafsson, an undrafted free agent signed last year after an impressive career at Northern Michigan, appears ready to take the next step, and there is no doubt that he is a future piece of the Flyers' defensive puzzle.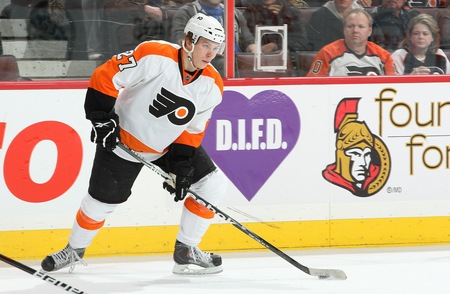 This leaves the Flyers with $6.6 million under the salary cap. Essentially, the Flyers now have a shade under seven million dollars to play with. Now the real fun comes into play, as we do the general manager thing and give you the trades and free agent signings we'd make… you know, if this were franchise mode on Madden or NHL 11.
Trades

If there is one thing the Flyers absolutely cannot do, it's revert back to the days where draft picks were expendable and all new players came by way of free agency. Mike Richards, Claude Giroux, Jeff Carter and James van Riemsdyk were all draft picks. To be even more specific, they were first round draft picks and all results of the organization's commitment nearly a decade ago to focus on building through the draft instead of free agency. The Flyers have forsaken that strategy recently and made "win now" moves, depleting both their number of draft picks and farm system in the process. As such, the team is slated to select its first player in the third round of the 2011 draft in June. While there can be diamonds in the rough, it's not exactly a winning strategy. Instead, the earlier the picks, the better. Holmgren would be doing the Flyers' future a favor if he made the following trade…

Purely from a personal standpoint, I would be open to trading Jeff Carter to open up some cap space. His play is a source of much debate in this town, and he has both his staunch supporters and detractors. I've watched Carter for six years now, and I'm convinced he doesn't possess the intangibles to fulfill his potential. His play lacks fire, and far too often he disappears when the game ramps up in physicality and pressure (see: playoffs). Some players have the gumption to succeed on the game's biggest stage, and some don't, regardless of talent. Carter has proven time and time again that he fits into the latter category. I know, I know, he's only 26, and his supporters would argue that he hasn't even hit his prime yet. And, you know something, they may very well be right. That's why they have their opinion, and I have mine. If we can get some cap relief, pieces for the current team, and young talent to help replenish the farm system, trading Carter is a move I (me, not you) would make.

Jeff Carter ($5.272 million), Matt Carle ($3.4375 million), and a 2011 third round pick (84th overall; via Pittsburgh from the Dan Hamhuis trade) to the Columbus Blue Jackets for Jakub Voracek (RFA), Antoine Vermette ($3.75 million), and a 2011 first round pick (8th overall) and second round pick (37th overall).

After trading for the rights to Bryzgalov, Holmgren once again acquires a player's rights, and then some. To be honest, I think this is a fair trade that addresses needs for both teams (I've been a fan of Vermette since his days in Ottawa; he'd be a sneaky good addition to the Flyers' forward corps and replaces some of Carter's size at center). The only issue would come down to signing Voracek, but in no way would he get a deal close to Carter's (you think?). Voracek will get a one-way contract for 2-years/$4 million in order to position himself to cash in if he breaks out over the next two years. Maybe he can get a Carter-type contract next time, and maybe the Flyers get a possible future superstar that will not be a major cap hit until other inconveniently large contracts (looking at you, Hartnell) come off the books.

To me, the 8th overall pick is the best part of the deal. Most are saying it's a weak draft, but to be honest I really don't care. As of right now the Flyers have completely mortgaged their future. Yeah, yeah, Giroux and JVR are young and Gustafsson looks promising, but you absolutely cannot continue to neglect the farm system. More importantly, the organization needs some promising blue liners to look forward to. Pronger and Timonen are no spring chickens, and after Gus, well, the prospects have as much of an NHL future as Taco Bell does being named a five-star restaurant whose food doesn't cause diarrhea. Sure, the pick may not end up amounting to much, but typically your team's future is at a significant disadvantage if you aren't drafting players in the first and second rounds.

Why it's good for the Flyers: Bear with me here, but I actually think this is a solid move. You already know how I feel about Carter, and right now is the best time to leverage his potential and the fact that he's locked up at a reasonable cap hit for the next decade. I actually think he could be good down in Columbus with Rick Nash and/or Derick Brassard (or even that R.J. Umberger guy), but he'll never be a star player capable of taking games over and carrying his team to victory. And, shit, is there a more perfect place for Carter to continue the rest of his career in irrelevance? What are the chances he comes back and haunts us while he's with the Blue Jackets (now, of course, he could always be traded again to another team where he could fuck us)? Literally non-existent. I like Jakub Voracek's ability and think a change of scenery might help his development. Remember, he's only about to turn 22 and was selected just five picks after JVR. Voracek is more of a puck distributor than scorer, but he's also an explosive skater who plays a solid all-around game. As for Antoine Vermette, he's the most underrated part of the deal and a would be a shrewed pickup by the Flyers. He struggled a bit this past season (still recorded 47 points in 82 games) after putting up a career-high 65 points in 2009-2010, and I think he could really take off with better talent surrounding him. Vermette's a hard-nosed, versatile, defensively responsible player who can fucking skate and has shown some legitimate scoring ability. Great in the faceoff circle, too. He would be a perfect fit for the second or third line.
Matt Carle will be an unrestricted free agent at the end of the 2011-2012 season, and I'd be surprised if the Flyers re-sign him. That said, he's coming off a season in which he registered career bests in assists and plus/minus rating (+30). I'd say this qualifies as one of those times to sell high… and clear some much-needed cap space in the process. If we're being honest, Carle's high level of play the past two seasons can likely be largely attributed to his pairing with Chris Pronger. I sincerely believe another defenseman can step into Carle's role as Pronger's partner and excel. Still, if Columbus is looking for a puck-moving defenseman to create offensive chances and help facilitate the power play (and they are), Carle can be that player.

As for the eighth overall pick, well, let's not forget that Columbus has one of the league's best farm systems and is looking to make a NOW move. This is an asset general manager Scott Howson can afford to trade. Carter has scored 40 goals before and could very well do it again. That shot of his, when it manages to get on net, is lethal. As maddening as it can be to watch Carter disappear at crucial times, there's no denying his skill set. He provides a hell of a lot more value NOW for the Blue Jackets than the prospect taken with the eighth overall selection. Who knows, the player taken with the pick might be a bust; at best, his value won't be recognized for a few more years. For that reason, the pick must be included in any deal for Carter. Besides, the Flyers need to start restocking the farm system with top level talent. The player I want the team to take with the eighth overall pick? Nathan Beaulieu (BOWL-yuh). If he's still on the board, of course; if not, Adam Larsson (although this would be a big slide for him), Dougie Hamilton (if he's still there), Ryan Murphy, and Duncan Siemens are all options. A top flight defenseman to replace Pronger and Timonen down the line is the primary need for this organization. Larsson and Hamilton certainly fit the bill, but both should be gone when the Flyers pick (Larsson will be, for sure). I like everything I read about Beaulieu's game, and I'm especially impressed with his makeup and personality (and look at that face; he'll at least get Philly girls excited about hockey). He is a smooth skating, cerebral, all-around defenseman who is big, strong, and not afraid to get physical. Beaulieu brings a lot of leadership to the ice and plays in all situations. He's gifted offensively and projects as a skilled two-way defenseman who can also be a power play quarterback. Beaulieu served as a prominent veteran leader and top defenseman for a Saint John Sea Dogs team that was the QMJHL's best all season and won both the league championship and Memorial Cup as the best junior hockey squad in North America. I really like what I've been able to see of him on YouTube and read about him on the Interwebs. Also consider that the Flyers historically like taking players from "the Q" (i.e. Gagne, Giroux are successful examples), and nine of their last 34 draft picks (dating back to 2006) have come from the league. That's four more than the team has selected from any other league, program, or international country.
The more I think about the trade, the more I like it, especially the players it acquires and the $5+ million it clears in cap space (although $2 million of that goes to signing Voracek). It's a trade that changes the complexion of our team a bit and places the burden upon the very able Danny Briere to be the team's top sniper. If you've ever seen Briere's shot at any point of his career and then watched him start to embrace his role as a goal scorer last season, you know he's more than capable of putting up 35 goals. Giroux and JVR will have to become consistent goal scorers as well. JVR gave us glimpses during the playoffs, and Giroux really needs to start unleashing that underrated shot of his some more. Both are capable of putting up 30 goals, and that's something the team will be heavily counting on them to do.

Dealing Scott Hartnell in the offseason and shedding his contract would be ideal, but he has a no-trade clause and probably would be unreceptive to waving it. JVR is ready to take over his role anyway, even though Hartnell is really good at it when he's on (which isn't often enough). Although, come to think of it, maybe putting him on the top line with Giroux as his center would be just the thing to get him to play up to his potential. As Keith Jones says, if you ever want to get a player going, put him with Giroux. Regardless, Holmgren really needs to avoid giving out so many no-trade clauses and handcuffing the team's future financial AND roster flexibility.

Moving on with our hypothetical off-season, the Flyers now have $13.06 million to sign all of their free agents. Included in this is a sixth defenseman who can log quality minutes and not be a multi-million dollar pylon. A large chunk of that money will be used to sign Bryzgalov (or so it seems), the current obvious choice for the number one goalie. Finally, there are two forward spots open on the roster that can be filled by free agents, Phantoms, or one of each. Well, here goes nothing…

Free Agent Signings

Originally wrote this on May 13 as my immediate reaction to the Ed Snider interview with Neil Hartman: We're getting a goalie!! Hallelujah! Then again, some specific — and interesting — statistical analysis would seem to indicate that the Flyers really don't need to go out and get a big-name goalie. Personally, I think it's more about the confidence the goalie engenders and how the team plays as a result. Either way, when it comes to the Philadelphia Flyers, Ed Snider is God. Literally. He is the Creator and only owner the team has ever had. What Snider wants, he gets, and he wants unquestioned stability between the pipes.
Well, Snider got what he wanted when Homer traded for the rights to Ilya Bryagalov a little less than a month later. While I'm more hesitant about Bryzgalov, there's no denying his talent and status as a bona fide number one goalie, which is exactly what the Flyers need right now. Why am I hesitant? First, there's the issue of figuring out what he wants in terms of years and money. It has been reported Bryz will be looking for a mega contract — probably something in the six year, $40 million range. Although perhaps it's possible that was just Bryz's stance with Phoenix because he didn't want to re-sign there. He's not going to get six years and $40 million here, either. If, in fact, Bryzgalov is open to accepting a contract more palatable to the Flyers, like four years and $25 million or five years and $30 million, I'd be much more open to getting a deal done. He'd be a great addition to his team, and it's obvious he was endorsed by Chris Pronger and Sean O'Donnell, both of whom played with Bryzgalov when he was a backup in Anaheim.
However, if Bob is truly the future for this team in net, signing a goalie to a long-term contract for serious money just doesn't make a whole lot of sense. Tomas Vokoun, who will turn 35 in less than a month, would be a perfect fit for the interim. It just all depends on what's most important to him, winning or money. I'm thinking somewhere in the neighborhood of a 2-year/$10 million deal (I'd be fine with 3 years/$15 million as well). Although it must be noted he's only played five games in the playoffs — so we don't really know how he performs when the chips are down — there's no denying he's been one of the best, most consistent goalies in the NHL over the past decade. Hey, at least he's won two World Championships with the Czech Republic (most recently last year). Vokoun's really good, and if the last three years in Florida are any indication, he's still very much at the top of his game. The statistics don't lie… and, no, a goalie's win-loss record is not necessarily reflective of his performance. Wins and losses are more a team stat (Vokoun's not out there scoring goals), whereas goals against average (GAA) and save percentage (SV%) are the two things over which a goalie has the most control (especially SV%). Vokoun's coming off the best three-year stretch of his career in terms of save percentage.

Unrestriced Free Agents

Top desirable targets (for the Flyers, not overall):

Tomas Vokoun (G)
Ilya Bryzgalov (G)
Kevin Bieksa (D)
Brooks Laich (C)
Erik Cole (LW)
Andrew Burnette (LW)
Tomas Kopecky (C)

G - Ilya Bryzgalov ($4.25 million/$6 million — 5 years/$30 million total)

Ed Snider made it absolutely clear that he wants a clear cut top goaltender, and even insinuated that every one's ass is on the line. I don't blame him for feeling that way, this team has way too much talent to be wasted on an unreliable netminder. Perhaps feeling the heat, Holmgren traded for the rights for the top goalie available, Ilya Bryzgalov. Ritch Winter, Bryzgalov's agent, has made it clear that his client wants a multi-year major contract, which he absolutely deserves. HOWEVER! There is just something about Bobrovsky that makes me love him. Maybe it's Sideshow Bob on the side of his helmet, maybe it's because early in the season he told a dirty joke in Russian at a team dinner that Bartulis had to translate so everyone could understand it. Just give him more time to work with goalie coach Jeff Reese. For once, have some real patience with a young goaltender and let him develop before jumping ship. Meanwhile, Vokoun, even at nearly 35, is still playing at the top of his game and can hold down the fort for 2-3 years until Bob is ready to be the starter. Will he be offered more money by another team? Probably, but this guy wants a Cup bad and knows the Flyers would give him a substantial chance at holding that big, beautiful hunk of metal over his head. Even though I just rambled on about loving Bob and taking Vokoun instead, it seems as if the Flyers will end up going with Bryzgalov.

At first I too preferred Vokoun, but if you read between the lines, there seems to be a handshake deal in place between Homer and Winter on contract terms for Bryzgalov. And, as much as I like Bobrovsky, Bryzgalov makes the Flyers a demonstrably better team right now. That said, even with Bryz in the fold, I'd want to hang onto Bob for at least another season and let him apprentice as a backup. Hopefully Homer and Winter were able to find middle ground on a contract length and money amount that appeased both Bryzgalov and the Flyers (hence the projected $6 million annual cap hit).
F - Andrew Brunette ($2.333 million/$2 million — 2 years/$4 million total)

The grizzled veteran is still one of the most durable players in the NHL and a lock to put up at least 40 points (hey, you'd think that if he does that with the Wild, he can be even better somewhere else). Brunette turns 38 in August, but he has more than a little gas left in the tank. His conditioning is incredible (Pronger-esque, even), and he plays a style that doesn't leave him open to devastating hits or susceptible to suffering a major injury. Dude's crafty and has that old man wisdom. As someone who watched hockey even during the dead puck era, I remember Brunette for being a player who stepped his game up in the playoffs. I watched him score clutch, overtime goals for the Wild before the lockout and then the Avalanche after. Give him a shot to do it again in Philadelphia as he closes out his career.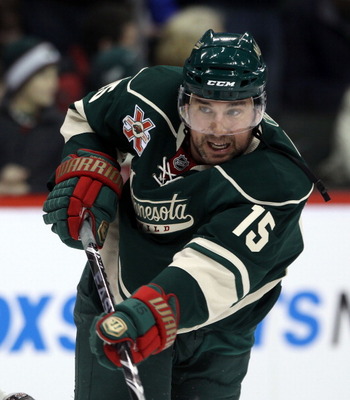 D - Karlis Skrastins ($1.375 million/$850,000 million — 1 year/$850,000)
Skrastins is a savvy veteran who would be perfect to pair with Gustafsson. His experience and hockey knowledge would be of great use on the ice, as well as his desire to win a Cup after only participating in the playoffs twice during his 12 year career. Stability is very important on the blue line and even more so in helping to develop Gustafsson's skills. Essentially, he would be a cheaper version of O'Donnell, and a better shot blocker with all-around defensive skill.

In order to round out the roster we need to add one more forward. I believe that it will come down to a training camp battle between Matt Read, Ben Holmstrom, Andreas Nodl, Tom Sestito and Mike Testwuide. Unless Read blows his competition out of the (frozen) water in camp, the Flyers will go with Holmstrom, Sestito or Testwuide in order to add some size. While Nodl showed some skill during the season, I just think the Flyers would be better served with a different player. My bet is Holmstrom ($750,000) due to his extended playing time with the big club when a slew of injuries swept through the organization.
After all is said and done the Flyers will enter next season with $481,000 in salary cap space, once again putting them in a less than enviable position from a flexibility standpoint. But, hey, it's some breathing room. It would be incredible if these are the moves the Flyers make, but, let's face it, there is a reason I'm writing this fantastical offseason plan and not actually making any trades (see: I'm not exactly qualified). So here is next year's team…

Forwards (Cap Hit)
Daniel Briere ($6.5 million)
Mike Richards ($5.75 million)
Scott Hartnell ($4.2 million)
Antoine Vermette ($3.75 million)
Claude Giroux ($3.75 million)
Kris Versteeg ($3.083 million)
Andrew Brunette ($2 million)
Jakub Voracek ($2 million)
James van Riemsdyk ($1.654 million)
Darroll Powe ($850,000)
Ben Holmstrom ($750,000)
Blair Betts ($700,000)
Tom Sestito ($577,500)

Waived: Jody Shelley ($1.1 million)

* We'll see about this Matt Read ($900,00) fellow who csnphilly.com's Flyers beat reporter Tim Panaccio is so sure will be Leino's replacement. Let him play in the AHL some more first. Tom Sestito could switch off with Holmstrom as the last forward. I actually like Sestito and think he could be perfect in that role as the big, physical, rugged winger who throws his weight around, keeps the other team somewhat honest, and can drop the gloves and not get his face smashed in. He's actually not a bad fighter. Whoa, you know something, Sestito's perfect for us. A younger, much better version of Shelley for half the price. But hey, at least Jody was worth his cap hit in locker room leadership!

Defensemen (Cap Hit)
Kimmo Timonen ($6.333 million)
Chris Pronger ($4.921 million)
Andrej Meszaros ($4 million)
Braydon Coburn ($3.2 million)
Erik Gustafsson ($900,000)
Karlis Skrastins ($850,000)

Goalies (Cap Hit)
Ilya Bryzgalov ($6 million)
Sergei Bobrovsky ($1.75 million)

Total Cap Hit: $63.519 million

Hartnell - Giroux - Briere
JVR - Richards - Versteeg
Brunette - Vermette - Voracek
Powe - Betts - Sestito
Holmstrom

Timonen - Meszaros
Pronger - Coburn
Gustafsson - Skrastins

Bryzgalov (55-57 games)
Bobrovsky (25-27 games)